This is a required field.
Invalid
Part number
Error in validation!
Modular Compact Rheometer:

MCR 102e/302e/502e
Your entry ticket into the world of QC testing and rheological product development, upgradeable with sample-adaptive controllers
EC motor technology based on 25 years of expertise and market leadership with a torque range from 2 nNm to 200 mNm
Normal force measurements up to 50 N
Looking for consumables & accessories for this product?
Click here
The new MCR Evolution series is the result of consistent thinking and rethinking, of continuous development based on decades of experience and the feedback of more than 10,000 satisfied customers. The combination of innovative and thousandfold field-proven technology with the modular design represents the benchmark in its class. With 200+ accessories the MCR Evolution rheometer series gives you endless possibilities for rheological investigations and material characterization. Experience sophisticated rheological research and advanced QC testing like never before.
The best now better: the new MCR Evolution series
For more than 25 years we have continuously extended our portfolio in close collaboration with our most important innovation driver, YOU, our highly valued customers and rheometer users. We are now proud to present the new MCR Evolution series: rheometers that push your work one step ahead.
The benefits of the new MCR Evolution series
The fastest one-hand coupling and decoupling of measuring geometries in just one second – even at extreme temperatures (-160 °C to 1000 °C): Novel quick-connect mechanism
Precisely measure even low-viscosity samples with our entry-budget model: Higher sensitivity (from 7.5 nNm to 2 nNm)
Stable results even for long-term measurements with low torque: Improved thermal management within the EC motor starting from MCR 302e
More space for sample handling and exchange of accessories: Extended working height starting from MCR 302e
The only device on the market with a trimming mirror for a 360° view of the sample with no blind spots, which avoids sample preparation errors and leads to highly reproducible results.
Detection of any sample behavior change even at the shortest time scales: Reproducible duration of each measuring point down to 1 ms
Full pharma compliance: The best pharma package for the RheoCompass software (21 CFR Part 11, full data integrity according to ALCOA+)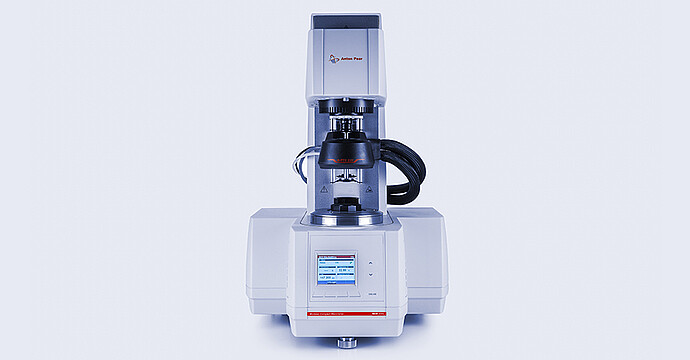 Takes work off your hands: Unique motor and sample-adaptive controller technology
The MCR Evo series builds on 25 years of research, development, and constant improvement. This results in technology which pushes the boundaries of rheometry. The combination of the EC motor (Permanent Magnet Synchronous Motor) using a high-precision air bearing with active thermal management, integrated normal force sensor, and a high-resolution optical encoder, for example, allows rheological measurements at the lowest torques ever. The unique sample-adaptive controllers for measurement in rotation (TruRate™) and oscillation (TruStrain™) work for 99 % of all samples and measurements "out of the box" with the perfect combination of speed and accuracy – save time and nerves and even get better data at the same time!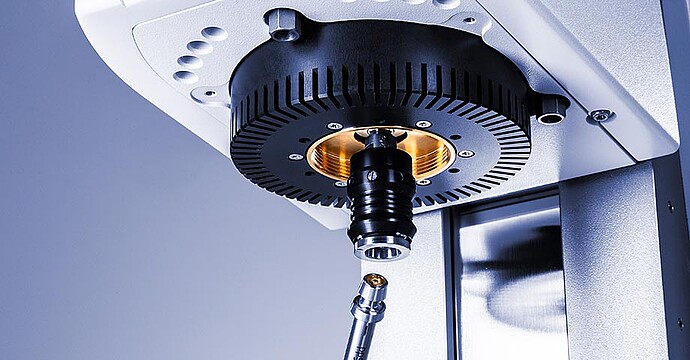 Excellence in every component and every work step
After decades in the field, Anton Paar understands and anticipates what is required for outstanding rheological analysis. With this knowledge in mind, we designed every component and created every handling step to be part of a smooth and intelligent whole:
The patented Toolmaster™ technology automatically recognizes measuring systems
One-hand exchange of measuring systems due to the QuickConnect coupling
T-Ready™ detects sample temperature equilibration in real-time
The TruGap™ feature detects the real measuring gap
The trimming mirror gives you a 360° view of the sample and thus supports high measurement repeatability. And many more
Choose from more than 100 test templates, set report filters, and use remote control
The intuitive RheoCompass software offers predefined as well as customized test templates and analysis definitions. Furthermore, it is possible to export your rheological data and generate reports. Data can easily be filtered by e.g. year, batch number, or operator, and displayed within seconds. Due to the Ethernet connection, the rheometer can be remote-controlled from anywhere via the company network. Gap setting, adjustments, and tests can also be started directly from the MCR rheometer, minimizing annoying switches between the computer and the device, e.g. during sample preparation.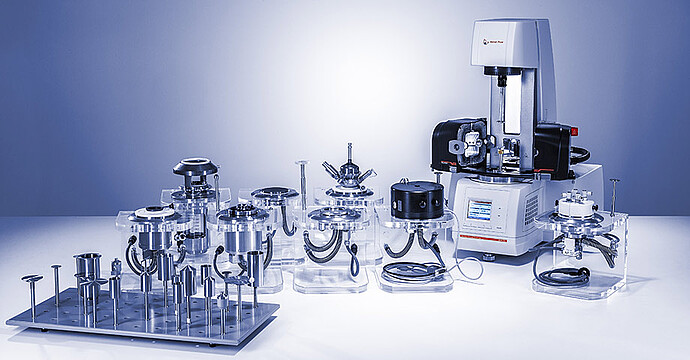 Unlimited possibilities: add one of more than 200 accessories
Whatever your rheological applications are and will be in the future – Anton Paar rheometers are quickly and easily adapted to meet your needs. Their flexibility makes them the most cited instruments in scientific publications on rheological investigations. An extensive range of application-specific accessories is available to extend the rheometer's capabilities, including DMA measurements, extensional rheology, rheo-optics (e.g. microscopy and Raman spectroscopy), magneto- and electrorheology, dielectric spectroscopy, interfacial rheology, UV curing, pressure- and humidity-dependent rheology, tribology, and many more. A wide range of temperature accessories allow you to apply and control temperatures from -160 °C to 1000 °C.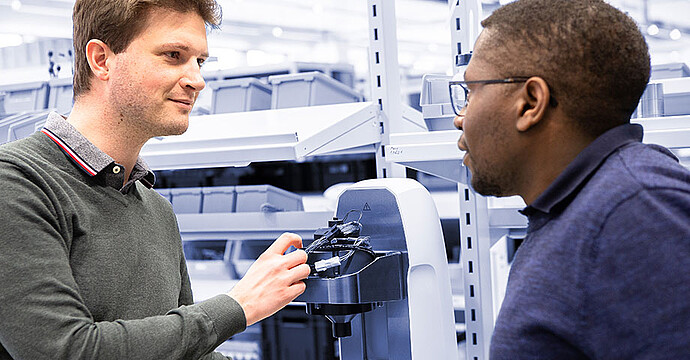 Your partner for special applications and customized solutions
With the special model MCR 502e Power you have the highest available torque of 300 mNm and highest available normal force of 70 N at your fingertips. This means you can perform fatigue- and heating-controlled stress tests on asphalt mixtures, for example.
Based on decades of experience in rheometry and rheology, Anton Paar can make nearly everything possible. We develop and supply customized products for all kinds of specific applications. With our in-house production in Austria and a dedicated R&D team just next door, we develop and supply customized products for all kinds of specific applications. Don't hesitate to contact us in order to discuss your requirements and to find a customized solution for your measurement task.
Technical Data
Unit
MCR 102e
MCR 302e
MCR 502e Power
Bearing design
-
Air, fine-pored carbon
Motor design
-
Electronically Commutated (EC) - Permanent Magnet Synchronous Motor
Displacement transducer design
-
High-resolution optical encoder
Normal force measurement design
(US Pat. 6167752, 1996)
-
360 ° capacitive sensor, non-contacting, fully integrated in bearing
Active thermal management of bearing and normal force sensor
-
No
Yes
Yes
Working modes
-
Combined Motor Transducer (CMT)
Minimum torque (rotation)
nNm
5
1
100
Minimum torque (oscillation)
nNm
5 [1]
0.5
50
Maximum torque
mNm
200
230
300
Minimum angular deflection (set value)
µrad
0.5
0.05
0.05
Maximum angular deflection (set value)
µrad
∞
∞
∞
Minimum angular velocity [2]
rad/s
0
0
0
Maximum angular velocity
Maximum speed
rad/s
1/min
314
3000
314
3000
220
2100
Minimum angular frequency [3]
rad/s
10 -7
10 -7
10 -7
Maximum angular frequency [4]
Maximum frequency
rad/s
Hz
628
100
628
100
628
100
Normal force range
N
-50 to 50
-50 to 50
-70 to 70
With Exposed Support Plate (WESP / Space) [5]
-
No
Optional
No
Without Support Plate (WSP)
-
No
Optional
No
Dimensions (W x H x D)
mm
444 x 678 x 586
444 x 733 x 586
444 x 753 x 586
Weight
kg
42
46
47
Additional Device Features
Device display with remote control of software
(decoupled from measuring sensor for mechanical and electromagnetic interference prevention)
-
Yes
Yes
Yes
Direct strain/stress controller
-
Yes
Yes
Yes
TruRate™ / TruStrain™
(sample adaptive controller)
-
Optional
Yes
Yes
Raw data (LAOS, waveform)
-
Optional
Yes
Yes
Normal force profiles (set and read)
-
Yes
Yes
Yes
Velocity profiles, tack, squeeze
-
Optional
Yes
Yes
Automatic gap control/setting (AGC/AGS)
-
Yes
Yes
Yes
Electronic trim lock for measuring geometry
-
Yes
Yes
Yes
Fully automatic temperature calibration
-
Yes
Yes
Yes
TruGap™
(permanent control of the real measuring gap)
(US Pat. 6499336, 2000)
-
Optional
Optional
Optional
T-Ready™ [6]
(detection of sample temperature equilibrium time)
(US Pat. 8904852, 2011)
-
Yes
Yes
Yes
Toolmaster™
(measuring geometries and accessories, storing of zero-gap)
(US Pat. 7275419, 2004)
-
Yes
Yes
Yes
QuickConnect Coupling for measuring geometries
(one-hand operation, screwless)
-
Yes
Yes
Yes
Trimming mirror
(360° blind sample spot prevention)
-
Yes
Yes
Yes
Three-point support of device
(three robust feet for tool-free one hand alignment)
-
Yes
Yes
Yes
Three-point support for mounting of measuring cells
(wobble prevention, no misalignment after changing of cells)
-
Yes
Yes
Yes
Maximum temperature range
°C
-160 to +1000
-160 to +1000
-160 to +1000
Maximum pressure range
bar
up to 1000
up to 1000
up to 1000
Ready for DMA in torsion and tension
-
Yes
Yes
Yes
Ready for tribology
-
Yes
Yes
Yes
Ready for powder flow and shear rheology
-
Yes
Yes
Yes
[1] 2 nNm with activated TruStrain™ option
[2] In controlled shear stress (CSS) mode. In controlled shear rate (CSR) mode depending on measuring point duration and sampling rate.
[3] Theoretical value (duration per cycle = 2 years)
[4] Higher frequencies are possible using multi-wave functionality (942 rad/s (150 Hz) or even higher, depending on measuring system and sample)
[5] Enlarged working space underneath the support plate (flange) [6] Depending on used temperature device
Pharmacopoeia Europe (Ph. Eur.)
2.2.10 - Rotating viscometer method
U.S. Pharmacopoeia (USP)
912 - Rotational Rheometer Methods
Anton Paar Certified Service
The Anton Paar quality in service and support:
More than 350 manufacturer-certified technical experts worldwide
Qualified support in your local language
Protection for your investment throughout its lifecycle
3-year warranty
Learn more
Consumables & Accessories
Consumables & Accessories
Accessories
Accessories
Not all items are purchasable online in specific countries.
To find out if you can purchase online from your location, check the online availability below.
Online price only
|

excl.

incl.

0

VAT