This is a required field.
Invalid
Part number
Error in validation!
Optical accessory for MCR:

UV Light Curing System
+5
Accessory for additional parameter setting
For the investigation of UV-curing reactions
Simultaneous characterization of rheological behavior and UV-light-initiated curing
Built-in temperature control
Looking for consumables & accessories for this product?
Click here
The UV Light Curing System as part of the RheoOptics toolbox for the MCR rheometers allows the investigation of UV-light-initiated curing reactions. With this setup UV-sensitive inks, glues, or coatings are irradiated by a UV light source simultaneous to the rheological characterization of the material. You achieve fast and accurate results even for demanding applications with the unique TruStrain™ control which allows the highest data rates during oscillation, the sensitive normal force control for shrinkage compensation, and online compliance correction. The Peltier hood and inert gas atmosphere ensure accurate temperature control from -20 °C to 200 °C.

Read more about rheological investigations of adhesives and sealants in the Anton Paar Wiki .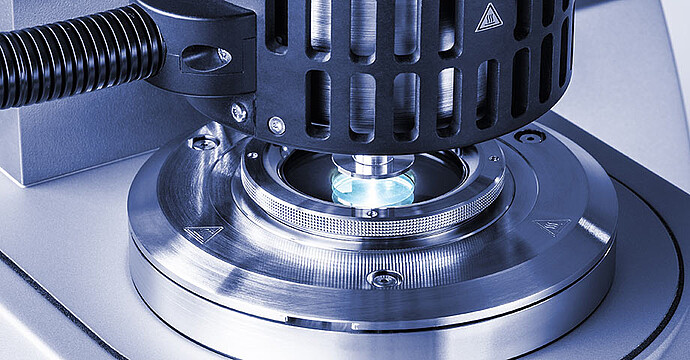 Directly measure the change of viscosity of your material under UV light in real-time
The UV Light Curing System is a powerful tool for material characterization which helps you reduce costs when redesigning the photochemical polymerization process of your UV-sensitive material. You benefit from quick and accurate temperature control from -20 °C to 200 °C with the actively controlled Peltier hood. For measurements under higher temperature conditions, an electrical temperature control from ambient temperature to 300 °C and convection temperature devices from -40 °C to 200 °C are also available. All systems allow purging with inert gas to avoid undesired chemical reactions. Exchangeable lower glass plates and disposable plates of various diameters are available for samples which cannot easily be removed from the plates after the measurement.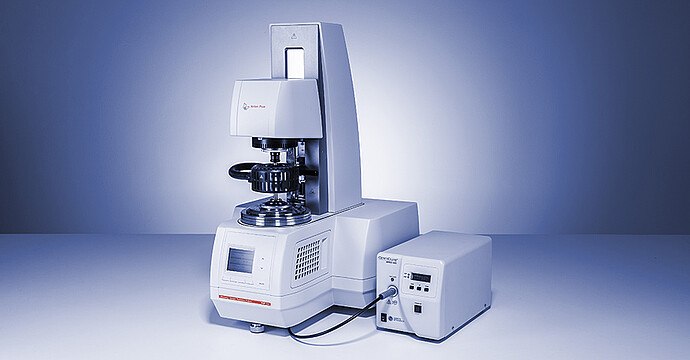 Choose the light source to suit your needs
Consider the chemistry of your sample, your overall process design, and required maintenance before choosing the type of UV light to use:
Mercury light source: For homogenous sample illumination, a powerful high-pressure mercury UV source is connected by default to the temperature device by a flexible light guide and can be controlled remotely with the RheoCompass software during sample preparation and measurement. The light source is available with different filters for the emission of discrete wavelengths and with a radiometer for calibration purposes.
LED light source: For monochromatic single-peak wavelength radiation a UV LED light source, which uses arrays of light emitting diodes, can be integrated. The light guide holder can be adapted to various UV LED light sources available on the market to perfectly fit your sample and process requirements.
Independent of the used light source, the sample environment is protected against ambient light.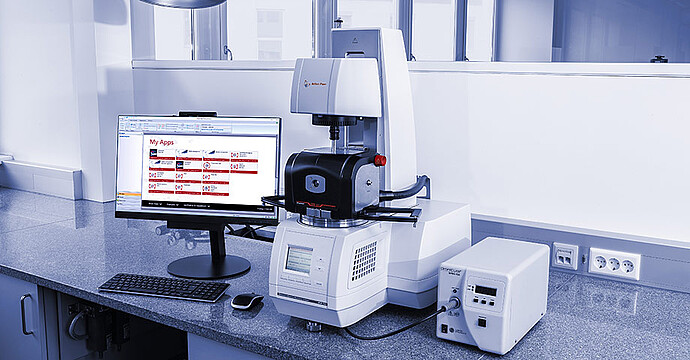 Highly accurate and reproducible results
When UV curing materials are exposed to UV light, a chemical cross-linking reaction occurs, typically within seconds or a few minutes, depending on the chemical material, layer thickness, and UV light intensity. Comprehensively tracking this chemical reaction requires a very sensitive device such as an MCR rheometer. The MCR devices are equipped with a set of features that guarantee the most accurate results. First of all, the MCR's unique TruStrain™ method comes into account, enabling fast data acquisition and thus the highest possible data rate during oscillatory tests. The sensitive normal force control guarantees compensation of sample shrinkage during the reaction and ensures a correctly filled gap. The MCR rheometers also feature an online compliance correction for accurate results even for the stiffest samples after curing. These functions avoid measuring errors and ensure accurate and reproducible results. Analysis methods for onset and curing points are available as standard.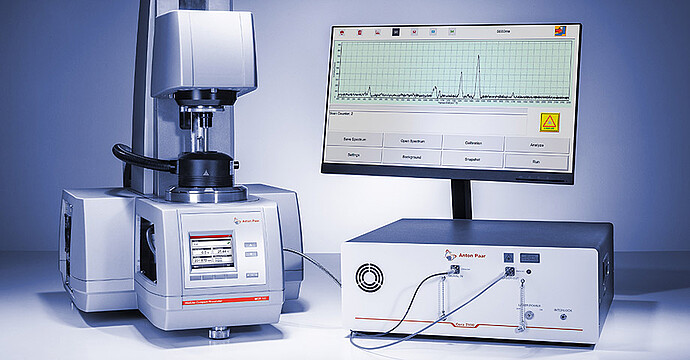 Enjoy the modularity and ease-of-use of the RheoOptics Toolbox
The UV Light Curing System is one part of the modular RheoOptics Toolbox for the MCR rheometer series.
The modular concept of the MCR rheometer series allows you to quickly and easily switch to other accessories for combined optical and rheological investigations. The Peltier and electrical temperature devices available for the MCR series can be used with other rheo-optic tools, such as Raman spectroscopy, IR spectroscopy, (fluorescence) light microscopy, Small Angle Light Scattering (SALS), and polarized imaging. In this way you can efficiently use your MCR rheometer to apply different methods that complement each other and advance your materials research.
Besides switching between different accessories, you can also combine certain methods, like UV and Raman spectroscopy, UV and IR spectroscopy, and UV and humidity control. This gives you access to even more sophisticated methods for your product development and research tasks.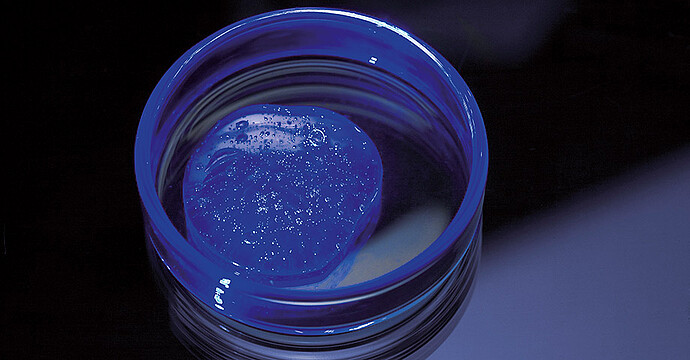 Investigate the rheological behavior of all kinds of UV-sensitive materials
Rheology plays an important role when it comes to the development of UV-sensitive materials in order to develop application-specific formulations. UV-curing materials are an essential part of many industries, including medicine and life science, automotive, polymers, packaging, printing, electronics, and even cosmetics (for example artificial fingernails and gel nail polish). The UV Light Curing System supports you in developing and producing such materials and helps increase the speed of production and reduce costs while ensuring high product quality.
Typical examples for such materials include:
Epoxy resins
Adhesives, glues
Printing inks
Coatings
Light source
Wavelength
Peak intensity of light source
Temperature range
Measuring geometries
High-pressure 200 Watt mercury vapor short arc
320 nm to 500 nm (standard filter)
24.70 W/cm²
Peltier: -20 °C to 200 °C
Electrical: ambient to 300 °C
Oven: -40 °C to 200 °C
Parallel-plate and cone-plate systems with diameters up to 50 mm
Disposable systems available
250 nm to 450 nm (blank filter, optional)
26.64 W/cm²
320 nm to 390 nm (with filter, optional)
9.83 W/cm²
365 nm (with filter, optional)
7.28 W/cm²
UV LED
Depending on specific light source
Typical wavelengths are 365 nm, 385 nm, 405 nm, and 460 nm.
Depending on specific light source
Peltier: -20 °C to 200 °C
Electrical: ambient to 300 °C
Oven: -40 °C to 200 °C
Parallel-plate and cone-plate systems with diameters up to 50 mm
Disposable systems available
Anton Paar Certified Service
The Anton Paar quality in service and support:
More than 350 manufacturer-certified technical experts worldwide
Qualified support in your local language
Protection for your investment throughout its lifecycle
3-year warranty
Learn more