Rotational Viscometer ViscoQC 100
The Game Changer
ViscoQC 100 is designed to bring simplicity to your daily operation for single-point viscosity determination. Unrivaled user experience is ensured by its automatic spindle detection with magnetic coupling. Save your time when searching a speed to measure an unknown sample, as ViscoQC 100 automatically finds the right speed for you. The unique air-counter-cooled Peltier temperature device for DIN spindles saves an enormous amount of space and time by providing highly accurate sample temperature control.
Innovation and quality – this is what ViscoQC 100 stands for.
Get in touch
Document finder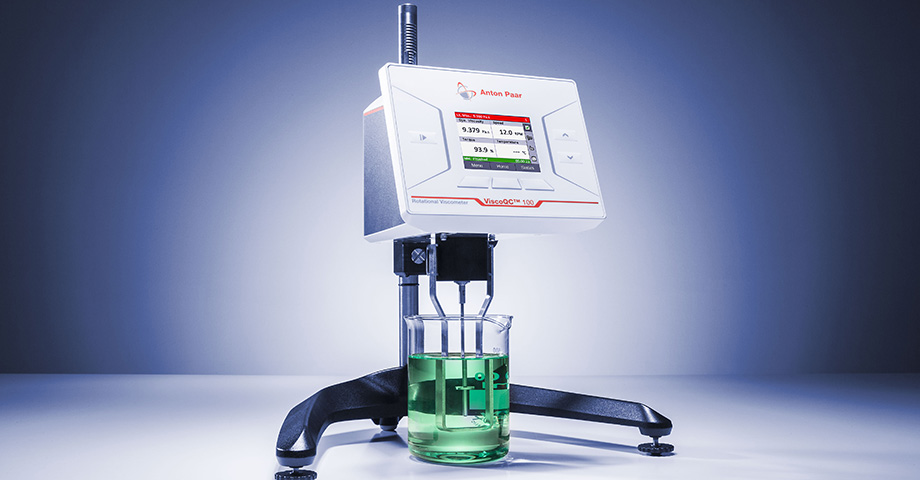 Gets ready immediately and right out of the box
Already assembled when delivered: Unpack and measure right away
Choose your national language during the first boot-up of ViscoQC 100
Correct instrument and Peltier device alignment is ensured digitally at boot-up/measurement
Relative spindles (L, RH) according to ISO 2555 included in standard delivery
Store up to 7 spindles in the optional spindle rack to keep your workspace tidy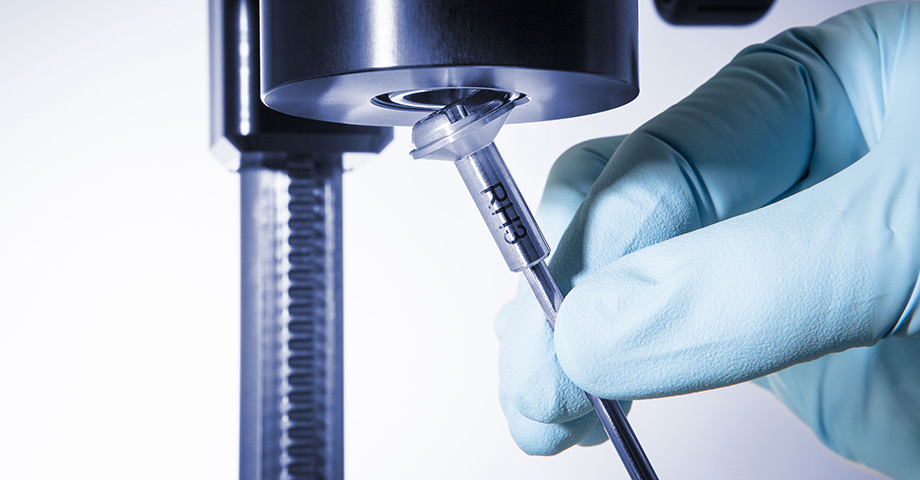 Quick and easy measurement setup for full traceability of results
Easy exchange of spindle on ViscoQC 100 using magnetic coupling

Automatic spindle recognition for error-free measurements using Toolmaster™
Perfect traceability by automatic detection of attached L or R guard
Peltier temperature control with air counter-cooling for accurate sample temperature control (+15 °C to +80 °C)
Monitor your sample temperature with a Pt100 sensor (-60 °C to +300 °C)
Wide speed range (0.1 rpm to 200 rpm) with customizable speed list
A flexible cup holder ensures your sample container is always centered at the right place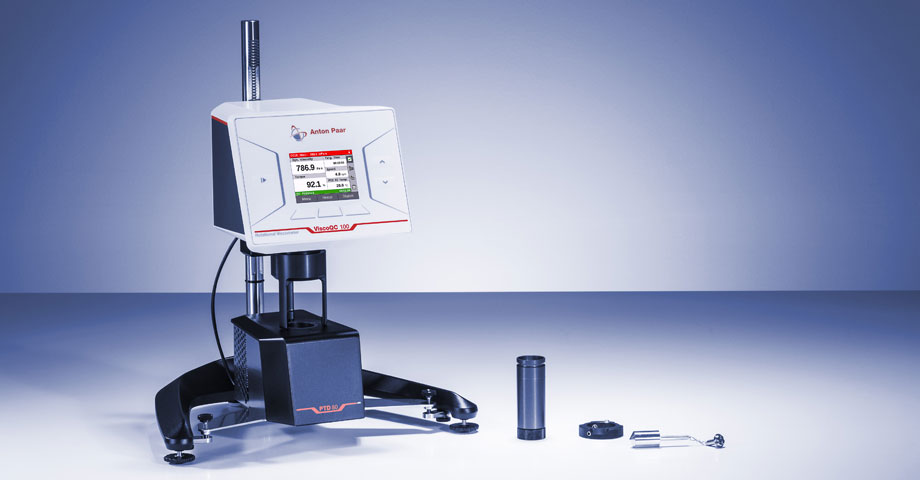 Most intuitive viscosity quality control measurements for exceptional results
Unique TruMode™ (auto speed function) finds the right spindle/speed combination for unknown samples
Reduced waiting time with Peltier temperature device as the T-Ready™ feature automatically signals sample temperature equilibration
User calibration: Spindle correction factor storable on Toolmaster™
Intuitive user interface on 3.5" color LCD display with predefined modes
Predefined modes: Manual Mode, TruMode, Stop at Time/Torque/Temperature
Prolonged spindle lifetime thanks to high chemical resistance of stainless steel AISI 316L
Increase sample throughput using disposable aluminum cups (D18)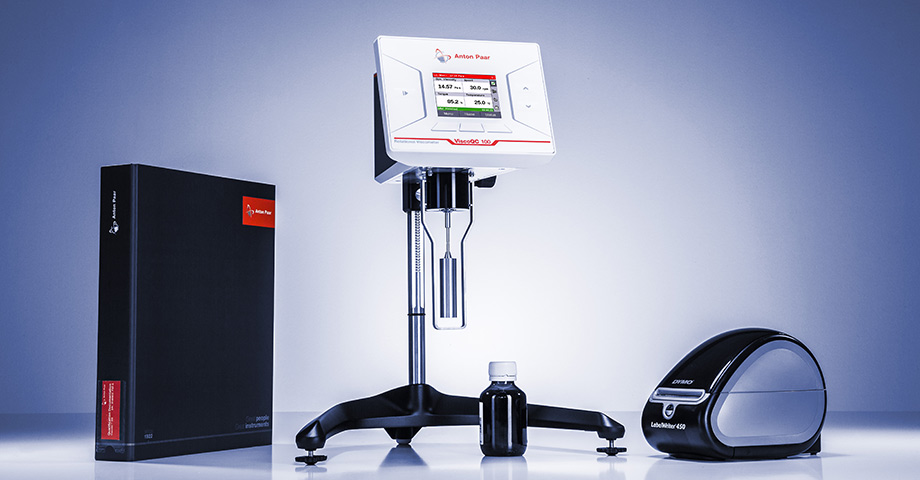 Fast export of viscosity results and pharma compliance ensured
Non-storage instrument: direct printout of your results right after measurement

Easily print labels with the optional DYMO® LabelWriter™
Free V-Collect data collection software included in every standard delivery

Don't worry, be compliant: Instrument qualification

Available with Pharma Qualification Package – Smart
Fulfills requirements of GMP, GAMP 5 (except 21 CFR Part 11)
Install, qualify, and start using ViscoQC 100 within one day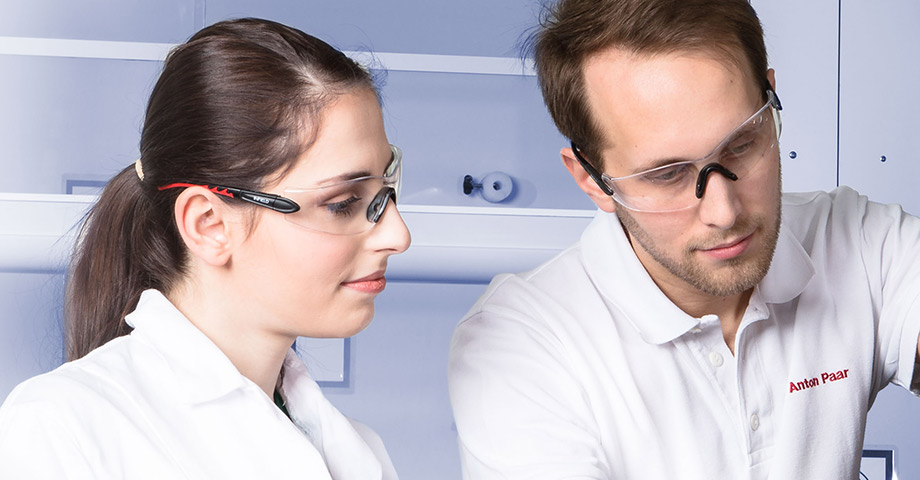 Worldwide support for your viscometer guaranteed – at any time
Benefit from our exclusive extended three-year warranty program
At-site exchangeable sensor for minimum downtime in case of repair
Avoid manual wind-up procedure thanks to automatic bearing check by TruSine™
A free installation and operational qualification document is included in every delivery
Fast support ensured either by LiveChat or by our worldwide sales network in more than 110 countries
ViscoQC 100

L
R
H
Viscosity test
Single point
Viscosity range [mPa.s]
(depends on the measuring system)
1* to 6M
10** to 40M
60*** to 320M
Speed [rpm]
0.1 to 200
25 increments: 19 standard speeds
plus 6 freely selectable speeds
Max. spring torque [mNm]
0.0673
0.7187
5.7496
Accuracy
±1.0 % full scale range
Repeatability
±0.2 %
* With optional double-gap system DG26, with L1 spindle 15 mPa.s
** With optional double-gap system DG26, with RH1 spindle 100 mPa.s
*** With optional double-gap system DG26, with RH1 spindle 800 mPa.s
M=1 million
ViscoQC is a registered trademark of Anton Paar (EM 01062030).
A
ASTM D115
ASTM D789
ASTM D1076
ASTM D1084
ASTM D1337
ASTM D1338
ASTM D1417
ASTM D1439
ASTM D1824
ASTM D2196
ASTM D2243
ASTM D2364
ASTM D2556
ASTM D3288
ASTM D3468
ASTM D3716
ASTM D3730
ASTM D3794
ASTM D4016
ASTM D4143
ASTM D4878
ASTM D4889
ASTM D5324
ASTM D5400
ASTM D6279
ASTM D6577
ASTM D7394
ASTM D8020
ASTM E2975
ASTM F1607

B
BS 5350

C
ChP 0633 Rotational viscosity measurement method, method III

D
DIN 16945
DIN 2555
DIN 3219
DIN 52007-1
DIN 53019-1
DIN 54453

E
EN 302-7
EN 2555
EN 3219
EN 10301
EN 12092
EN 12802
EN 15425
EN 15564

I
ISO 1652
ISO 2535
ISO 2555
ISO 3219
ISO 10364-12

J
JP XVII 2.53 (2.1.2) Single cylinder-type rotational viscometer

P
Ph. Eur. 2.2.10 - Rotating viscometer method

T
TAPPI T648
TAPPI T697

U
USP 912 Rotating viscometer method

Anton Paar Certified Service
The Anton Paar quality in service and support:
More than 350 manufacturer-certified technical experts worldwide
Qualified support in your local language
Protection for your investment throughout its lifecycle
3-year warranty
Learn more