This is a required field.
Invalid
Part number
Error in validation!
Five-station gas pycnometers for true density:

PentaPyc and PentaFoam
360°
True density analysis of powders, bulk solids, and foams
Built-in test methods and calculations of ASTM D6226 to describe open-cell content of foams
Measure up to 5 samples simultaneously
Looking for consumables & accessories for this product?
Click here
PentaPyc 5200e and PentaFoam 5200e measure the true and skeletal density of solids and powders to track their purity and porosity via gas displacement. PentaFoam 5200e is also equipped with the test methods for measuring the open-cell content of foam according to ASTM 6226. Set up in just a couple of minutes and start as many as five density measurements in a single session – particularly convenient if your lab handles a variety of measurement types. The devices occupy about as much bench space as a laptop.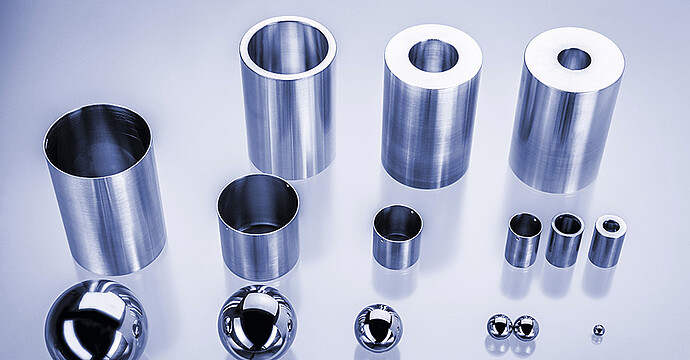 TruPyc technology for unmatched accuracy in all sample cells
PentaPyc 5200e and PentaFoam 5200e deliver accurate results whether you have only enough sample to fill the smallest sample cell or enough for the largest sample cell. This is of special importance as pycnometry relies on proper matching of the void space within the sample chamber to the volume of the reference chamber in order to avoid uncertainties. Each device has multiple reference chambers and automatically selects and uses the appropriate reference chamber based on the selected cell size.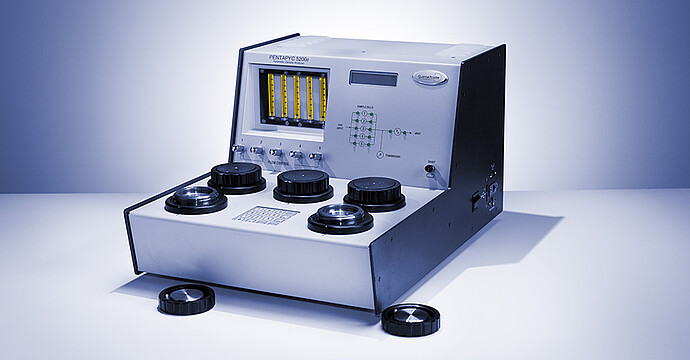 Load up to 5 samples and walk away
PentaPyc 5200e and PentaFoam 5200e are ideal for high sample throughput in environments where space and operator time may be limited. Once the samples are loaded and the test methods have been entered, all you need to do is press 'start' – and PentaPyc/PentaFoam takes over. Purging of the cells can be performed on all five samples simultaneously or individually. After this step, the true or skeletal density is measured by gas pycnometry for each sample in turn. When the last sample is completed, a new batch can be loaded and started.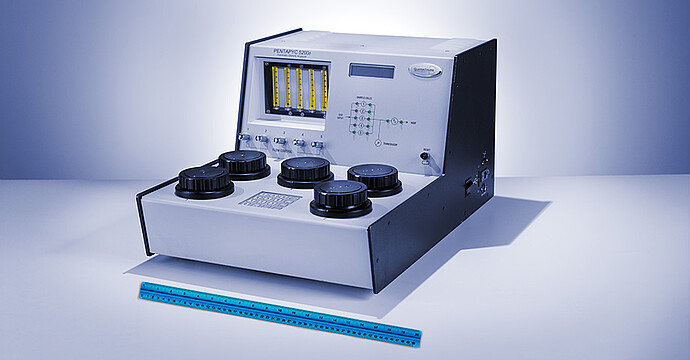 Five gas pycnometer stations in about the same bench space as a laptop
Just two single-station gas pycnometers take up more bench space than a single PentaPyc 5200e or PentaFoam 5200e. If you have limited space in your laboratory, these instruments give you all the measurement capacity you need, on a very small footprint.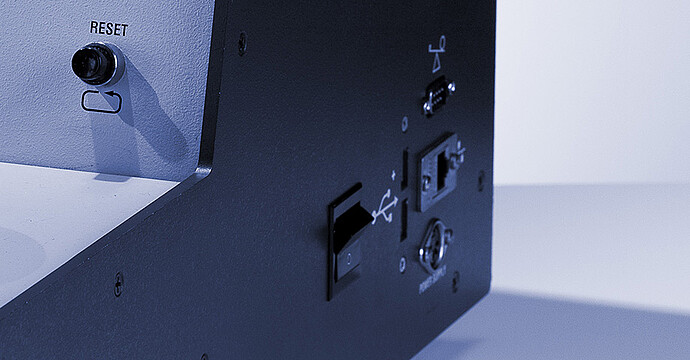 Direct connection to weighing balances to prevent transcription errors
Eliminate the risk of possible transcription errors from manually entering sample weight data from an external balance by directly connecting your PentaPyc or PentaFoam to a balance using an RS232 communication protocol.
PentaPyc 5200e
PentaFoam 5200e
Large cell (135 cm³)
Accuracy: 0.02 %
Repeatability: 0.01 %
Medium cell (50 cm³)
Accuracy: 0.03 %
Repeatability: 0.015 %
Small cell (10 cm³)
Accuracy: 0.2 %
Repeatability: 0.1 %
Preparation mode(s)
Flow, pulse, or vacuum
TruPyc technology
Yes
Built-in foam methods and calculations
No
Yes
Transducer accuracy
Better than 0.1 %
Pressure reading resolution
Digital pressure readout 0.0001 psi
Connections
USB, Ethernet
Instrument weight
33 kg
Dimensions (W x D x H)
42 cm x 58 cm x 32 cm
Anton Paar Certified Service
The Anton Paar quality in service and support:
More than 350 manufacturer-certified technical experts worldwide
Qualified support in your local language
Protection for your investment throughout its lifecycle
3-year warranty
Learn more
Consumables & Accessories
Consumables & Accessories
Not all items are purchasable online in specific countries.
To find out if you can purchase online from your location, check the online availability below.
Online price only
|

excl.

incl.

0

VAT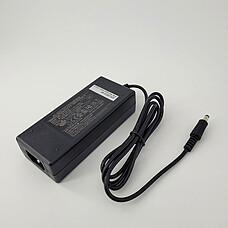 EXTERNAL POWER SUPPLY
Compatible with:
PentaPyc and PentaFoam 5200e | 5200e Foam
Delivery time:
%1$s – %2$s working days
%1$s – %2$s weeks
%1$s – %2$s months
Part number: 186547