Rotational Viscometer ViscoQC 300
The Game Changer
Developed for a wide range of applications, ViscoQC 300 ensures the quality of your substance – from almost any fluid to semi-solid samples – by delivering fully traceable viscosity results right at your fingertip. Starting from a multi-point viscosity measurement for your respective purpose, your system is upgradeable with compliance (21 CFR Part 11) and/or additional analysis software to also meet your future needs. Further improve your process with the optional sample bar code scanner and data processing via LIMS Bridge software.
Innovation and quality – this is what ViscoQC 300 stands for.
Get in touch
Document Finder
Touch viscometer up for immediate start-up right out of the box
Unpack and measure right away as ViscoQC 300 is already assembled when delivered
Intuitive alignment check: Built-in digital leveling ensures correct instrument alignment
Relative spindles (L, RH) according to ISO 2555 included in standard delivery
Optional DIN and vane spindles available to fit to your applications
Keep your workspace tidy by positioning up to 7 spindles in the spindle rack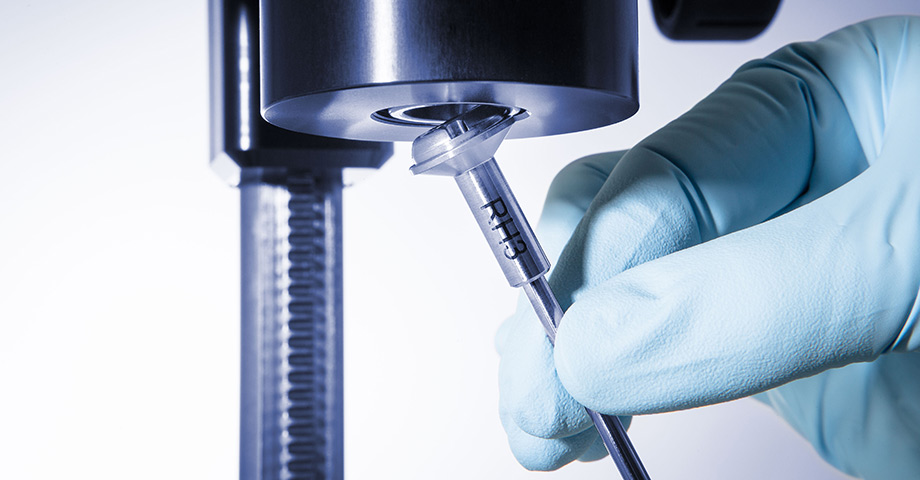 Fast and simple set-up to reach fully traceable viscosity quality control
Built-in magnetic coupling: for easy attachment/exchange of spindles
Automatic spindle recognition: Toolmaster™ prevents spindle selection errors
Automatic guard detection: TruGuard™ documents whether a guard is attached or not
Simplify daily routines by connecting a keypad and mouse to ViscoQC 300
Control sample temperature with a thermostatic bath (ambient to +100 °C)
Monitor your sample temperature with a Pt100 sensor (-60 °C to +300 °C)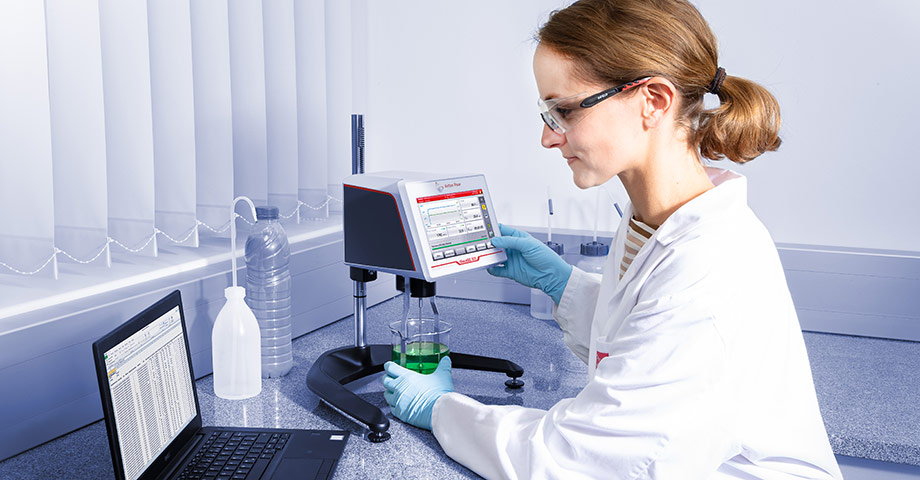 Designed to get outstanding results in multi-point viscosity checks
Auto speed function: unique TruMode™ finds best speed to measure unkown samples
7" color touch screen with intuitive user interface and pre-defined methods
User calibration: Spindle correction factor storable on Toolmaster™
Customize your methods with QC-limit function, user instructions, and more
Control your measurements either by speed or by shear rate
Increase sample throughput using disposable aluminum cups (D18)
Prolonged spindle lifetime thanks to high chemical resistance of stainless steel AISI 316L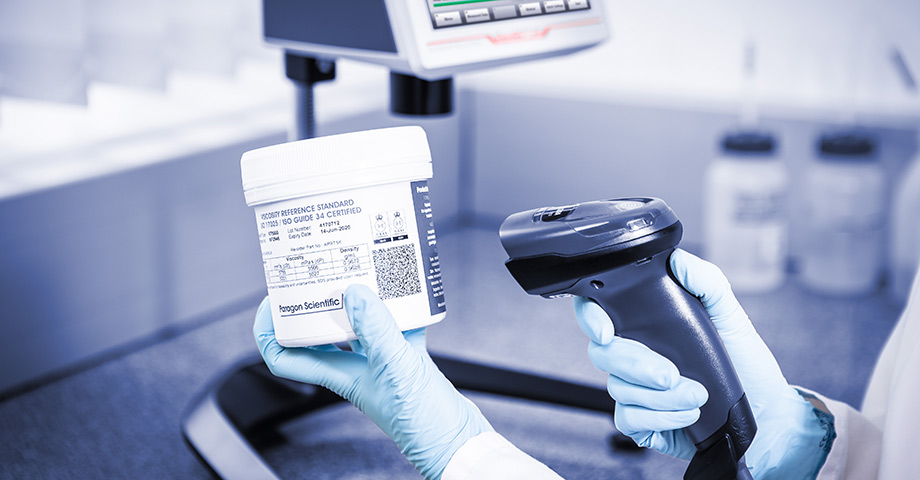 Conveniently manage sample data and dynamic viscosity results
Easy input of sample data to the instrument by optional barcode scanner
Transfer your data to your network by LIMS Bridge to further process it
Directly export results from instrument data storage as pdf or csv
Free V-Collect data collection software included in every standard delivery
DYMO® LabelWriter™ for direct printout after measurement
Print results from ViscoQC 300 to a page printer (USB or network)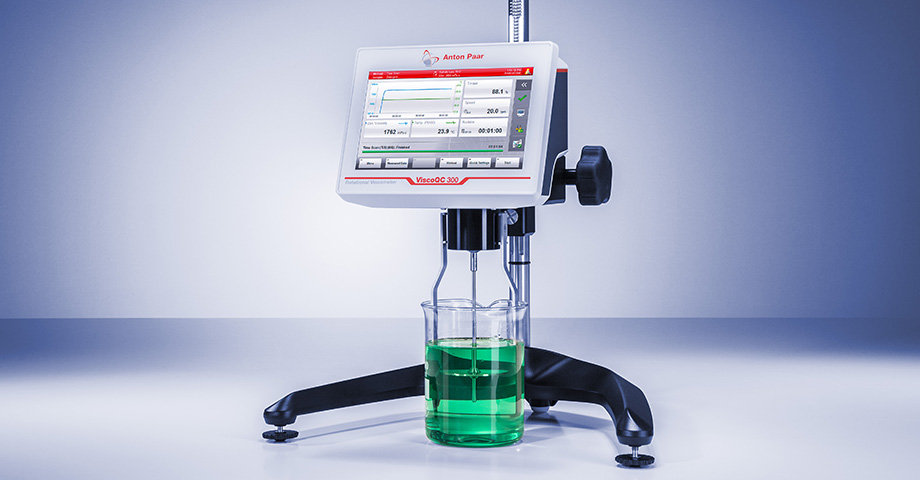 Future-proof ViscoQC 300 with upgradable software packages
Graph and analysis software (V-Curve) adds to your stand-alone instrument:

Online graph for live measurement data
Mathematical models
Programmability of up to 50 steps
Yield method (with vane spindles)

Compliance software (V-Comply) to fulfill regulations of 21 CFR Part 11:

Audit trail, electronic signature
Password access and complexity
Customize users/user groups
Restrict use of spindles through Toolmaster™
Each delivery includes free Pharma Qualification Package (PQP)
Rapid worldwide support for your viscosity meter guaranteed
Get 3 years instead of 1: With our exclusive extended warranty program
Lowest downtime in case of repair thanks to at-site exchangeable sensor
Automatic bearing check by TruSine™ to avoid manual windup procedure
Every delivery includes free installation and operational qualification document
Rapid support ensured either by LiveChat or by our worldwide sales network in more than 110 countries
ViscoQC 300

L
R
H
Viscosity test
Multi Point point
Viscosity range [mPa.s]
(depends on the measuring system)
1* to 6M
10** to 40M
60*** to 320M
Speed [rpm]
0.01 to 250
Max. spring torque [mNm]
0.0673
0.7187
5.7496
Accuracy
±1.0 % full scale range
Repeatability
±0.2 %
* With optional double-gap system DG26, with L1 spindle 15 mPa.s
** With optional double-gap system DG26, with RH1 spindle 100 mPa.s
*** With optional double-gap system DG26, with RH1 spindle 800 mPa.s
M=1 million
ViscoQC is a registered trademark of Anton Paar (EM 01062030) .
A
ASTM D115
ASTM D789
ASTM D1076
ASTM D1084
ASTM D1337
ASTM D1338
ASTM D1417
ASTM D1439
ASTM D1824
ASTM D2196
ASTM D2243
ASTM D2364
ASTM D2556
ASTM D3288
ASTM D3468
ASTM D3716
ASTM D3730
ASTM D3794
ASTM D4016
ASTM D4143
ASTM D4878
ASTM D4889
ASTM D5324
ASTM D5400
ASTM D6279
ASTM D6577
ASTM D7394
ASTM D8020
ASTM E2975
ASTM F1607
ASTM D4300
ASTM E3070
ASTM E3116

B
BS 5350

C
ChP 0633 Rotational viscosity measurement method, method III

D
DIN 2555
DIN 3219
DIN 52007-1
DIN 53019-1
DIN 54453

E
EN 302-7
EN 10301
EN 12092
EN 12802
EN 15425
EN 15564

I
ISO 1652
ISO 2555
ISO 2884-2
ISO 3219
ISO 10364-12

J
JP XVII 2.53 (2.1.2) Single cylinder-type rotational viscometer

P
Ph. Eur. 2.2.10 - Rotating viscometer method

U
USP 912 Rotating viscometer method

B. ViscoQC 300 and its software packages