Wines, Sparkling Wines
Precisely determine and monitor the alcohol content and numerous other quality parameters in wine and sparkling wine: Anton Paar specializes in high-precision laboratory and process wine analysis, with over 20 years of experience and many long-term partnerships with the biggest names in this industry. Find the measuring instrument that meets your particular needs – or let us help you find the best solution by contacting us directly.
Get in touch
The winemaking process
Complete your wine analysis and measure key parameters from the incoming raw materials to the final quality control of the packaged wine. Your benefits:
More than 20 years of expertise in inline, at-line, and laboratory wine analysis
Choose from more than 15 laboratory and process instruments for your in-depth analysis
Get more than 20 key parameters for your wine and must samples
Benefit from global support and service from local specialists
Hover over the dots to learn which instrumentation you can use at this point in your production or to see how you will benefit from measurements at this point.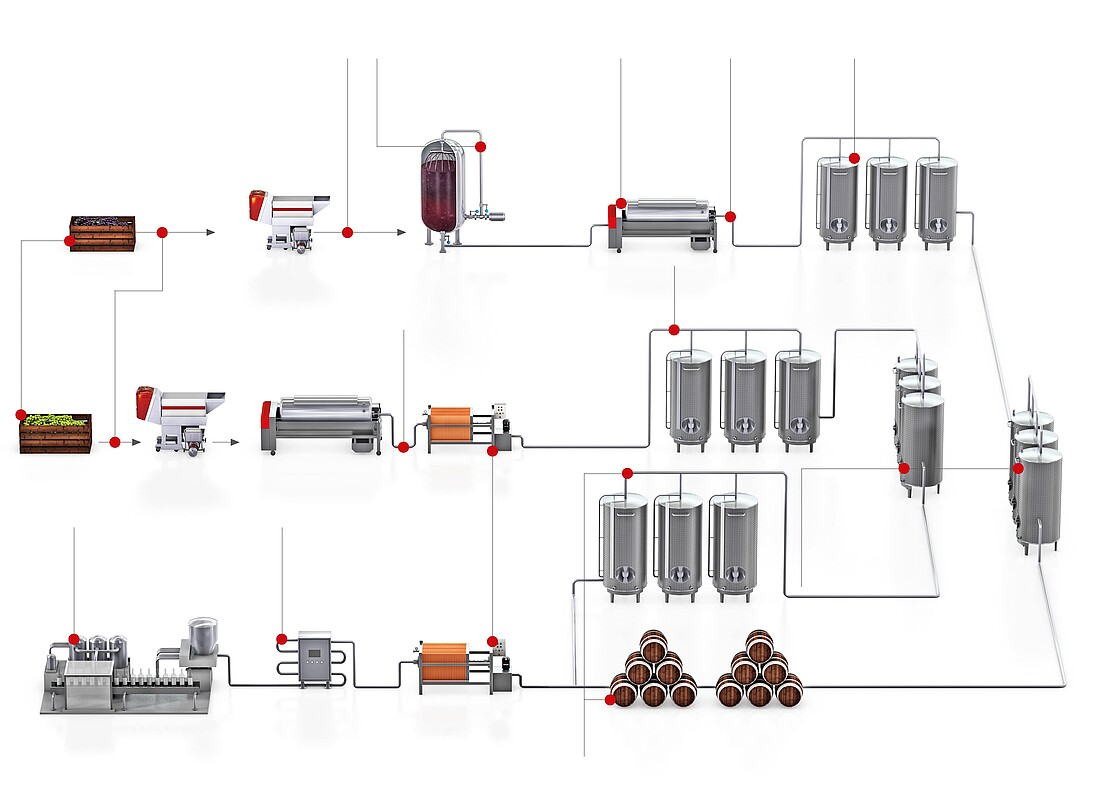 Laboratory measurement (incl. portable instruments)
Choose the long-standing trusted partner of the wine industry
With more than 20 years of experience in developing and distributing wine analysis instrumentation for more than 20 key wine quality parameters, Anton Paar is the market leader in beverage analysis. The portfolio includes measuring instruments for inline, at-line, and laboratory wine analysis. Combining laboratory and process instruments yields many benefits, especially for bigger producers; at the same time, each solution can stand on its own for accurate, reliable, and safe measurements. Anton Paar instruments will help you to provide your wine products in consistent quality and control them at every production step – from harvesting until final bottling.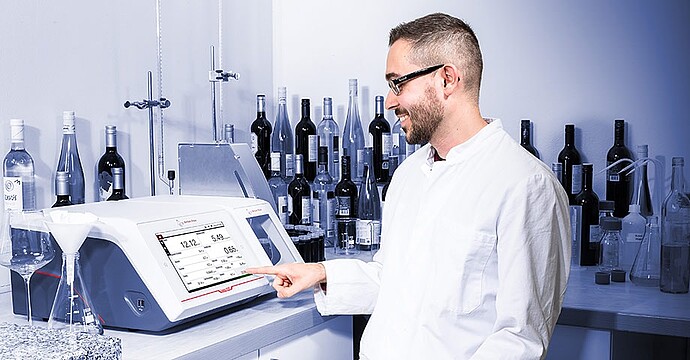 Go from fast screening to in-depth wine analysis in lab and process
More than 20 key quality parameters that you can analyze with Anton Paar instrumentation guarantee you in-depth knowledge about your wine and the right solution for your individual challenge in wine production. Solutions include the Lyza 5000 FTIR analyzer for fast screenings of more than 13 quality parameters in must, must in fermentation, and wine. Big wine producers and wine bottlers find many advantages in combining laboratory and process instrumentation, as shown in the graphic above, e.g. to control product quality or to reduce sample handling times. Wine farmers, on the other hand, might go for smaller solutions, such as DMA 35, while wine analysis labs need fast and comprehensive results that are delivered by FTIR.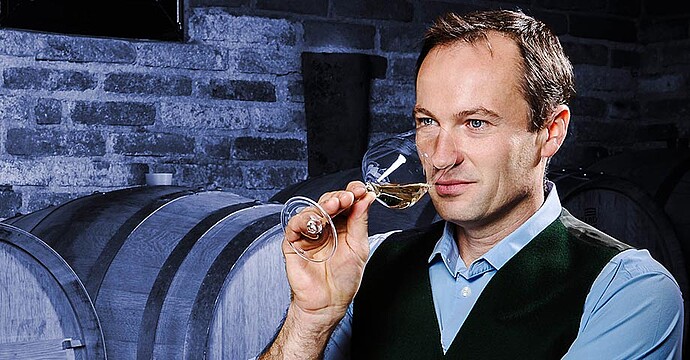 Benefits for wine farmers
With the right analysis equipment you can easily answer questions such as:
When is the best time to harvest my grapes?
Do my grapes have the quality I expect?
Parameters you can measure to achieve this include grape sugar content and the acidity of grape juice. With this information you will be able to:
Determine the stage of grape development
Decide on the right time for harvest
Follow changes in the acid composition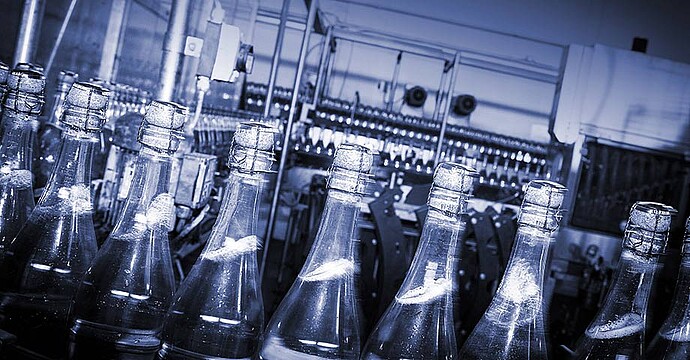 Benefits for wine producers and bottlers
Measuring solutions from Anton Paar for the wine industry will enable you to answer questions such as:
Are the grapes our providers deliver of the expected quality?
How is the fermentation progressing?
Is my wine profile correct?
Are product stability and appearance guaranteed?
Is this must composition suitable for effective fermentation?
And many more
Parameters you can measure to achieve this include sugar content, acidity, pH, turbidity, fructose, glucose, various acids and acid profile, alcohol, glycerol, specific gravity, and many more. For some parameters, you can use process meters to control the wine during production, and lab meters for quality control and calibrations. All in all, with this information you will be able to:
Guarantee the quality of your wine product to your customers
Control your product quality and production process all the way through, from grape to bottle
Reduce costs by reducing sample handling time
To see your measuring possibilities at every process step in-depth, you can use the interactive graphic above.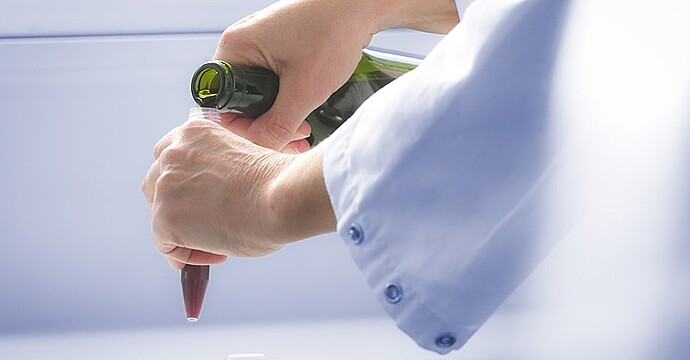 Benefits for contract laboratories in wine analysis
Wine analysis instrumentation from Anton Paar will enable you to answer questions such as:
Are parameters such as alcohol and CO₂ within product-specific and legal limits?
What is the wine's profile?
Do I have enough analysis results to give an informed consultation to my customers?
And many more
Parameters you can measure to achieve this include sugar content, acid profile, pH, yeast assimilable nitrogen, turbidity, various sugar types, and many more. With results from Anton Paar instruments you will be able to:
Guarantee accurate, repeatable, and reproducible results to your customers
Measure according to international standards
Conduct screenings for more than 13 parameters in less than one minute
To learn more about all your measuring possibilities in the lab, you can turn to the laboratory part of the interactive graphic above.
We offer you a great and constantly growing choice of live webinars and recordings on products, applications, and scientific topics.
View webinars
Explore our database of application reports and find out how to overcome challenges in your field.
View application reports