This is a required field.
Invalid
Part number
Error in validation!
Portable density meter:

DMA 35
Quality checks in the field, e. g. on wine and wine must (°Brix, °KMW, Oechsle, Baumé)
Checks for wort and apparent extract in beer (°Plato)
Fermentation graph for each tank directly on the screen
One device replaces all glass hydrometers in the workplace
Looking for consumables & accessories for this product?
Click here
Take DMA 35 with you at all times and measure the density and concentration of your sample directly on-site. One portable density meter replaces all the glass hydrometers in your workplace and gives you the accuracy expected from a lab instrument. DMA 35 uses only two milliliters of sample and saves you a lot of time as there is no need to transport the sample to the lab. It is built to withstand the knocks and spills of outdoor use. An RFID interface for quick sample identification and a Bluetooth® interface for convenient data handling in the field are integral parts of the instrument.
We've been making portable density meters since 1981, and have led the global market in density measurement for more than half a century.
A portable density meter providing accurate results, also under harsh conditions
The splash-proof DMA 35 is made for density and concentration measurement in harsh environments, including outdoor operation, while providing the accuracy expected from a lab instrument. The smart oscillator placement makes sure that gas bubbles move to where they can't affect your result: outside the measuring cell.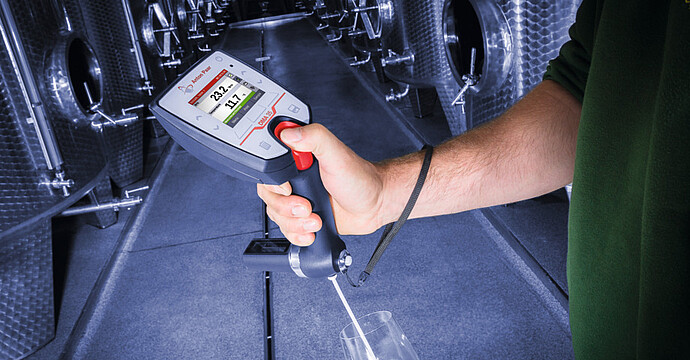 Designed for on-site density measurements
Leak-proof sealed housing to withstand harsh conditions in industrial and field applications
Additional rubber protection keeps the measuring cell safe
Operation via capacitive keys so sensitive they can be used with gloves
Suitable for both left- and right-handed users
RFID tag readings, measurement start or abort, via gesture control: One hand is free to hold you steady with hard-to-reach samples.
For sample temperatures up to 100 °C, quick decision support, e. g. in the beer brewing process (measurement of hot wort)
Graphical visualization of the fermentation process for each fermentation tank
Smart patented oscillator connection (AT516421 B1, EP3015847 B1) permits replacement in case of cell rupture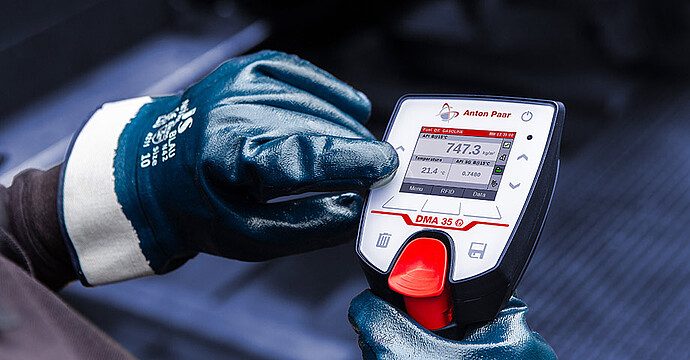 Intrinsically safe – for use in hazardous locations
Intrinsically safe models DMA 35 Ex and DMA 35 Ex Petrol (Ex marking [Ex] II 2 G Ex ib IIB T4) for use in hazardous areas
The only option available on the market for safe measurements in explosive atmospheres
DMA 35 Ex is particularly suitable for measuring flammable chemicals.
DMA 35 Ex Petrol provides excellent resistance to petroleum samples and fully complies with the ASTM D7777 and IP 559 standards.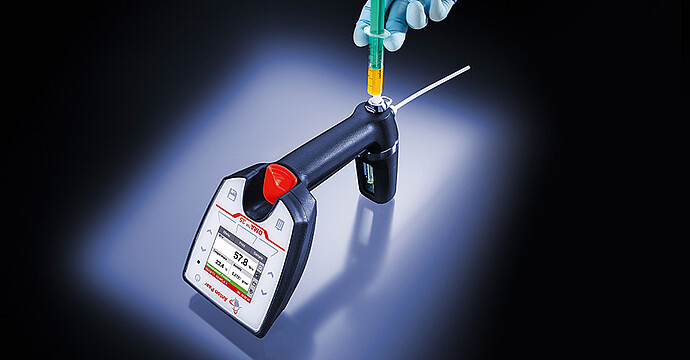 Fastest filling and measurement – for a huge variety of samples
Fill all kinds of samples – no matter what the viscosity is – in one second using the built-in manual pump or a syringe.
No expensive electrical wearing parts: You can easily do all cleaning and maintenance work yourself.
Measuring cell with inspection window and backlight for convenient inspection of proper sample filling
The most reliable portable density meter for fermenting beer or wine, due to intelligent oscillator placement (potential bubbles automatically move outside the measuring cell)
Lock-position of pump preventing sample carryover
Auto-rotating display for perfect visibility of results at any instrument position
Influence of viscosity on your density result is automatically corrected: for reliable measurements, also on highly viscous samples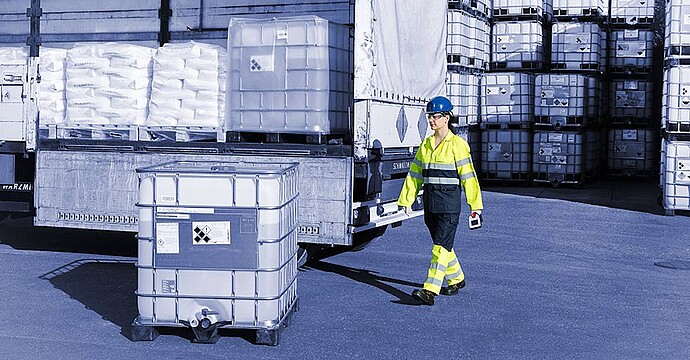 Perfect traceability of density and concentration results
Storage of up to 250 sample IDs for easy sample identification
RFID interface for changing measurement settings quickly by reading RFID tags
Storage of up to 1024 measurement results including time stamp and sample ID
Wireless data exchange with a PC (csv or txt format) and data export to a printer via Bluetooth® for convenient data handling in the field – no extra software required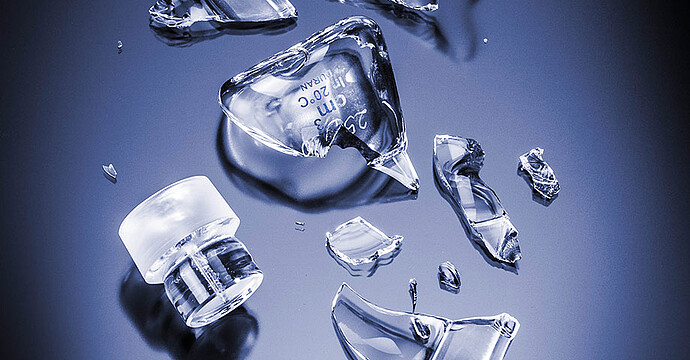 Leave your glass hydrometer or pycnometer for a digital density meter
Measurement directly at the sample container
Requires only 2 mL of sample, filled via the built-in pump
Preinstalled and programmable concentration units – no further calculations necessary
Results available in seconds
Perfect traceability of results
Calculate your individual savings now: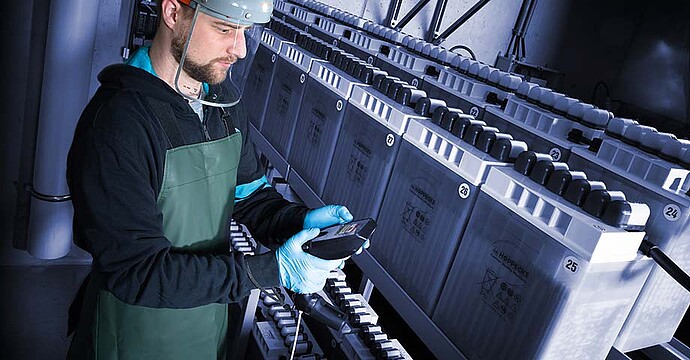 Quickly determining the state of charge of lead-acid batteries
Determination of the specific gravity of sulfuric acid
Used for measurement of sulfuric acid in lead-acid battery production and maintenance of uninterruptible power supply (UPS) systems
Protection class IP54 and high chemical resistance
Patents granted
Smart connection of measuring cell: Patent AT516421 (B1), EP3015847 (B1), CN 105571982 B
Other special functions
Viscosity correction for reliable measurements, also on highly viscous samples
Gesture control for easy one-handed measurements
Identification of results outside your specified limits
Measuring range
Density: 0 g/cm³ to 3 g/cm³
Temperature: 0 °C to 40 °C (32 °F to 104 °F)*
Accuracy
Density: 0.001 g/cm³ **
Temperature: 0.2 °C (0.4 °F)
Repeatability, s.d.***
Density: 0.0005 g/cm³ **
Temperature: 0.1 °C (0.2 °F)
Reproducibility, s.d.***
Density: 0.0007 g/cm³
Digital Resolution
Density: 0.0001 g/cm³
Temperature: 0.1 °C (0.1 °F)
Ambient temperature****
Standard Version, Ampere Version: -10 °C to +50 °C (14 °F to 122 °F)
Ex and Ex Petrol version: -10 °C to +40 °C (14 °F to 104 °F)
Supported measuring units

Specific gravity
Alcohol tables
Sugar/extract tables
API functions
H2SO4 tables
Ten programmable custom-specific measuring units

Sample volume
2 mL
Dimensions (L x W x H)
245 mm x 103 mm x 126 mm
Data memory
1024 measured results, 30 measuring methods, 250 sample IDs
Power supply
Three 1.5 V LR06 AA alkaline batteries
Weight
660 g
Interfaces
Bluetooth®, RFID (both included by default)
Protection class
IP54
(first digit: 5 – protection against dust ingress; second digit: 4 – protection against splash water from any direction)
Intrinsic safety of Ex and Ex Petrol version
ATEX: II 2G Ex ib IIB T4 Gb
IECEx: Ex ib IIB T4 Gb
Scope of supply
Portable density meter, filling tube, adapter for syringe filling, syringes, transportation case, rubber protection for measuring cell, three batteries, Allen key, instructions
Menu language
English, German, Chinese, Japanese, French, Russian, Italian, Portuguese, Turkish, Spanish
Available options

Elongated filling tube
Portable thermal printer with Bluetooth® interface
Bluetooth® USB adapter
Wristband
Carrying strap
ISO calibration

* Measurements up to 100 °C possible
** Viscosity <300 mPa•s, density <2 g/cm³
*** according to ISO 5725
**** Sample must not freeze within the measuring cell; Ex and Ex Petrol version: -10 °C to +40 °C (14 °F to 104 °F)
DMA is a registered trademark of Anton Paar (EM 013414867)
Anton Paar Certified Service
The Anton Paar quality in service and support:
More than 350 manufacturer-certified technical experts worldwide
Qualified support in your local language
Protection for your investment throughout its lifecycle
3-year warranty
Learn more
Consumables, Accessories & Reference materials
Consumables, Accessories & Reference materials
Accessories
Accessories
Not all items are purchasable online in specific countries.
To find out if you can purchase online from your location, check the online availability below.
Online price only
|

excl.

incl.

0

VAT
AP DENSITY STANDARD SODIUM BROMIDE 1x10 mL WITH ISO 17034 CERTIFICATE
Compatible with:
DMA 35 Standard | Ex | Ex Petrol | Ampere
Delivery time:
%1$s – %2$s working days
%1$s – %2$s weeks
%1$s – %2$s months
Part number: 242818
Product details
Density standard with high density (1250 kg/m3)
Aqueous liquid
Measuring uncertainty: 0.03 kg/m³
Specified temperature range: 15 °C – 25 °C
Durability: 18 months
Volume: 10 mL
ISO 17034-certified reference material
Complies with ISO 17025 and ISO 17034 requirements