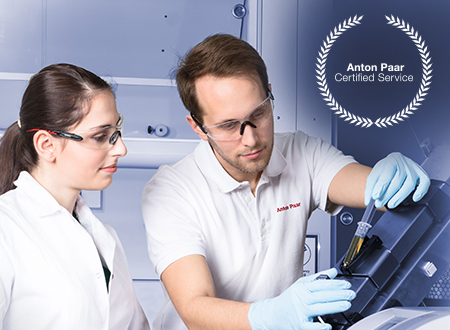 Anton Paar Certified Service
Service and support directly from the manufacturer
Anton Paar Certified Service offers you service, support, and calibration by technical experts, trained and certified directly at Anton Paar. Benefit from qualified support in your local language at one of 86 service points worldwide. With a choice of different service packages, you always get exactly what you need to keep your results precise and your investment up to date – fast, reliable, and in the high quality you are used to.
Make the most of your instrument throughout its life cycle by taking good care of it – with Anton Paar Certified Service.
Anton Paar service: What are your benefits?
Keeping your investment healthy

However intensively you use your instrument – we help you to keep your device in good shape and your results accurate. A minimum of 10 years of support is guaranteed for every instrument.

Make the most of your instrument throughout its whole life cycle with regular maintenance, functional checks, and calibrations. Make sure your investment is used to its full potential with up-to-date firmware/software and regular re-qualifications. Several standard service options are offered to cover most service and qualification needs – learn more here.

Direct, qualified support

Whenever you need anything, you can always contact your local service department directly.

Benefit from the advantages of qualified support in your local language, in your area.

Trained and certified service engineers

Whatever you need done on your instrument – service, calibrations, updates, and more – you can rely on the certified Anton Paar service engineers.

All of our technical experts are trained and certified directly at our manufacturing sites to ensure they have the highest possible knowledge and expertise on your specific instrument.

Each service is documented with manufacturer-compliant protocols.

At your location

Wherever you are located, there is always an Anton Paar service engineer nearby.

With more than 350 certified technical experts in 86 locations worldwide you can get an on-site response time of less than 24 hours*
*dependent on Service Level Agreement
Anton Paar service locations worldwide
A trained and certified service engineer is close to you in more than 86 locations worldwide.
Select an Anton Paar company
Headquarters
Subsidiaries
Local Representatives
Service contracts and support offerings
Service package
One Anton Paar service visit, including:
Labor and travel costs
Replacement of normal wear parts
Electrical and mechanical functional check and adjustment (as required)
Check of outer conditions
Phone and email support
Priority scheduling for all service activities
Additionally for all instruments requiring a calibration:
Calibration with certified and traceable standards according to maintenance record (incl. one temperature and one standard; more temperatures and standards are available on request)
---
Additionally the following items can be selected according to your needs:
One Anton Paar in-house service
One Anton Paar functional check
Calibration according to ISO 17025
One year warranty extension
Repair coverage*
Operator training
Relocation of an Anton Paar instrument and measurement check
* Depending on your type of service level agreement
---
Anton Paar can offer Service Level Agreements tailored to your specific requirements. Contact us to get more information about custom-tailored services.
Anton Paar calibrates the density and temperature of density meters (incl. a range of discontinued devices) according to ISO 17025. You can find all important information about the ISO 17025 calibration service here.
Accreditation range
Parameter
Liquid density
Density range
650 kg/m³ to 1550 kg/m³
Smallest achievable uncertainty
(depending on instrument and reference liquid): 0.02 kg/m³
Measurement conditions
15 °C to 50 °C
1.013 bar
The use of certain instruments in the pharmaceutical industry requires specific qualifications and documentation. Our Pharma Qualification Package (PQP) covers the instrument-specific qualification procedure according to the USP <1058> 4Q model and also includes:
Risk Analysis
21 CFR Part 11 checklists, Deviation List, Traceability Matrix, SOP
PQP-S (Smart)
For customers who must follow GAMP 5 and GMP but do not have to be 21 CFR Part 11-compliant.
Requalification
An instrument qualification is not a one-time event. Depending on the requirements of the requalification (e.g. yearly requalification, change of location, software update, etc.) a customized document is created.
Certified Service: The Anton Paar quality
ISO 9001-certified service process
The Anton Paar Global Service processes are integrated in the quality management system certified according to ISO 9001.
Service certifications of engineers
Every Anton Paar Service Professional is certified according to the Anton Paar training program. Each engineer undertakes product-line-specific training tailored to meet your needs to ensure successful resolution of service interventions. Requalification of the engineers ensures that the training remains up to date. Certificates can be provided to the customer on request.