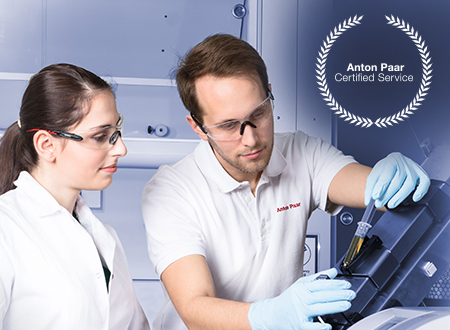 Anton Paar Certified Service
Service and support directly from the manufacturer
Anton Paar provides service, support, and calibration carried out by experts trained and certified directly at Anton Paar. Benefit from qualified support in your local language at one of 86 service points worldwide. Our commitment to quality includes full warranty for our instruments – for three years. Alongside the warranty you can choose from a wide range of additional services. Our comprehensive service provides you with the best individual coverage for your investment.
Contact us
Anton Paar service: What are your benefits?
Select an Anton Paar company
Headquarters
Subsidiaries
Local Representatives
Service and support offerings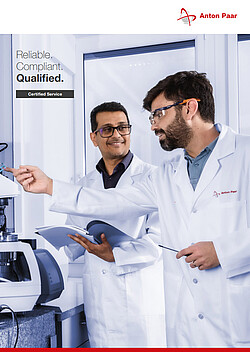 Our 3-year warranty is available to all customers. All new instruments will include repair for 3 years. Alongside the warranty we offer a wide range of additional services and maintenance options.
Service at your site or at an Anton Paar facility
Repair coverage
Functional checks
Calibrations according to ISO 17025
Operator training
Relocation of an instrument incl. reinstallation
Flat rates for wear parts
Individual packages with specified services
Option to extend the warranty
Maintenance schedule
Due to the technology they use, some instruments require maintenance – also within the first three years in order to be covered by the 3-year warranty. To keep this as simple as possible, we provide a maintenance schedule. Contact us for more information.
Calibration according to ISO 17025
Anton Paar calibrates the density and temperature of density meters (incl. a range of discontinued devices) according to ISO 17025. You can find all important information about the ISO 17025 calibration service here.
Accreditation range
Parameter
Liquid density
Density range
650 kg/m³ to 1550 kg/m³
Smallest achievable uncertainty
(depending on instrument and reference liquid): 0.02 kg/m³
Measurement conditions
15 °C to 50 °C
1.013 bar
The use of certain instruments in the pharmaceutical industry requires specific qualifications and documentation. Our Pharma Qualification Package (PQP) covers the instrument-specific qualification procedure according to the USP <1058> 4Q model and also includes:
Risk Analysis
21 CFR Part 11 checklists, Deviation List, Traceability Matrix, SOP
PQP-S (Smart)
For customers who must follow GAMP 5 and GMP but do not have to be 21 CFR Part 11-compliant.
Requalification
An instrument qualification is not a one-time event. Depending on the requirements of the requalification (e.g. yearly requalification, change of location, software update, etc.) a customized document is created.
Certified Service: The Anton Paar quality
ISO 9001-certified service process
The Anton Paar Global Service processes are integrated in the quality management system certified according to ISO 9001.