This is a required field.
Invalid
Part number
Error in validation!
Rotational viscometer:

ViscoQC
Single-point measurements on 3.5" color display
Viscosity range from 1 mPa.s to 6,000,000 mPa.s
4 L spindles to measure low-viscosity samples (e.g. solvents, oils, and more)
Looking for consumables & accessories for this product?
Click here
Do you need an easy-to-use viscometer that provides convenient operation for the most reliable and traceable viscosity results in your day-to-day work? ViscoQC rotational viscometers ensure the quality of your substance – from liquid to semi-solid.
Eliminate the risk of measurement errors and free up your time and budget with the simplest spindle exchange mechanism, automatic spindle detection, automatic speed searching function for new formulations, and more.. Your existing SOPs can be easily converted if the same setup and settings are used.
It's time to switch to an easier way. It's time to switch to ViscoQC.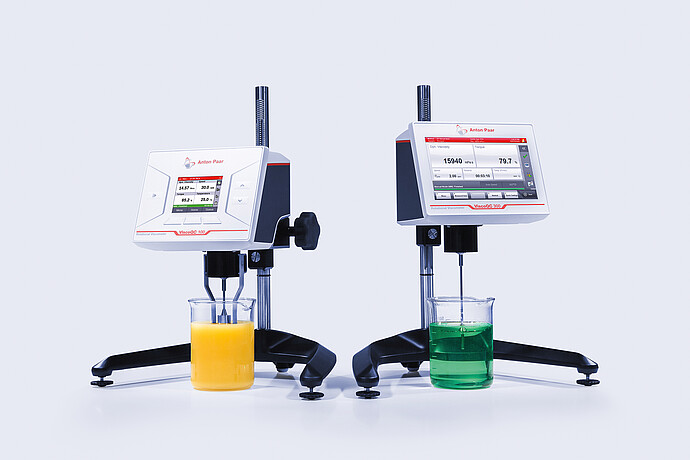 The easiest-to-use rotational viscometer – unpack and measure
Setup takes less than two minutes: ViscoQC comes preassembled and includes an SOP booklet with first steps and straightforward user training. Our rotational viscometers guide you from startup through the entire measurement process via an intuitive user interface. Continue to use the SOP methods of your existing rotational viscometer: ViscoQC uses the same instrument setup and measuring settings to deliver the same results. Spindles with magnetic coupling for easy, fast, and safe spindle exchange come as standard.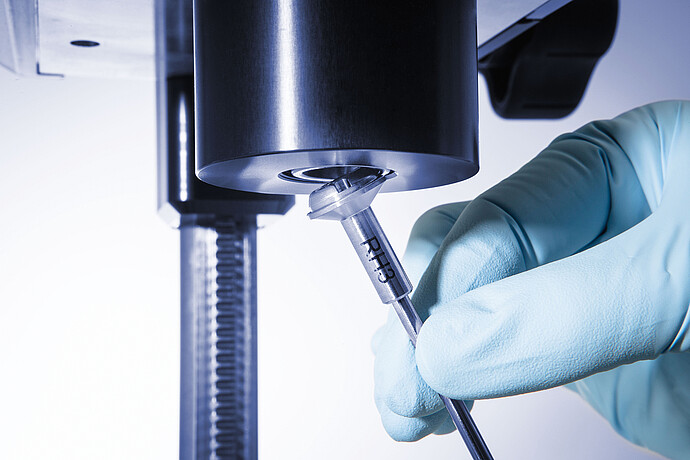 Full traceability for reliable viscosity tests
Make your viscosity measurements error-proof and 100% traceable with our unique Toolmaster™ feature: spindles are automatically detected by the viscometer as soon as they're attached. With ViscoQC 300, you can further restrict each method to a unique spindle identity. Furthermore, all connected accessories are detected and documented as well:
Built-in digital leveling automatically monitors and indicates the correct levelling status, which prevents faulty measurements and ensures remarkable, full-scale range accuracy of ± 1%. If you need to measure new formulations, ViscoQC automatically leads you to the right spindle/speed configuration using TruMode™.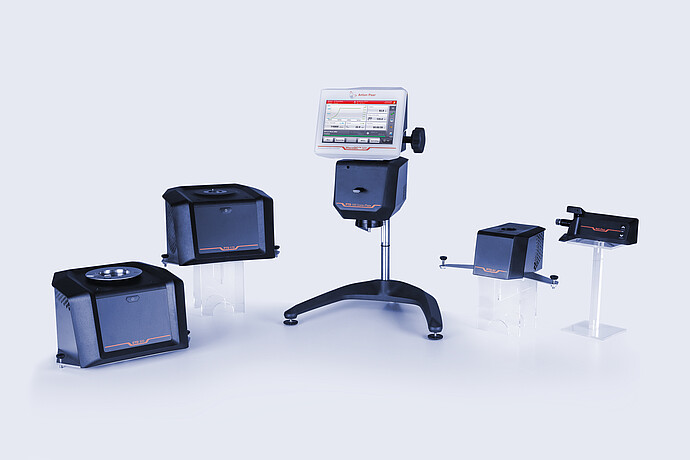 Your future-proof rotational viscometer
You can upgrade your ViscoQC with accessories to cover any need:
You can add other software functionality to ViscoQC 300 with V-Curve, adding real-time graphs, analysis (e.g., yield point), programmability, and extended method functionality.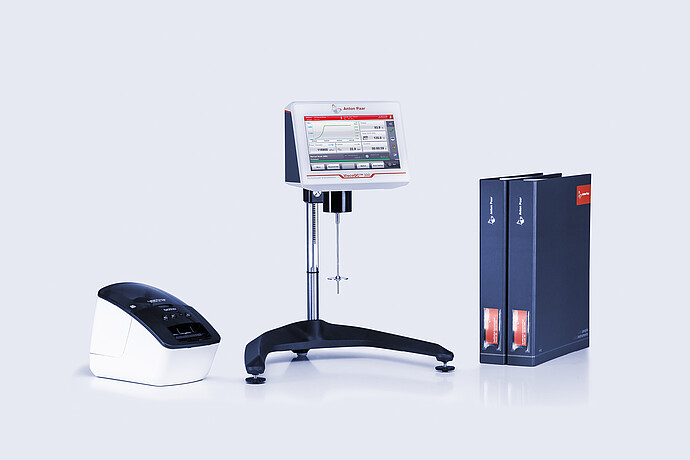 Be fully compliant within one day
ViscoQC is qualified and ready to use within a single day – compliant to 21 CFR Part 11, GMP, and GAMP 5. The V-Comply software for ViscoQC 300 delivers features like audit trail, electronic signature as well as the qualification documentation. The qualification is much more than a simple installation and basic IQ/OQ. An in-depth risk analysis, performance qualification, traceability matrix, and final qualification report enhance the value of the qualification package for the entire qualification process.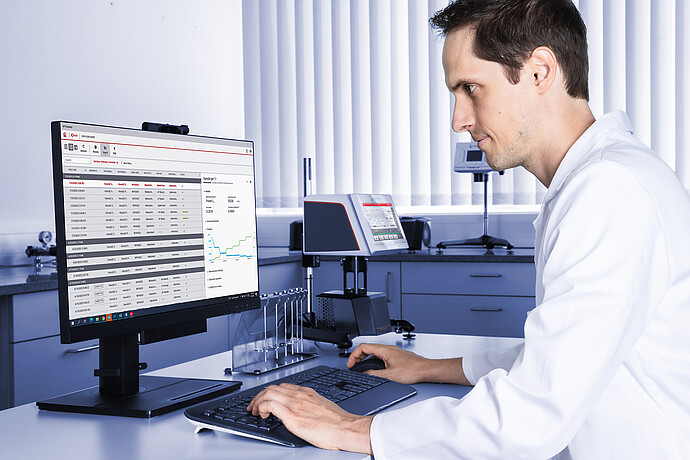 The most convenient way to generate and export QC data
Every ViscoQC includes the V-Collect PC data collection software. As ViscoQC 100 doesn't store any data, results are directly exported or printed via the Brother QL-700 label printer after each test. ViscoQC 300 has memory space for up to 999 measurements with up to 10,000 sub-measurements on 150 MB. Additionally, it's possible to print and export data as PDF, CSV, page printer (USB or network), or label printer. For automated data export, ViscoQC 300 can be integrated into your network via Laboratory Information Management System (LIMS) or FTP Server. Kickstart your paperless lab with AP Connect to connect your instruments, communicate measurement information, and ensure compliance.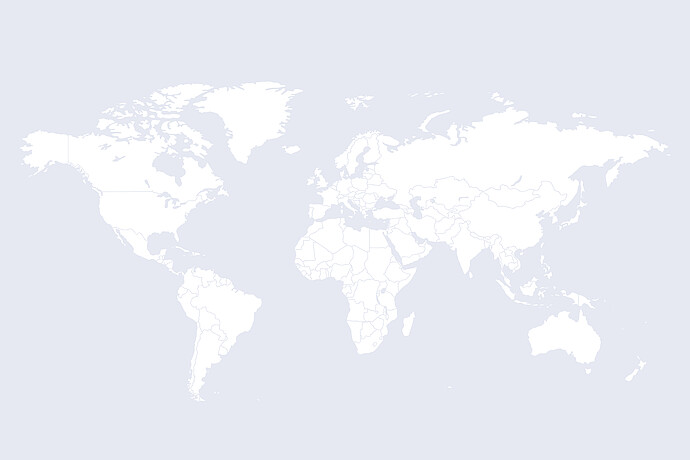 Durable parts, maximum uptime
Since ViscoQC uses highly durable bearings and regularly performs an automatic bearing check (TruSine™), your uptime is maximized and ongoing service costs are reduced to a minimum. All of our spindles are made of superior stainless steel (AISI 316L), which increases spindle lifetime by protecting them from corrosion.
ViscoQC 100
ViscoQC 300
L
R
H
L
R
H
Viscosity test
Single-point
Multi-point
Viscosity range [mPa.s or cP]
(depends on measuring system)
0.2* to 6 M
1.6** to 40 M
13.2*** to 320 M
0.1* to 6 M
1.3** to 40 M
10.6*** to 320 M
Speed [rpm]
0.1 rpm to 200 rpm
740 increments
0.01 rpm to 250 rpm
Speed list with 18 standard speeds
Freely selectable speeds within the speed range
Max. spring torque [mNm]
0.0673
0.7187
5.7496
0.0673
0.7187
5.7496
Accuracy
±1.0 % full scale range
Repeatability
±0.2 %
Heli-Plus compatibility
✔
PTD 100 Cone-Plate compatibility
✔
ETD 300 compatibility
✔
Peltier temperature control

+15 °C to +80 °C
(for DIN/SSA with PTD 80)

0 °C to + 100 °C
(for CP with PTD 100 Cone-Plate)

+15 °C to +80 °C
(for DIN/SSA with PTD 80)
-45 °C to +175 °C
(for DIN/SSA/UL/4B2/L1D22 with PTD 175)

0 °C to + 100 °C
(for CP with PTD 100 Cone-Plate)

Electrical temperature control
+25 °C to +300 °C (for SSA/DIN with ETD 300)
Liquid temperature control/sensing
Ambient to +100 °C (control of L/RH spindles with optional thermostat bath)
Temperature sensing
-60 °C to +300 °C (temperature sensing with optional Pt100)
Intuitive user interface
3.5" color LCD display
7" color touchscreen display;
Options: keyboard, mouse, 2D bar code reader
Languages
EN, DE, ES, FR, CN, JA, KO, IT, RU, PT
EN, DE, ES, FR, IT, PT, JA, KO, RU, ZH-CN, ZH-TW, PO, CZE
Built-in digital leveling
✔
Easiest spindle exchange (magnetic coupling)
✔
Automatic spindle recognition (Toolmaster™)
✔
Automatic measuring range calculation
✔
Automatic speed searching function (TruMode™)
✔
Spindle correction by user
✔
Users, user groups
None
✔ Customizable
* With optional PTD 100 Cone-Plate, with L1 spindle 15 mPa.s
** With optional PTD 100 Cone-Plate, with RH1 spindle 100 mPa.s
*** With optional PTD 100 Cone-Plate, with RH1 spindle 800 mPa.s
M = million
DIN = Concentric cylinders, double-gap
SSA = Small sample adapter (SC4-xx)
UL = Ultra-low viscosity adapter
Chinese Pharmacopoeia (ChP)
0633 Rotational viscosity measurement method, method III
Japanese Pharmacopoeia (JP)
XVII 2.53 (2.1.2) Single cylinder-type rotational viscometer
Pharmacopoeia Europe (Ph. Eur.)
2.2.10 - Rotating viscometer method
U.S. Pharmacopoeia (USP)
912 Rotating viscometer method
Anton Paar Certified Service
The Anton Paar quality in service and support:
More than 350 manufacturer-certified technical experts worldwide
Qualified support in your local language
Protection for your investment throughout its lifecycle
3-year warranty
Learn more
D. ViscoQC 300 and its software packages
Consumables, Accessories & Software
Consumables, Accessories & Software
Accessories & Software
Accessories & Software
Not all items are purchasable online in specific countries.
To find out if you can purchase online from your location, check the online availability below.
Online price only
|

excl.

incl.

0

VAT