Researching surface modification to develop high-performing materials is one of the main objectives in surface characterization today. Similar to the quality control of manufacturers, it calls for accurate analysis of a range of parameters, including mechanical, chemical, and tribological surface properties: hardness, stiffness or elasticity, resistance, potential/charge, structure, and many more. Anton Paar provides different solutions for surface characterization, suited for researchers and manufacturers alike.
Surface characterization of biomaterials
When measuring the surface properties of biomaterials, researchers and also manufacturers face special challenges. A main objective is to predict how a material will react when implanted into the human body and how it will interact with biological tissues, fluids, etc. Clinical trials on immune response are costly so measuring everything before that, with the aim of predicting the materials' behavior, is key. Other research fields are devoted to the development of new, better materials to advance medical treatment of a range of illnesses, or to providing better medical products for their customers.
Typical studies on biomaterials include measuring hardness and structural properties, characterization of surface charge, surface interaction, hydrophobic/hydrophilic properties, and many more. Anton Paar has developed specialized solutions for the surface analysis of biomaterials such as prostheses, implants, tissues, biopolymers and biofilms, teeth, various ophthalmic applications, and for medical devices such as stents, pills, and membranes.
By gaining the right analysis data it becomes possible to understand materials and their behavior at a molecular level. Having the right – and accurate – data has an enormous impact on really knowing a material and seeing how even subtle changes affect the performance of a material. Find out more about the analysis of a range of important biomedical samples right below.
Biomedical testing: Applications
Biocompatible materials include a wide range of applications: from contact lenses and their storage solutions to real and artificial tissue, bone, and cartilage to implants, prostheses, and medical devices such as stents. Each of these has its own characteristics and challenges during the analysis.
Click on an application to get more information or download the application report that is relevant for you.
Testing equipment for laboratories and manufacturers of biocompatible materials
Biomaterials are often sensitive, easily influenced by external factors, and difficult to mount in measuring instruments. This calls for highly accurate testing equipment that can easily be adapted for samples such as contact lenses, tissues, gels, fluids, and more.
Anton Paar offers specialized instruments that are widely used in biocompatibility testing laboratories:
A range of special sample holders for contact lenses, hydrogels, and other accessories is available to optimally support labs in their biomedical research as well as manufacturers in biomaterial processing and quality control.
If you want to try our instrumentation hands-on, have a look at the seminars and offers in the Anton Paar Technical Centers or directly contact an Anton Paar representative to request more information or a demo: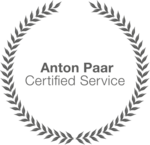 Effective January 1, 2020, all new Anton Paar instruments* include repair for 3 years.
Customers avoid unforeseen costs and can always rely on their instrument.
Alongside the warranty there is a wide range of additional services and maintenance options available.
* Due to the technology they use, some instruments require maintenance according to a maintenance schedule. Complying with the maintenance schedule is a prerequisite for the 3-year warranty.