This is a required field.
Invalid
Part number
Error in validation!
Surface area and pore analyzers:

Nova
Fastest multi-station BET analyzer for entry-level budgets
All-in-one instrument: 2 analysis and 4 degassing stations
Optimized short cells and Dewar for BET analysis with less waste
2 % reproducibility with ≥2 m2 total measurement surface area
Simple to use with pre-loaded profiles and 10-inch touchscreen
Looking for consumables & accessories for this product?
Click here
The Nova series is designed to provide operational simplicity and velocity – speed in the unwavering direction of precision – across the entire analysis process. Containing 4 degassing stations and up to 4 analysis stations, this instrument delivers four 5-point BETs in 20 mins, with 2 % reproducibility. Follow the analysis workflow on the tabs below to learn how Nova provides unrivaled benefits from start to finish and sets a new benchmark in surface area and pore characterization.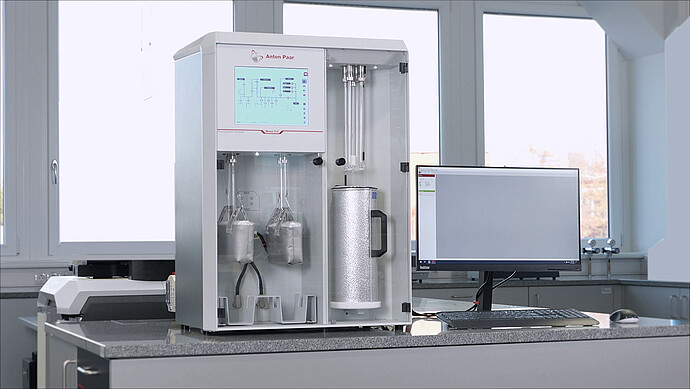 The complete package in 1 space-saving design
Only 1 vacuum pump and 1 set of gas connections required
Degassing isolated from analysis: no contamination possible
Challenge
I currently have to manage 2 instruments for one complete analysis process (degassing and analysis). Is there a better way?
Solution
All-in-one Nova provides 4 integrated degassing stations and up to 4 analysis stations in 1 space-saving design.
Benefit
This integrated design eliminates the clutter, cost, complexity, and additional bench space of external degassing devices.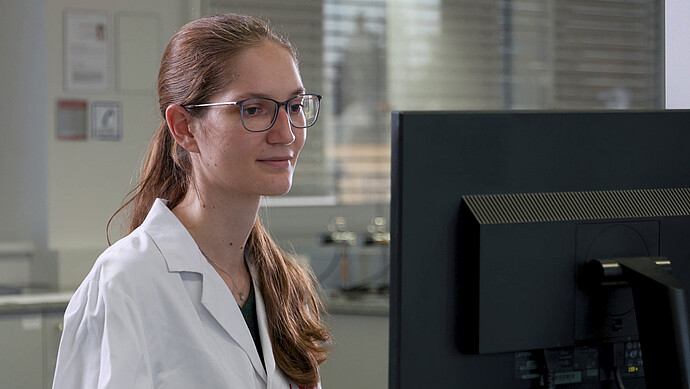 Degassing is completely automated – simply select a profile
Multiple temperature setpoints and ramp rates
No timers or operator intervention needed
Challenge
I want my sample preparation to be automated.
Solution
Nova's 4 integrated degassing stations are software-controlled. Simply set up a profile consisting of one or more target temperature(s), heating rate(s) and hold time(s).
Benefit
Nova will prepare the sample without intervention according to the profile selected. The profile used will also be recorded with the sample – no more timers or notebooks needed.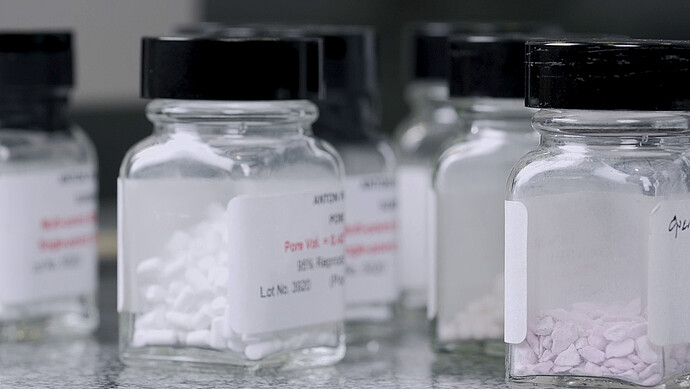 Vacuum or flow degassing up to 425 °C
Enables preparation of a wide variety of sample materials
Easily switch between flow and vacuum methods
Challenge
My lab processes different types of samples requiring different preparation modes.
Solution
Nova's integrated degassing stations are capable of vacuum and flow preparation at temperatures up to 425 ºC.
Benefit
Appropriate preparation of many sample types is easily achievable with the fully capable degassing stations.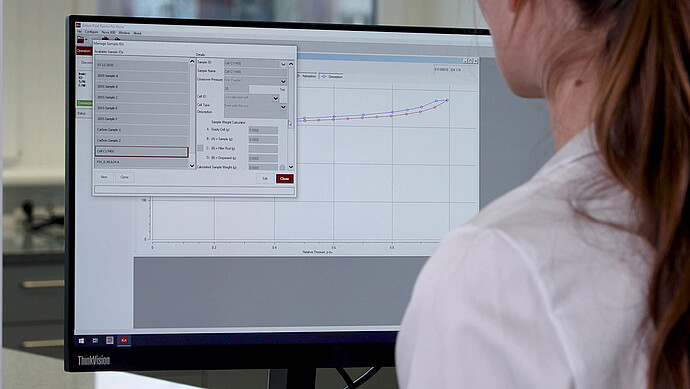 Degassing profile automatically tracked to the sample ID
No need for manual input or recording
Sample ID tracks weight loss after degassing
Challenge
Currently, our degassing process is manual and requires the details to be kept in a lab notebook. Is there a way to easily document and record this process?
Solution
All Nova models provide automatic degassing via a degassing profile that is automatically traced to the sample ID.
Benefit
Degassing information can be easily retrieved for each sample being analyzed – no more timers or notebooks needed.
ASTM, ISO, DIN, USP methods included – simply select & go
Optimized for speed while ensuring conformance
Reduces setup time of instrument
Challenge
I need to measure according to a published standard quickly and easily.
Solution
All Anton Paar Nova instruments come preloaded with 20+ optimized profiles for various standardized methods.
Benefit
Take the guesswork out of conformance. Preloaded profiles allow minimal setup and training while ensuring adherence to standards.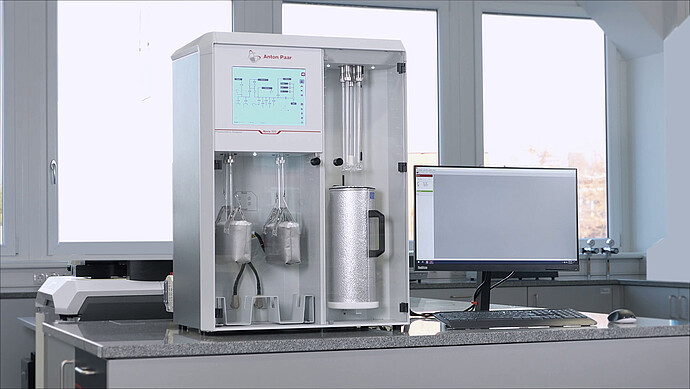 Highest throughput in a benchtop system
Analyze 4 samples while simultaneously preparing the next 4
4 multipoint BETs in 20 minutes; 4 isotherms in 8 hours
Challenge
Our lab processes a lot of samples for surface area and pore analysis. How can we increase our throughput?
Solution
Nova brings the power of 4 plus 4: 4 degassing stations and 4 analysis stations offering the highest throughput available in a benchtop instrument.
Benefit
Easily keep up with your samples, with 4 multi-point BETs analyzed in 20 minutes, and 4 full isotherms for BET and mesopore characteristics within 8 hours.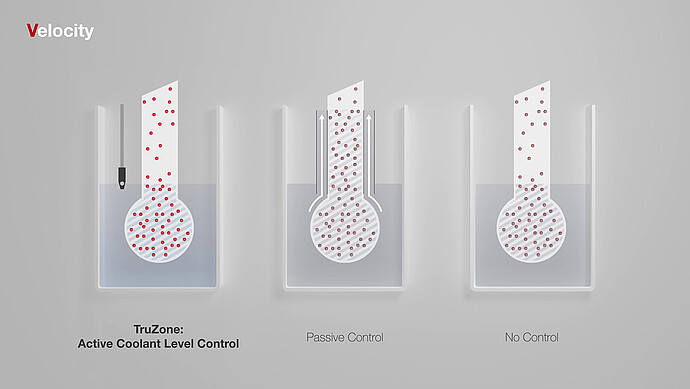 TruZone maximizes analysis sensitivity
2 % reproducibility with >2 m2 in the cell
Measure materials down to 0.01 m2/g
Challenge
How do I ensure good measurements when I have low surface-area materials and limited sample quantities available?
Solution
Nova's TruZone active coolant level control maximizes the measurement sensitivity. Active control creates a small cold zone on the sample cell that reduces the amount of unadsorbed gas in the cell. This increases sensitivity when measuring those gas molecules which are adsorbed by the sample.
Benefit
2 % reproducibility with >2 m2 in the cell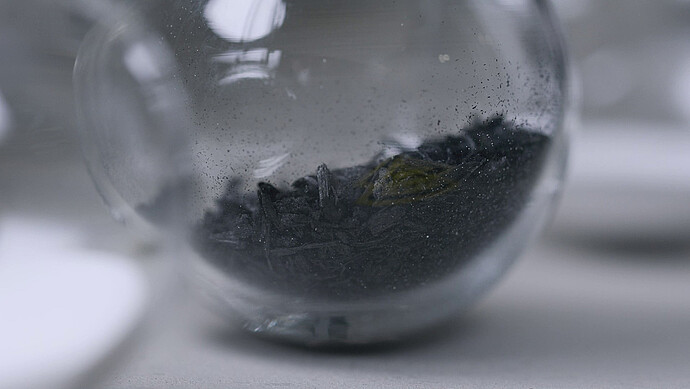 Use Nova mode to obtain your results faster
4 x 5-point BET results in 20 minutes
Operate your Nova completely helium-free
Challenge
How can I speed up analyses without sacrificing performance?
Solution
Performing measurements in Nova mode speeds up the analysis by utilizing sample cells which are pre-calibrated.
Benefit
Reduction of analysis time without degradation of measurement performance. Performing measurements in Nova mode also allows the instrument to operate free from helium.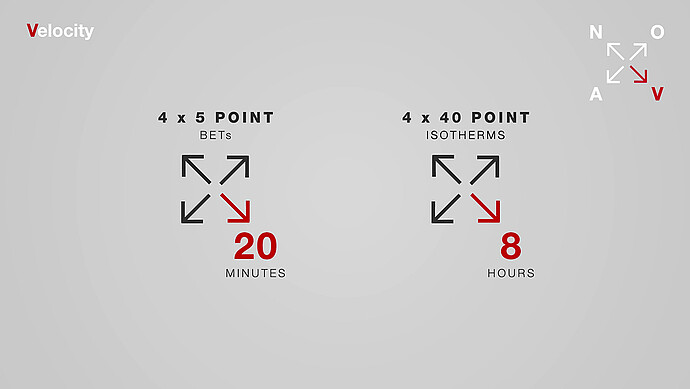 DoseWizard learns from past analyses to optimize dose size
VectorDose's constant dose volumes halve analysis time
Achieve target pressure quickly with a specified Initial Fill
Challenge
I need my measurements to be even faster. Are there more ways to speed up analysis?
Solution
The Nova series features intelligent dosing algorithms such as DoseWizard, VectorDose, and Initial fill, all of which are designed to speed up analysis.
Benefit
These features further enhance the velocity of the measurement, speeding up the analysis without sacrificing precision.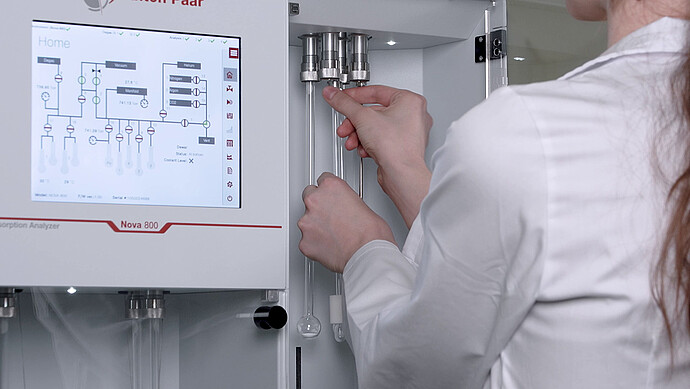 Independent station constantly measures saturation pressure
Standard on every Nova model – no options required
Complete with dedicated pressure transducer
Challenge
Environmental variations, such as change of atmospheric pressure or change in LN2 bath temperature, can affect the saturation pressure, causing inaccuracies in data.
Solution
Every model of the Nova series comes with an independent p₀ station and transducer.
Benefit
The accuracy of every measurement is enhanced, without the need to sacrifice an analysis station.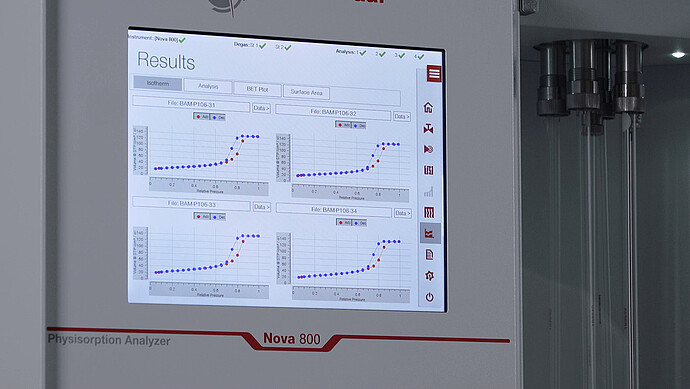 Visualize the results in real-time on the touchscreen
Fully control the instrument from the touchscreen
Upload previous results directly on the touchscreen
Challenge
I want to see my results as they occur, in real-time, at a quick glance.
Solution
The 10-inch touchscreen provides users with real-time measurement results and even full isotherms, without the need for a computer.
Benefit
Visualize the results as they appear, and check the status of the instrument with a quick glance.
20+ included report templates for industry standards
Fully customizable reporting
Configure reports for automatic creation after analysis
Challenge
I need to report my results in a specific format to comply to the standardized methods.
Solution
The Nova series comes with 20+ reporting templates – including reports for standardized methods (ASTM, ISO, USP, and DIN) and general property reports for easy data processing.
Benefit
Easily apply pre-configured templates or create unique templates for automatic reporting of analysis data.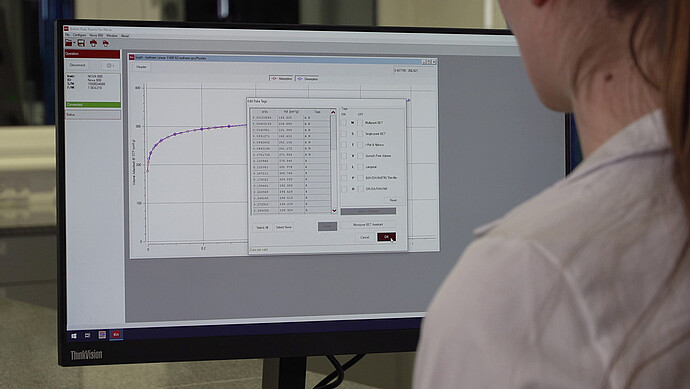 25+ peer-reviewed DFT kernels
Proprietary QSDFT kernels for carbon characterization
Determine BET range for microporous materials automatically
Challenge
I want to process my data with different data reduction methods and techniques.
Solution
Each Anton Paar Nova instrument brings the most comprehensive data reduction capabilities, including 25+ peer-reviewed DFT kernels, and our proprietary QSDFT kernels, for the most accurate carbon characterization.
Benefit
The most comprehensive data reduction capabilities enable you to process data using various models. All DFT models are peer-reviewed, ensuring data acceptance.
Nova 600 BET
Nova 800 BET
Nova 600
Nova 800
Analysis specifications
Measurement principle
Vacuum Volumetric
Analysis gases
N2 only
N2, Ar, CO2, and other non-corrosive gases
Analysis stations
2
4
2
4
Independent P0 station
Yes
Relative pressure range (P/P0 )
10-4 to 0.5
10-4 to 0.999
Pressure measurement accuracy
0.1 % (of full scale) *
Pressure resolution
Absolute : 1.2 x 10-4
Torr Relative : 1.5 x 10-7 p/p0
Lower specific surface area limit
From 0.01 m2/g
Lower absolute surface area limit
From 0.5 m2
Surface area reproducibility
2 %**
Pore size range
N/A
0.35 - 500 nm (Diameter) (0.35 - 1.1 nm only with CO2)
Minimum pore value
N/A
1.2x10-8 cm3
Truzone
Yes
Powerprotect
Yes
Dosewizard
Yes
Vectordose
Yes
Analysis dewar
Volume: 1 L
Duration: Up to 7 Hours
Volume: 2 L
Duration: Up to 40 Hours
Sample preparation
Integrated Degassing Stations : 4
Temperature Control: 2 Heating Zones, Ambient to 425 oC
Available Methods: Flow & Vacuum, Programable Multi-Step Heating Profiles
Physical specifications
Dimensions (DxWxH)
44 cm x 63 cm x 84 cm
Weight
63 kg
Operating environment
Temperature : 15 to 35 oC
Humidity : 20 to 80 % relative, non-condensing
Wetted parts
Stainless steel, Viton elastomers
Gas
Ports: 5 (3 Analysis, 1 Helium, 1 Degas/Backfill)
Purity: 99.999 % (He, N2)
Input Pressure: 8 to 10 PSIG
Vacuum connection
Rotary Pump Exhaust Port, KF 16
Vacuum requirements
Ultimate vacuum of 2.3 x 10-3 Torr
Electrical
Supply : AC 100~240 V AC , 50 / 60 Hz Consumption: 345 VA (Maximum)
Additional specifications
Display
10-inch Touchscreen
PC connection
Ethernet
Kaomi for Nova software
Instrument Control: Up to 4 Instruments
6 Languages: English, French, German, Japanese, Chinese, Spanish
Pre-loaded analysis profiles
20+ (ASTM, USP, DIN, ISO)
ROHS 3 compliant
Yes
CE certified
Yes
* Includes precision, linearity, and hysteresis s of the complete pressure measurement system
** Performed with BAM P115 certified reference material
U.S. Pharmacopoeia (USP)
846 Method II – Specific Surface Area and European Pharmacopoeia 2.9.26 Method II
Anton Paar Certified Service
The Anton Paar quality in service and support:
More than 350 manufacturer-certified technical experts worldwide
Qualified support in your local language
Protection for your investment throughout its lifecycle
3-year warranty
Learn more