This is a required field.
Invalid
Part number
Error in validation!
Automated Multipurpose Powder X-Ray Diffractometer:

XRDynamic 500
+2
Out-of-box: Best-in-class resolution/signal-to-noise ratio
TruBeam™ concept: Larger goniometer radius, evacuated beam path
Full automation: X-ray optics and beam geometry change
Efficiency: Increase instrument usage by up to 50 %
Self-alignment: Instrument and sample for maximum convenience
Looking for consumables & accessories for this product?
Click here
XRDynamic 500 drives unbeatable XRD data quality with maximum efficiency. Enjoy the benefits of a versatile platform covering a wide variety of applications with optimal solutions for powder XRD, non-ambient XRD, PDF analysis, SAXS, and more. Intuitive to use, with fully automated optics and alignment routines, it allows everyone, from novices to experts, to collect top-quality XRD data quickly while minimizing errors. XRDynamic 500: Driving XRD.
XRDynamic 500's TruBeam™ concept combines a large goniometer radius, an evacuated beam path, and fully automated X-ray optics/beam geometry change. Measure an array of samples with varied instrument configurations assisted by intuitive software with optimized workflows. Achieve best-in-class resolution (FWHM <0.021° for 1st LaB₆ standard peak) with a standard Bragg-Brentano configuration. Enjoy a great signal-to-noise ratio with up to 50 % less measurement background and minimal parasitic air scattering. Quickly reconfigure for optimized non-ambient XRD experiments or SAXS measurements with the quality of a dedicated SAXS instrument.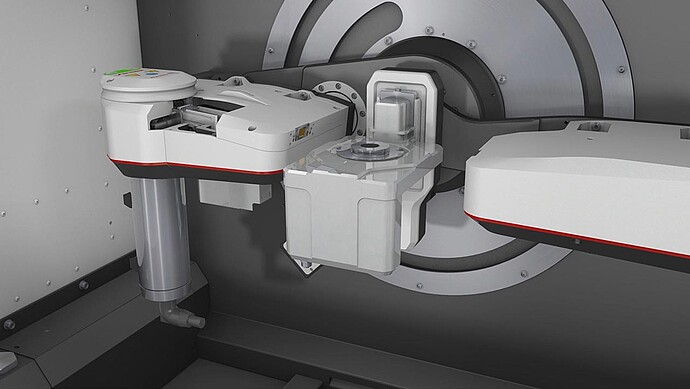 Switch between up to 3 beam geometries with a click
Run different measurements sequentially with no user intervention
Save time: Increase instrument usage by up to 50 %
Challenge
In many diffractometers, each measurement geometry requires parts to be exchanged by the user. Performing two completely different types of measurements sequentially is only possible after opening the instrument to manually change configurations.
Solution
Switch between up to 3 beam geometries with the click of a button (available for any type of X-ray tube used), thanks to a motorized optics stack. A unique source tilt axis allows every geometry to be precisely and automatically aligned.
Benefit
Automatic switching between up to 3 beam geometries makes it possible to run completely different types of measurements sequentially on different (or the same) samples with no exchange of parts or any user input required. Enjoy up to 50 % increased instrument uptime by running complex measurement batches overnight and on weekends without any user intervention.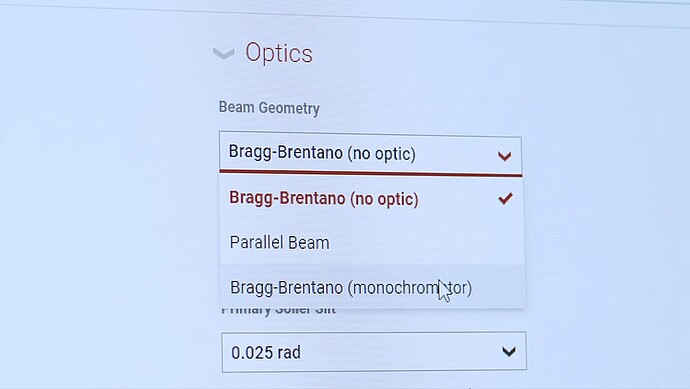 Automation of all optics
More efficiency, fewer errors
High-quality data for every user
Challenge
Selecting the correct optics often means swapping out components and updating the measurement configuration by hand in the measurement software. This is time-consuming, can lead to errors, and requires supervision or extensive training for more inexperienced users to routinely collect high-quality XRD data.
Solution
Full automation of all optical components in the beam path enables change of the instrument configuration with a click. No physical exchange of parts or user intervention is required.
Benefit
Save time and reduce the chance of user errors by automatically switching to the correct optics and always recognizing the current configuration. Measurement set-up is intuitive and straightforward even for users new to XRD.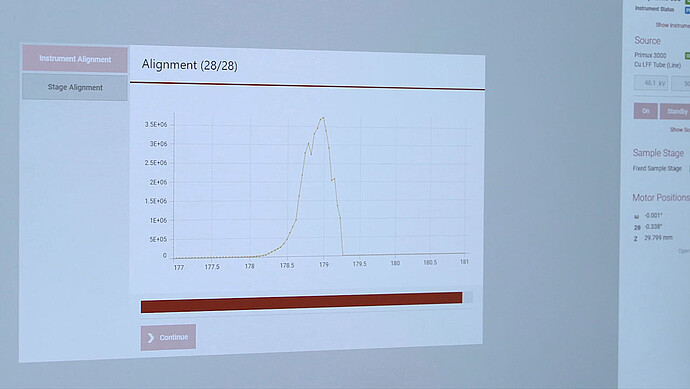 Instrument self-alignment without the need for a service visit
Perfect automatic alignment for every measurement configuration
Automatic alignment of each sample
Challenge
Alignment of a diffractometer, especially X-ray optics, requires expert knowledge or even a service visit. Sample alignment can also be difficult for inexperienced users.
Solution
Fully automated instrument alignment routines allow instrument self-alignment to be performed at any time. Automated sample alignment routines can be used for every sample.
Benefit
Cancel the service visit and let the instrument align itself. Ensure that the instrument (and sample) is always perfectly aligned for the best-quality data, to enjoy maximum uptime and reduced ownership costs.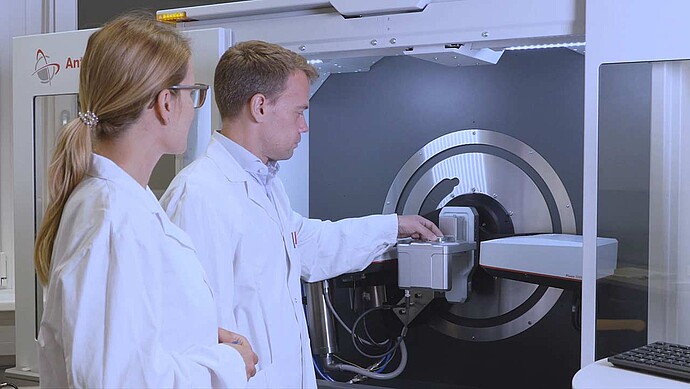 Intuitive, optimized measurement workflows
Easy to use for beginners and experts
Less user training time
Challenge
Conventional diffraction systems often appear to be complex arrays of multiple components which can be daunting to novice users. Experienced users may need to spend a lot of time setting up measurement plans and instrument configurations diverting focus from more important tasks.
Solution
XRDynamic 500 and the XRDdrive control software seamlessly combine straightforward instrument handling and intuitive workflows with as much detail as you want, and as little as you need, thanks to intelligent automation.
Benefit
Enjoy streamlined workflows that maximize the benefits of the XRDynamic 500 automation. Software that guides users through measurements allows experts and novices alike to work how they want while always trusting in best-in-class data quality.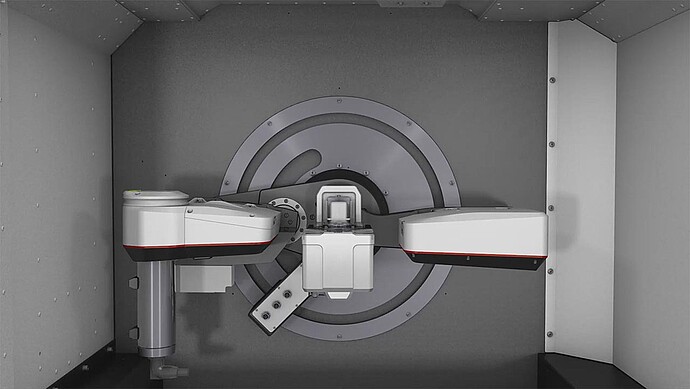 Novel beam concept delivering the perfect beam every time
Best-in-class data quality
Maximum measurement efficiency
Challenge
How can you ensure that you always work with the optimal beam and instrument configuration without making any sacrifices on data quality or measurement time?
Solution
The unique TruBeam™ concept brings together the Primux 3000 X-ray source, a large goniometer radius and evacuated optics, automated switching of the beam geometry and optics configuration, and automatic instrument and sample alignment into one complete package.
Benefit
Every user always achieves outstanding measurement performance for every sample and benefits from higher resolution, more options, and increased efficiency.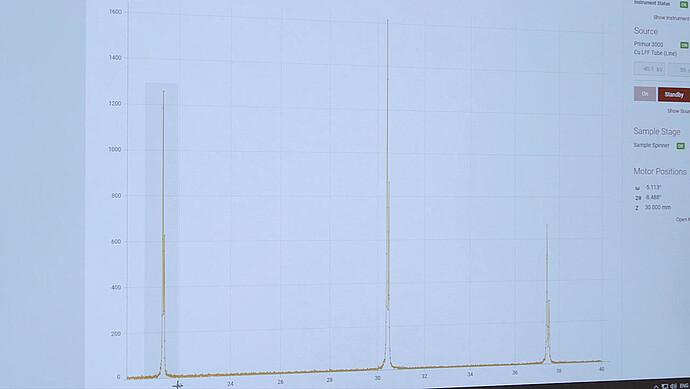 >20 % better measurement resolution
Superior resolution out-of-the-box – no expensive optics required
Large goniometer radius as standard
Challenge
Many diffractometers offer a 240 - 300 mm measurement radius, which can limit the maximum achievable resolution without the use of expensive optics. You have to compromise with an accompanying loss of intensity.
Solution
XRDynamic 500 offers a larger goniometer radius of 360 mm or 400 mm as standard featuring evacuated optics and small detector pixel size.
Benefit
Compared with conventional diffractometers, XRDynamic 500 provides 20 % better measurement resolution for standard Bragg-Brentano measurements without compromising on the measured intensity, thanks to an evacuated beam path.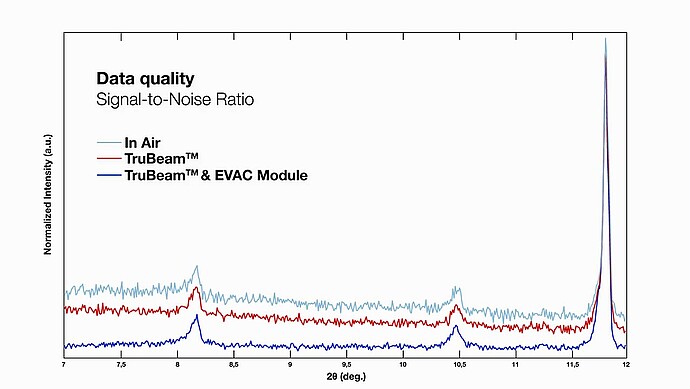 Unbeatable signal-to-noise ratio
Reduce measurement background by 50 %
Eliminate the effects of air scattering
Challenge
To achieve a good signal-to-noise ratio and, therefore, excellent data quality, measurements must typically be performed with long counting times.
Solution
Benefit from evacuated optics to stop parasitic air scattering with the option for a fully evacuated beam path from source to detector.
Benefit
Reduce the measurement background by 50 % and benefit from unbeatable signal-to-noise ratio for the best quality data and shorter measurement times.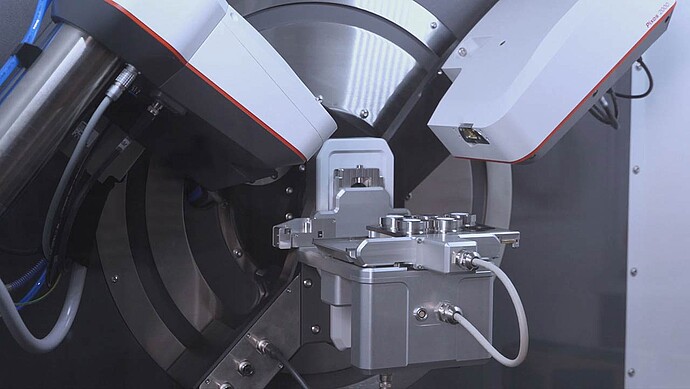 High sample throughput and excellent data quality
High-intensity measurement modes
Faster workflows via intelligent automation
Challenge
With many instruments, data quality comes at the expense of measurement speed.
Solution
XRDynamic 500 offers outstanding data quality and primary beam intensity at all times no matter the measurement configuration, thanks to TruBeam™. Furthermore, automation of various workflows such as change of instrument configuration and alignment routines is included.
Benefit
Reduce measurement times without sacrificing data quality to increase sample throughput. Intelligent automation means less time sitting in front of the instrument and more time to focus on what matters.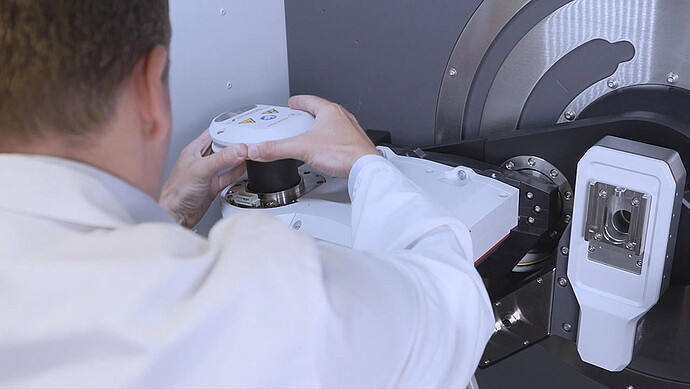 Powerful Primux 3000 source ideal for XRD and SAXS
Exchange the X-ray tube in minutes
Maximum primary beam intensity under all conditions
Challenge
Always working with the optimal X-ray tube anode is not easy, as exchanging the X-ray tube is often complex. Also, sacrifices in the primary beam intensity have to be made when working with different X-ray optics due to sub-optimal alignment of source to optic.
Solution
The intelligent design of the Primux 3000 X-ray source allows rapid exchange of the X-ray tube when required. Automatic alignment of every source and optic combination is possible.
Benefit
Take care of issues such as sample fluorescence at source. Exchange the X-ray tube, automatically align, and measure again with a new wavelength in <15 min. Always enjoy the maximum primary beam intensity thanks to precise alignment of every measurement geometry.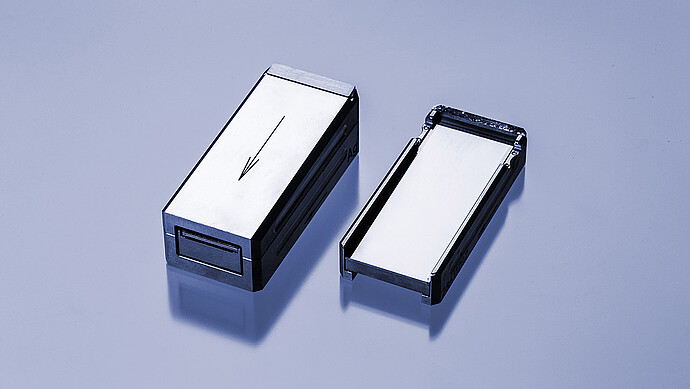 High-intensity multilayer optics
Parallel and focusing beam geometries
Monochromators to maximize signal-to-noise ratio
Challenge
For certain samples or applications, beam shaping optics (parallel or focusing beam) are needed. In addition, monochromators may be required to suppress Kβ peaks and reduce measurement background.
Solution
A variety of multilayer monochromators, parallel beam and focusing optics can be mounted in a motorized optics stack and selected with a single click. A precise, automated alignment of every optic is realized with an optimized take-off angle. Special Ni/C multilayer optics offer intrinsic Kβ filtering for Cu and Co sources.
Benefit
Benefit from the highest possible intensity with all optics to reduce measurement time. A superior signal-to-noise ratio and outstanding resolution ensure the highest quality data.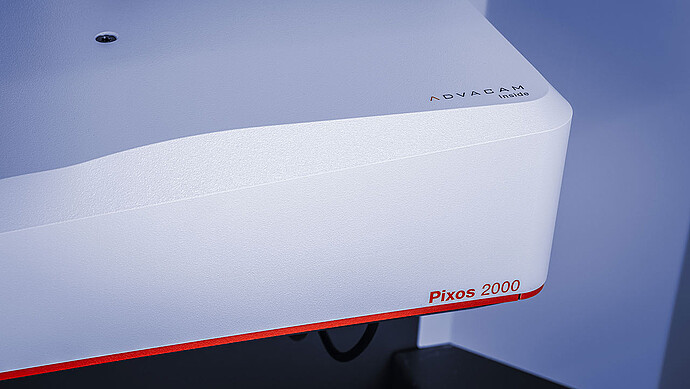 The latest pixel detector technology in 0D or 1D modes
Small pixel size for high resolution
Energy filtering
Challenge
High-quality XRD data requires a detector that can deliver an excellent resolution and signal-to-noise ratio.
Solution
Pixos detection units based on cutting-edge photon counting technology from Advacam enable measurement in 0D or 1D modes. XRDynamic 500 features a choice of Si or CdTe sensors to cover every wavelength, active energy filtering, and the smallest pixel size on the market (55 µm x 55 µm).
Benefit
In combination with the enlarged goniometer radius of XRDynamic 500, the small pixel size of the detectors improves the maximum measurement resolution with every wavelength. Pixos detection units also offer excellent energy resolution (with intelligent energy filtering), linearity, and efficiency.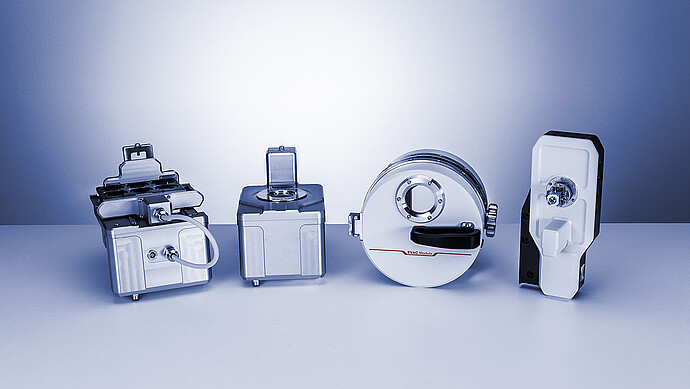 Flexibility in all applications
Sample changers for high-throughput
Excellent positional stability
Challenge
Handling different application requirements depends on having suitable sample stages available.
Solution
Versatile sample stages enable measurement in reflection and/or transmission of powders or solid samples with sample changer options available.
Benefit
Different sample types can be measured using the wide variety of sample stages. Component recognition allows every stage to work in a plug & play mode for quick mastery of all applications.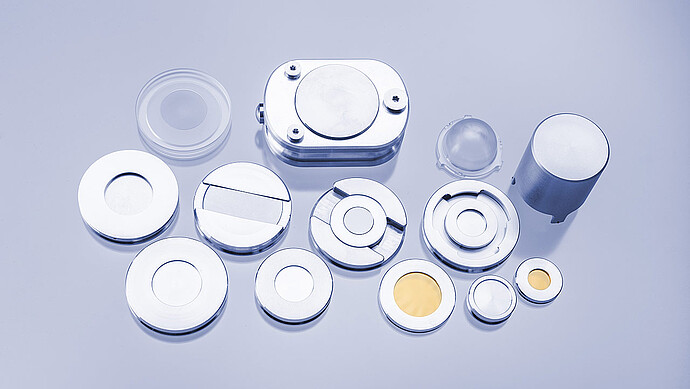 Wide variety of sample holders
Solutions for all sample types
Optimized holders for weakly scattering and sensitive materials
Challenge
A true multipurpose diffractometer needs to handle all types of sample requirements.
Solution
A range of sample holders means there is a sample holder available for every type – powders, solids, films, fibers, gels, pastes, or liquids.
Benefit
Benefit from always working with a sample holder optimized to the sample at hand in reflection or transmission. Whether organic or inorganic, or even for air- or moisture-sensitive samples, XRDynamic 500 offers a solution.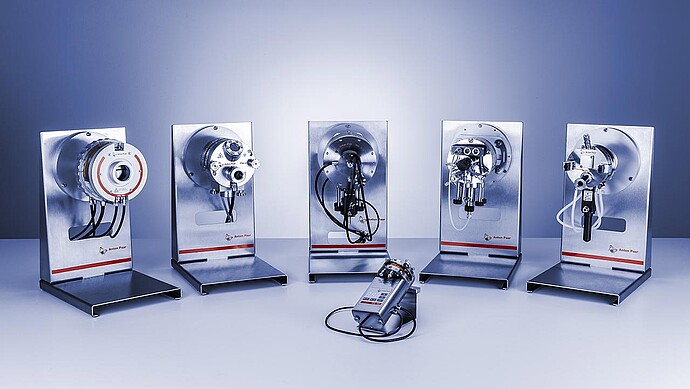 Non-ambient XRD made easy
Plug & play stage functionality
Built-in temperature control unit (CCU) for all stages
Challenge
Setting up a non-ambient XRD experiment can be complex and time-consuming. Typically, many cables and hoses need to be fed into the instrument housing to connect with external control units.
Solution
Enjoy the plug and play non-ambient stage functionality featuring a single built-in CCU control unit that works with all Anton Paar non-ambient stages. Benefit from convenient connections in the instrument housing for all non-ambient requirements.
Benefit
XRDynamic 500 makes non-ambient experiments as easy as performing any other measurement, so you can instantly reconfigure to a non-ambient configuration. A built-in CCU reduces clutter and avoids the need for multiple control units for different non-ambient attachments.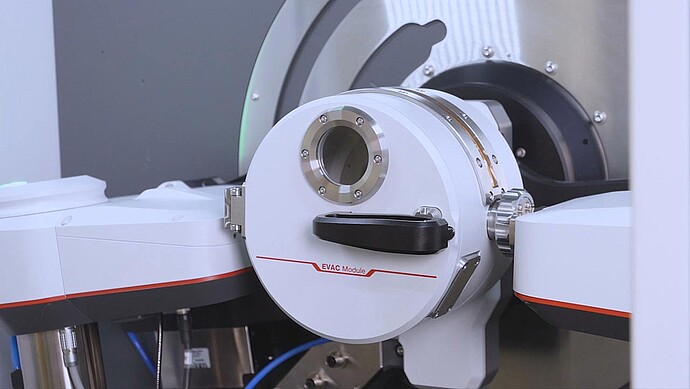 SAXS data with the quality of a stand-alone-instrument
Completely evacuated beam path from source to detector
qmin down to 0.05 nm⁻¹
Challenge
Small-angle X ray scattering (SAXS) measurements on a diffractometer can typically only deliver data with a limited quality. For real high-quality SAXS measurements, a dedicated instrument is needed.
Solution
The combination of XRDynamic 500 with the EVAC module offers a fully evacuated beam path and dedicated SAXS optics to deliver a qmin of 0.05 nm⁻¹.
Benefit
Benefit from true SAXS measurements on a diffractometer. Only one instrument is needed to deliver the highest quality XRD and SAXS data.
X-ray source
Source type
Primux 3000
X-ray generator
Up to 3 kW
Tube voltage / current
20 kV to 60 kV / 2 mA to 50 mA
Goniometer
Configuration
Vertical Theta/Theta geometry
Measurement radius
360 or 400 mm
Maximum usable angular range
-95° – 162.5° 2theta
Minimum step size
0.0001°
2theta linearity
≤0.01°
Maximum angular speed
15 °/sec
Maximum angular resolution
0.021° (FWHM of 1st LaB₆ peak)
Sample stages and attachments
Ambient sample stages
Fixed sample stage
Sample spinner stage (reflection/transmission)
XY stage (with autosampler option)
Capillary spinner stage
EVAC module
Non-ambient attachments
HTK 1200N
HTK 16N/2000N
TTK 600
XRK 900
CHC plus⁺
BTS 150/500
Detectors
Solid-state hybrid pixel detectors:

Pixos 1000 detector (0D mode)
Pixos 2000 detector (0D and 1D mode)
Pixos 2000 CdTe detector (0D and 1D mode) for high-energy X-rays

Software

XRDdrive: system control and data acquisition software
XRDanalysis: data processing and analysis software for qualitative and quantitative phase analysis, microstructure analysis, and Rietveld refinement

General specifications
Exterior dimensions (width x depth x height)
1350 mm x 1160 mm x 1850 mm
Weight (not including optional accessories)
750 kg
Power supply
3-Phase: 3/N/PE AC 400/230 V, 50…60 Hz, 25 A
1-Phase: 208…240 VAC, 50…60 Hz, 36 A
Maximum power consumption
(without additional controllers for optional equipment)
5.5 kW
Cooling water supply
Flow rate: > 3.6 L/min, Pressure: 4.5 – 6 bar, Temperature: < 25 °C
Anton Paar Certified Service
The Anton Paar quality in service and support:
More than 350 manufacturer-certified technical experts worldwide
Qualified support in your local language
Protection for your investment throughout its lifecycle
3-year warranty
Learn more
Accessories & Software
Accessories & Software
Accessories & Software
Accessories & Software
Not all items are purchasable online in specific countries.
To find out if you can purchase online from your location, check the online availability below.
Online price only
|

excl.

incl.

0

VAT
XRD software:
XRDanalysis
Delivery time:
%1$s – %2$s working days
%1$s – %2$s weeks
%1$s – %2$s months
Product details
Versatile software package for powder diffraction analysis
Search/match feature for rapid and accurate phase identification
Rietveld analysis using matched or manually loaded phases
Optimized analysis workflows including batch analysis to speed up and simplify your analytical tasks