This is a required field.
Invalid
Part number
Error in validation!
Packaged Beverage Analyzer:

PBA
Selective alcohol determination via unique Alcolyzer technology
Zero sample preparation: Results are more than 9x quicker than with conventional methods
Modular setup measuring 50+ beer-specific parameters from a single package, including total package oxygen
For all types of beer, cider, hard seltzer, and kombucha
Looking for consumables & accessories for this product?
Click here
Anton Paar's Packaged Beverage Analyzers are single lab systems for every step of your beverage production process. Whereas PBA 1001 Beer is dedicated to confirming a craft beer's final quality at a unique price/performance ratio, PBA 5001 Beer and PBA 5001 Wine meet every requirement of industrial manufacturers. All systems deliver customized, automated analysis in just three minutes – up to 9x faster than conventional methods.
The Packaged Beverage Analyzer's simultaneous single-cycle measurement eliminates time-consuming calibration, minimizes cleaning, and saves you up to two hours a day. The system has a modular setup, and is configurable according to your needs. Filler performance, consistency of production, conformity with legal requirements and ultimate consumer satisfaction are all ensured.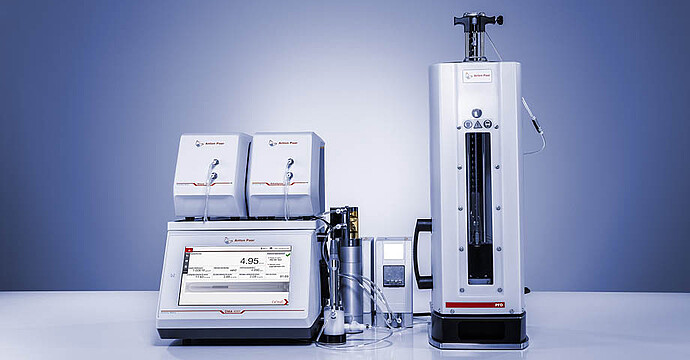 Final quality assurance in three minutes
Crown your production control with confidence in the final product: Packaged Beverage Analyzers measure all key parameters directly from the final package. Rely on batch-to-batch consistency already at the storage tank and confirm after bottling so you conform with legal requirements. Immediately detect performance issues at the filler and optimize your filling process. The simultaneous analysis of all quality parameters with a single Packaged Beverage Analyzer reduces analysis time to just three minutes – over 9x quicker than conventional methods.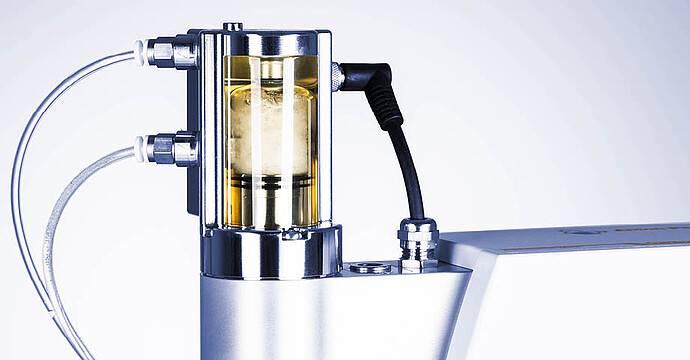 Selective alcohol and CO₂ determination
Packaged Beverage Analyzers unite unique measuring principles for alcohol and CO2. Selectively determine alcohol content with Anton Paar's market-leading Alcolyzer and further selectively measure CO2 without influence from other sample ingredients. The system delivers certainty on tax declarations based on alcohol or CO2 levels, and enables you to nail down the CO2 concentration for each of your beer styles and thrill your customers with an unmatched taste experience – all without the need for sample preparation.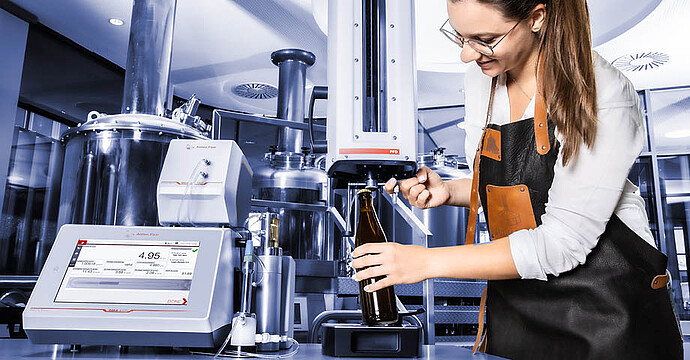 Zero sample preparation
The direct, pressurized filling of a sample in a Packaged Beverage Analyzer eliminates the need for sample preparation, use of glassware, and potential contamination of the product. It eliminates operator interaction with the sample and ensures airtight reliability of analysis results. The final package – either a can, glass bottle or PET bottle – is placed into the PFD filling device for direct sample transfer. The system can handle any package closure type.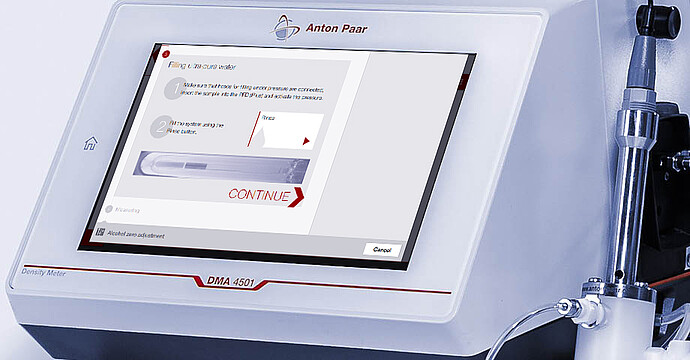 Easy calibration and product-independent adjustment
The system is simply calibrated and adjusted with water and a binary solution. Fully automated instructions lead you through the calibration and adjustment procedure. New recipes aren't a challenge: All samples are measured straight away, with no need for any product-specific calibrations.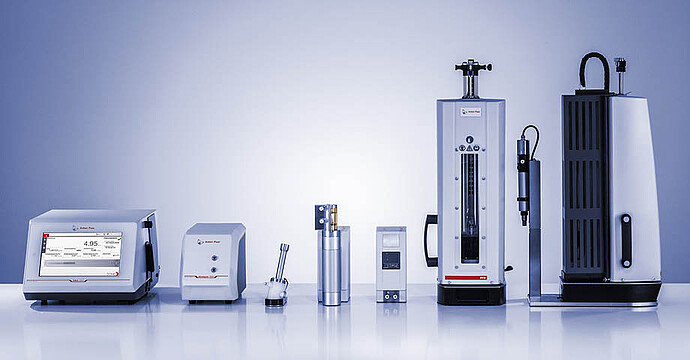 Individual system setup, with upgrade possibility
The modular setup of the Packaged Beverage Analyzer lets you configure your ideal measurement solution, including the parameters you need. Analyze all required quality parameters from a single sample on a single system in a single measurement cycle and reduce complexity in your laboratory to a minimum. Choose from more than 30 parameters to set up your individual system – which can be upgraded anytime.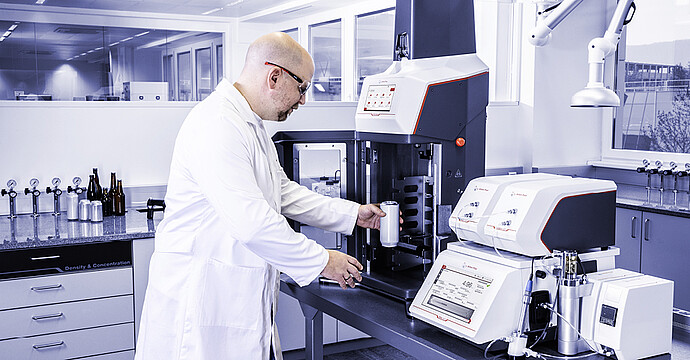 The high-end system: PBA 5001 Beer featuring TPO analysis
PBA 5001 with an integrated TPO 5000 total package oxygen meter is the high-end solution for quality control of beer. It measures up to 50 quality parameters from a single package and delivers all parameters at the push of a button in a single data set. An automated leak test, combined with O2 performance verification and automatic cleaning routines, guarantees the highest efficiency in final quality control and frees up operator capacities. Easily switch between different package types – the system automatically centers your package before piercing. Cans are easily analyzed upside-down, entirely eliminating any risk of leaks during the piercing process.
PBA 1001 Beer
PBA 5001 Beer
PBA 5001 Beer + TPO 5000
PBA 5001 Wine
Measuring range
Density
0 g/cm³ to 3 g/cm³

Temperature
15 °C / 20 °C

Operating pressure
5 bar - 6.5 bar (73 psi - 94 psi) absolute pressure
Alcohol
0 %v/v to 12 %v/v
0 %v/v to 20 %v/v
Original extract
0 °Plato to 30 °Plato

-
Color (optional)
0 EBC to 120 EBC
-
CO2 concentration
0 vol. to 5.5 vol. at 35 °C, 0 vol. to 10 vol. <10 °C
O2 concentration
0 ppm to 4 ppm

DO: 0 ppm - 2 ppm
HSO: 0 hPa - 45 hPa
0 ppm to 4 ppm

pH value
pH 0 to pH 14

Turbidity
0 EBC to 100 EBC / 0 NTU to 400 NTU

Repeatability s.d.
Density
0.00001 g/cm³
0.000005 g/cm³ to 0.000001 g/cm³*

Temperature
0.02 °C (0.04 °F)
0.01 °C (0.02 °F) to 0.001 °C (0.002 °F)*
Alcohol
0.05 %v/v
0.01 %v/v
Original extract
0.1 °Plato
0.03 °Plato
-
Extract
0.025 %w/w
0.015 %w/w to <0.01 %w/w*

Color
0.1 EBC

CO2 concentration
0.03 vol. (0.05 g/L)
0.005 vol. (0.01 g/L)

Dissolved O2 concentration
2 ppb (in the range <200 ppb)

-

2 ppb (in the range <200 ppb)

TPO concentration
-

-

± 8 ppb or 6 % of measured value

-

pH value
0.02 (in the range pH 3 to pH 7)
Turbidity
0.02 EBC / 0.08 NTU
General information
Power features
U-View™, FillingCheck™, ThermoBalance™, full-range viscosity correction, ultra-fast measuring mode
Minimum amount of sample per measurement
150 mL
260 mL
150 mL
Typical measuring time per sample
3 minutes (incl. filling)
8 minutes (incl. filling)
3 minutes (incl. filling)
Typical sample throughput
15 samples per hour
15 samples per hour
7 samples per hour
15 samples per hour
Display
10.1" TFT WXGA (1280 x 800 px); PCAP touchscreen
Controls
Touchscreen, optional keyboard, mouse, and barcode reader
Internal storage
More than 10,000 measuring values with camera images
Power supply
AC 100 to 240 V, 50/60 Hz, fluctuation ±10 %, 190 VA

Communication interfaces
5 x USB, Ethernet, CAN, RS232
Dimensions (L x W x H)
482 mm x 750 mm x 670 mm (19.0 in x 29.5 in x 26.4 in)

515 mm x 1200 mm x 1120 mm (20.3 in x 47.3 in x 44.1 in)

482 mm x 750 mm x 670 mm (19.0 in x 29.5 in x 26.4 in)

Weight
Approx. 35.7 kg (77 lbs)
Approx. 106 kg (243 lbs)
Approx. 35.7 kg (77 lbs)
Environmental conditions
(EN 61010) Indoor use only
Ambient temperature
15 °C to 35 °C (59 °F to 95 °F)

Air humidity
Non-condensing; 20 °C, <90% relative humidity
20 °C, <90% relative humidity; 25 °C, <60% relative humidity; 30 °C, <45% relative humidity

Required supplies TPO 5000
N2 - quality of oxygen-free gas: class 5.0 (purity: ≥99.999 %), filter min. 5 μm, supply pressure: 5 bar to 6.2 bar (absolute, non-fluctuating +- 0,1 bar)
Compressed air: quality of air: according to ISO 8573-1 [3,3,1], filter min. 5 μm, supply pressure: 5 bar to 6.5 bar (absolute), oil-free
Water: quality of water: deionized process water, chlorine-free, filter 150 μm (100 mesh), pressure: 1.5 bar to 4.5 bar absolute
Bottom line: For details regarding tested package types and sizes, please refere to the manual of the TPO 5000.
* Depending on choice of instrument (DMA 4501 or DMA 5001)
ASBC
Beer-4G: Near-Infrared and Original Extract Content (2004)
BCOJ
8.3.6 Alcolyzer for Alcohol Contents
8.4.3 Alcolyzer for Real Extract
BCOJ: analytical method for beer
Mebak
Chapter 2.9.6.3 (B-590.10.181)
Chapter 2.12.2 (B-420.01.272)
Chapter 2.14.1.2 (B-420.01.271)
Anton Paar Certified Service
The Anton Paar quality in service and support:
More than 350 manufacturer-certified technical experts worldwide
Qualified support in your local language
Protection for your investment throughout its lifecycle
3-year warranty
Learn more
Consumables, Accessories & Software
Consumables, Accessories & Software
Software
Software
Not all items are purchasable online in specific countries.
To find out if you can purchase online from your location, check the online availability below.
Online price only
|

excl.

incl.

0

VAT
Interface caps DMA HR01 series
Compatible with:
PBA 5001 Beer | 1001 Beer | 5001 Wine
Delivery time:
%1$s – %2$s working days
%1$s – %2$s weeks
%1$s – %2$s months
Part number: 232006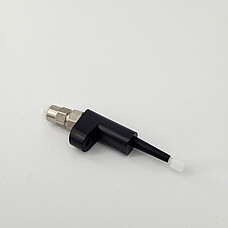 INJECTION ADAPTER SDA/CARBOQC WITH HOSE FITTING
Compatible with:
PBA 5001 Beer | 1001 Beer | 5001 Wine
Delivery time:
%1$s – %2$s working days
%1$s – %2$s weeks
%1$s – %2$s months
Part number: 159578
Product details
for sound velocity measurement cell in pressurized systems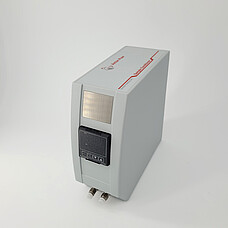 SAMPLE CONDITIONER
Compatible with:
PBA 5001 Beer | 1001 Beer | 5001 Wine
Delivery time:
%1$s – %2$s working days
%1$s – %2$s weeks
%1$s – %2$s months
Part number: 235005
Product details
Heating system which allows the measurement of cold samples in PBA 5001 Beer and Wine by heating the sample almost to the measuring temperature in real time during filling.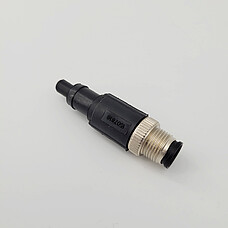 CAN/DEVICENET TERMINATING RESISTOR 5-POLES
Compatible with:
PBA 5001 Beer | 1001 Beer | 5001 Wine
Delivery time:
%1$s – %2$s working days
%1$s – %2$s weeks
%1$s – %2$s months
Part number: 83999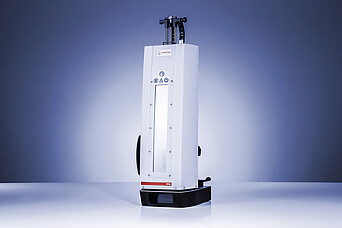 Filling Device:
PFD Standard
Compatible with:
PBA 5001 Beer | 1001 Beer | 5001 Wine
Delivery time:
%1$s – %2$s working days
%1$s – %2$s weeks
%1$s – %2$s months
Part number: 45750
Product details
Filling from glass bottles, PET bottles, and cans with one single device
Direct sample transfer from the closed container
No loss of CO₂ or O₂ due to pressurized filling
Removable safety shield for easier cleaning and maintenance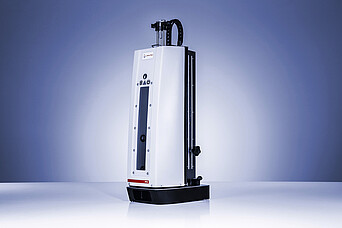 Filling Device:
PFD Plus
Compatible with:
PBA 5001 Beer | 1001 Beer | 5001 Wine
Delivery time:
%1$s – %2$s working days
%1$s – %2$s weeks
%1$s – %2$s months
Part number: 154440
Product details
Direct sample transfer from glass bottles, PET bottles, and cans
No loss of CO₂ or O₂, due to pressurized filling
Additional splinter shield for maximum user protection
Long sample tube enabling transfer of maximum possible sample amount