Everything – from liquids to solids – flows in a certain way and affects our daily lives: from the paint you decorate your walls with, to the toothpaste you squeeze out of its tube, to a tennis ball you throw at the court during your Sunday match. Flow and deformation behavior are essential parameters when it comes to material characterization. Viscometers and rheometers are the ideal tools to see whether your sample is in the right flow.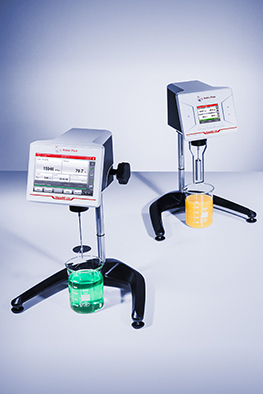 ViscoQC 100/300 – rotational viscometers
Get the latest rotational viscometers from the technology leader and bring outstanding, fully traceable results to your daily quality control routine. Whereas ViscoQC 100 is designed for quick single-point viscosity determination, ViscoQC 300 delivers multi-point viscosity results right at your fingertips. Enjoy how ViscoQC's magnetic spindle coupling saves you time when exchanging spindles and at the same time increases spindle/bearing lifetime. As the space on this site is far too limited to tell you about all of ViscoQC's benefits, simply find out more here:
Applications of ViscoQC 100/300
ViscoQC ensures the consistent quality of your substance – from almost any fluid such as paints or coatings to semi-solid samples like ointments. To meet your future needs, ViscoQC 300 is upgradeable with compliance (21 CFR Part 11) and/or additional analysis software.