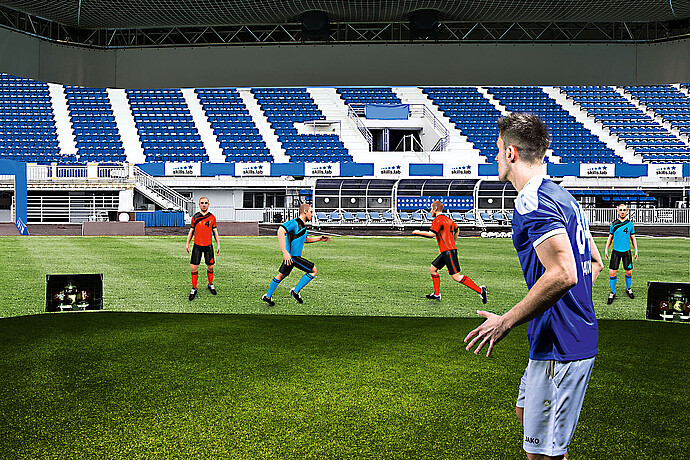 Netted in: FC Ingoldstadt buys skills.lab
2018-09-17

| Corporate
The goalkeeper's fear of the penalty kick is legendary and made its way into literature. And also that of the striker, as the German national team player Gerald Asamoah once put it: "Finally, I get the ball, and that's always my problem." Coping with stress and keeping of the overview is demanded of professional kickers; not to mention trapping and perfect passing. The great thing: you can learn, practice, and perfect all these aspects with the skills.lab from Anton Paar SportsTec.
The skills.lab is a savvy, partly virtual football training system. Six projectors project game situations and tasks onto the walls of a hexagonal mini stadium with a diameter of around 20 m. Four ball machines shoot the balls flat or high and at speeds of up to 130 km/h, which the player then has to process. Stop, volley, pass, shot, high or low, top corner or nutmeg - points are awarded for everything. "We currently offer 50 different training courses, each with five difficulty levels," explains Anton Paar SportsTec managing director Michael Lang. Including goal jubilation and defamation at the penalty kick that the ears hurt. Only in the stadium is it more realistic. Several lasers and cameras observe the player and enable detailed analyses of strengths and weaknesses. Up to four kickers can work at the same time.
FC Ingolstadt's strategy is based on this sophisticated training system, which is controlled merely by a tablet. The contract has just been signed, and the skills.lab in Ingolstadt will go into operation in spring 2019. A multi-year maintenance contract is part of the agreement. "We prevailed against the more favorable competition from Germany, Spain, and China because our system is more powerful," says Michael Lang. The club in the 2nd German Bundesliga will use the system to develop its internal football talents further. Additionally, the Ingolstadt skills.lab will be available as a reference facility for customer visits.
There is a great deal of interest in the training system in Europe and the USA. "After several years of investment and development work, the first customer has now been won, but this is only the beginning. Due to our technical superiority, more top clubs will follow. The entire team deserves great praise for having developed such an outstanding system from scratch over the past few years with a great deal of commitment," says Jakob Santner, also managing director of Anton Paar SportsTec.