This is a required field.
Invalid
Part number
Error in validation!
Smart Density Meter:

EasyDens
360°
Quick measurement – results in under 5 seconds
High precision for all alcoholic beverages
Only 2 mL of sample required
Free iOS/Android app – track fermentation on your smartphone
New design
Looking for consumables & accessories for this product?
Click here
EasyDens determines your wort's extract content, the sugar content in your home-produced fruit juices, and the alcohol content in spirits with no sugar added. Use it to monitor the fermentation process of your beer, wine, and spirits via a daily measurement of apparent extract or sugar from a 2 mL sample. Download the free app to track the fermentation from your smartphone and easily assess the time for bottling. Results are displayed and stored on your smartphone, ready for export to a PC/Mac.
Consistency for your handcrafted creations
By monitoring the fermentation of your beverage so you can track the progress on your smartphone, EasyDens helps you ensure your outcomes are consistent.
For beer brewers: EasyDens calculates alcohol content from the measured °Plato/specific gravity results.
Gain insights and enhance your production skills by seeing the impact of your raw materials and production process on the measured results.
Several units of measurement are available for your:

Beer (specific gravity, °Plato).
Wine (°Brix, °KMW, °Oechsle, °Baumé, °Babo, g/L sugar concentration).
Alcohol (% v/v, % w/w, °Proof).

This one device covers the entire measuring range needed to produce your handcrafted product.
EasyDens for easy results
Concentration values are already temperature-corrected, so you need no further calculations or correction tables.
Measurements take less than one minute, including filling and cleaning.
You can clean, calibrate, and re-adjust EasyDens yourself, you just need deionized water.
Measurement data can be saved and exported from the EasyDens app for further processing on your PC/Mac.
EasyDens only needs 2 mL of sample for testing.
Technology from the market leader
The heart of EasyDens is its measuring cell, a handcrafted, high-precision glass component which delivers the most accurate results.
EasyDens is based on the renowned oscillating U-tube principle, which is also applied in the world's most accurate density meter, DMA 5000 M.
The new design comes with IP65 protection.
Download the free smartphone app (for Android or iOS).
Data exchange between EasyDens and your smartphone is carried out via Bluetooth Low Energy.
Measuring range
Plato:
-10 °P to +40 °P
Brix:
-10 °Bx to +80 °Bx
Baumé:
0 °Bé to 45 °Bé
Oechsle:
-50 °Oe to +400 °Oe
Klosterneuburger Mostwaage:
0 °KMW to 30 °KMW
Babo:
0 °Babo to 30 °Babo
Sugar concentration:
0 g/L to 500 g/L
Alcohol:
0 %v/v to 100 %v/v
Proof:
0 °Proof to 200 °Proof
Specific Gravity:
0.7 to 1.2
Temperature:
5 °C to 30 °C / 41 °F to 86 °F
Accuracy
Plato:
0.3 °P
Brix:
0.3 °Bx
Baume:
0.3 °Bé
Oechsle:
2 °Oe
Klosterneuburger Mostwaage:
0.3 °KMW
Babo:
0.3 °Babo
Sugar concentration:
3 g/L
Alcohol:
0.5 %v/v
Proof:
1 °Proof
Temperature:
0.2 °C / 0.4 °F
Specific Gravity:
0.005*
Digital resolution
Plato:
0.1 °P
Brix:
0.1 °Bx
Baume:
0.1 °Bé
Oechsle:
1 °Oe
Klosterneuburger Mostwaage:
0.1 °KMW
Babo:
0.1 °Babo
Sugar concentration:
1 g/L
Alcohol:
0.1 %v/v
Proof:
1 °Proof
Temperature:
0.1 °C (0.01 °F)
Density:
0.001 g/cm³
General
Sample volume
approx. 2 mL
Ambient temperature
5 °C to 35 °C / 41 °F to 95 °F
Storage temperature
5 °C to 35 °C / 41 °F to 95 °F
Humidity
5 % to 90 % relative air humidity, non-condensing
Interface
Bluetooth Low Energy
Power supply
Two 1.5 V LR6 AA alkaline batteries or two AA NiMH rechargeable batteries
Battery operation lifetime:
>40 hours
Dimensions
101 mm x 58 mm x 44 mm (4 in x 2.3 in x 1.7 in)
Weight (incl. batteries)
approx. 190 g (0.42 lbs)
Mobile Operating System
Android and iOS
Scope of supply
EasyDens portable density meter, syringe 10 mL, batteries, adapters Luer, adapter Luer lock, waste hose, illustrated application description, certificate of compliance, safety guide
Ingress protection
IP65 according to IEC 60529
*accuracy for aqueous solutions (such as beer, wine, distilled spirits): 0.001
Consumables
Consumables
Not all items are purchasable online in specific countries.
To find out if you can purchase online from your location, check the online availability below.
Online price only
|

excl.

incl.

0

VAT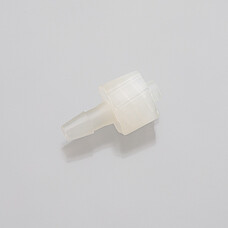 ADAPTER LUER LOCK 1/8"
Delivery time:
%1$s – %2$s working days
%1$s – %2$s weeks
%1$s – %2$s months
Part number: 131517