This is a required field.
Invalid
Part number
Error in validation!
Modular Beer Analysis System:

Animo
+8
Measures alcohol, real extract, original extract, dissolved CO2 and O2, conductivity, and (optionally) color
Drift-free results, also during filler stops and product changeovers
Either in skid construction or as pipe assembly for direct integration
Measures alcohol, real extract, original extract, dissolved CO2 and O2, conductivity, and (optionally) color
Provides drift-free results even during filler stops and product changeovers
Is available as skid construction or as pipe assembly
Looking for consumables & accessories for this product?
Click here
Anton Paar has worked with the beverage industry for over 50 years. Leveraging this experience, we've developed Animo 5100 and Animo 3100 Mobile, our complete, multiparameter measuring systems for the beer industry. What's more, our Davis 5 analysis software ensures perfect quality monitoring in the filling line.
Animo 5100 is available as either a modular framework construction (skid) or as a pipe assembly. The former can easily be tailored to your production line, while the latter can be directly integrated into it. If you need to use the measuring system at different locations, Animo 3100 Mobile gives you the flexibility you need to do so.
From project engineering and system design to installation and commissioning, our all-in-one package provides all the services you need.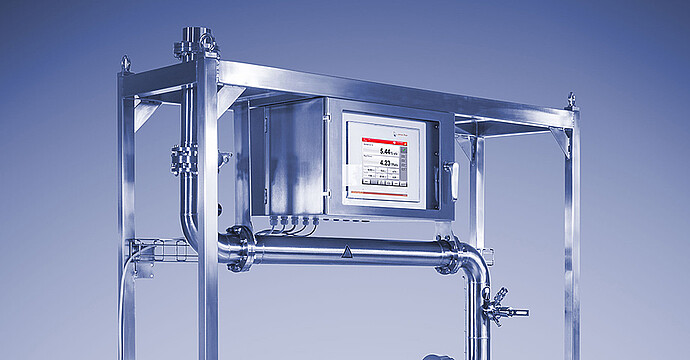 mPDS 5 evaluation unit: Easy, real-time process monitoring
Since all of our systems are delivered with factory pre-configurations, our process analyzers don't require time-consuming, on-site adjustments. The integrated mPDS 5 evaluation unit enables easy data exchange, remote control, and diagnosis via the fieldbus of your choice.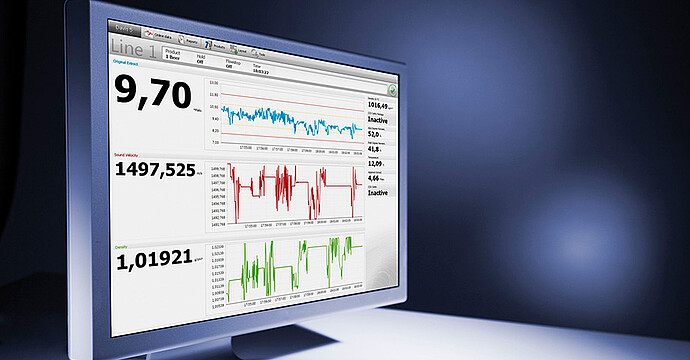 Davis 5: Trace your production quality from your desktop
With Davis 5, you can perform statistical evaluation and traceability of your production line performance and product quality directly from your desktop computer. It also lets you trace your calibration and adjustment activities, along with your data, to get reliable proof of measuring quality. Saving you a step, it also transfers laboratory reference values to the process instruments automatically.
L-Com 5500: Accurate alcohol and extract measurement
L-Com 5500 is a highly stable, combined density and sound velocity sensor that automatically compensates for process variations and changing environmental conditions. It ensures drift-free and reliable measuring results during filler stops and product changeovers.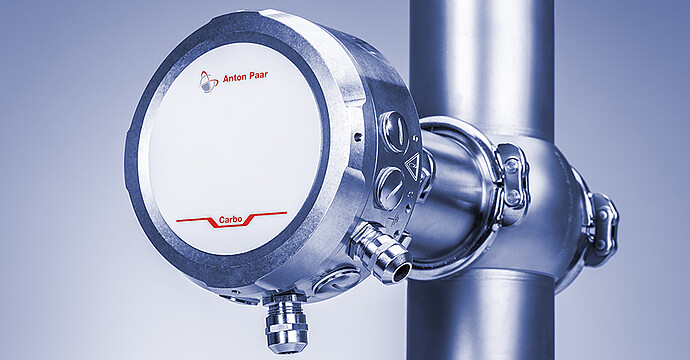 Carbo 6300: Drift- and maintenance-free CO₂ measurement
Because of its optical measurement concept, the integrated Carbo 6300 inline CO2 sensor doesn't require any maintenance. On top of this, its gas-tight sealed sensor unit gives you the long-term stability you need and ensures that there's no drift during CIP.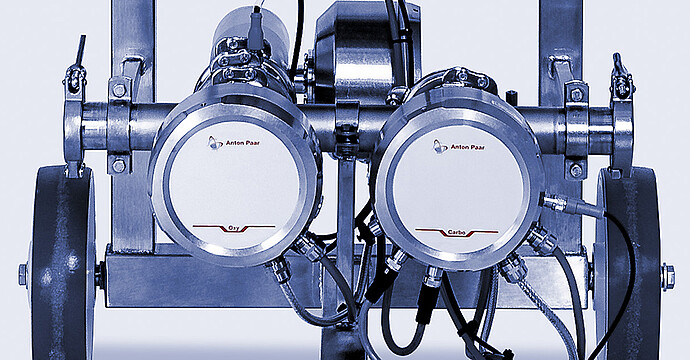 Optional sensors for customer-specific solutions
L-Com 5500 conducts pressure and temperature measurements. Additional sensors, such as color sensors, can be integrated upon request.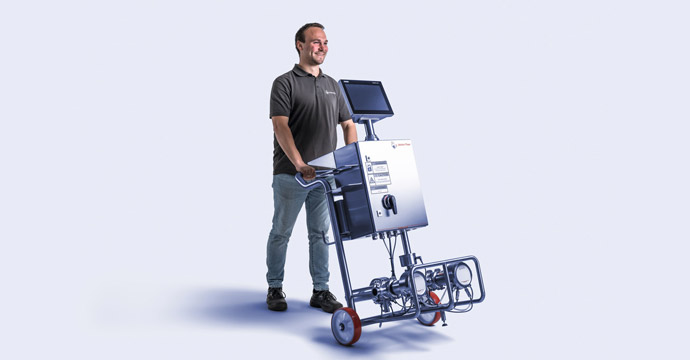 Animo 3100 Mobile: Flexibility for craft brewing
As a craft brewer, you usually use flexible hoses (not solid piping) to connect process systems like blenders, tanks, centrifuges, and fillers. You can insert Animo 3100 Mobile into each of these connections, letting you monitor the quality parameters that are needed most. Animo 3100 Mobile's package includes our Beer Monitor 5600, Oxy 5100 inline oxygen sensor, and the Davis 5 data recording and analysis software for top price-performance ratio.
Parameter
Range
Accuracy
Alcohol
0 ... 12 %w/w
0 ... 15 %v/v
+/-0.02
Real extract
0 ... 12 °Plato
+/-0.02 °Plato
Original extract
0 ... 35 °Plato
+/-0.04 °Plato
Dissolved CO2 Concentration
0 ... 6 Volumes
0 ... 12 g/L
0.025 Vol.
0.05 g/L
Dissolved O2 Concentration
0 ppb ... 2000 ppb
optional 0 ppm ... 22.5 ppm (0 ... 50%)
≤+/-1 ppb or +/-3 %
(the larger value is valid)
≤+/-0.1 % O2 or +/-3 %
(the larger value is valid)
Conductivity
Range (adjustable):
<10 mS/cm
10 ... 100 mS/cm
100 ... 999 mS/cm
Resolution:
1 μS/cm
10 μS/cm
100 μS/cm
Temperature measurement
-3 ... +145 °C
+/-0.1 °C
Pressure measurement
0 ... 16 bar absolute
+/-0.1 bar
Flow
v = 0.01 ... 10 m/s with the specified measuring accuracy
+/-0.5 % of reading +/-1 mm/s
Color (option)
0 ... 30/150 EBC
(depending on optical path length)
Reproducibility: +/-1 % transmission
Anton Paar Certified Service
The Anton Paar quality in service and support:
More than 350 manufacturer-certified technical experts worldwide
Qualified support in your local language
Protection for your investment throughout its lifecycle
3-year warranty
Learn more
Consumables
Consumables
Not all items are purchasable online in specific countries.
To find out if you can purchase online from your location, check the online availability below.
Online price only
|

excl.

incl.

0

VAT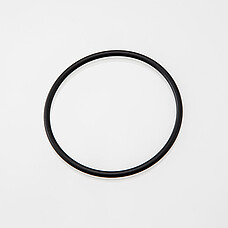 O-RING 60x3 EPDM 70 FDA COMPLIANT
Compatible with:
Animo 5100 | 3100 Mobile
Delivery time:
%1$s – %2$s working days
%1$s – %2$s weeks
%1$s – %2$s months
Part number: 74911