This is a required field.
Invalid
Part number
Error in validation!
Penetrometer:

PNR 12
Measure the consistency of any type of semi-solid sample with an automatic penetrometer
Get reliable surface detection of highly viscous and even electrically conductive samples
Simplify your measuring workflow with statistical and database functionality
Looking for consumables & accessories for this product?
Click here
Based on more than 60 years of experience in penetration testing, our PNR 12 penetrometer automatically measures how far a test body sinks into a sample over a certain period of time. Choose among various standardized test bodies, like cones and needles with defined weights and geometries, to determine penetration depth. Among other applications, use it to determine the consistency of bitumen, asphalt, grease, wax, Vaseline®, and butter.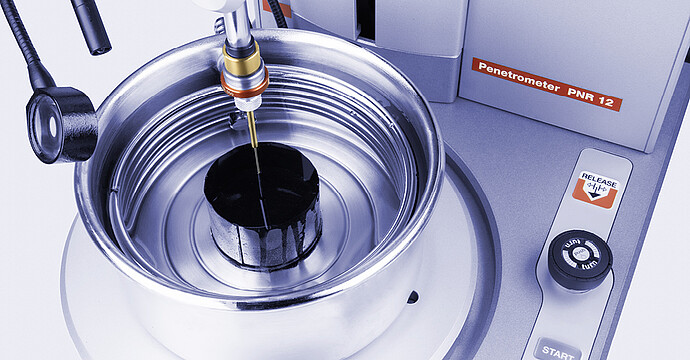 Automatic surface detection eliminates measurement errors
Ensure automatic surface detection of highly viscous samples with a patented force sensor plunger, which is especially useful for samples that are tested underwater
Use an electric sensor to automatically detect electrically conductive, typically water-based, samples
Rely on both options for a convenient penetration test with good repeatability, independent of the user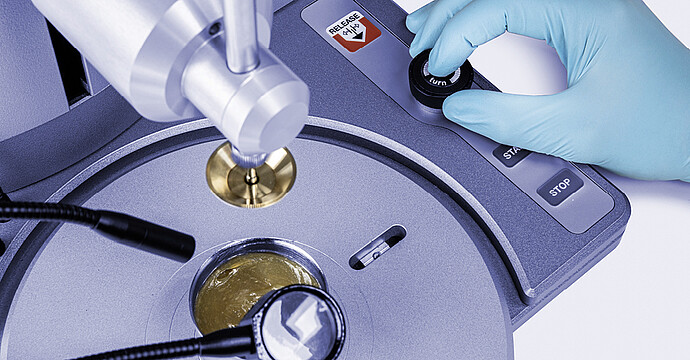 A robust, easy-to-use penetrometer that's built to last
Maintain your penetrometer's reliability and accuracy with an optional calibration kit for measuring time, distance (penetration depth), and temperature
Simplify your manual sample surface approach with a jog wheel, a helpful magnifier, and a bright LED sample light
Use the sturdy jog wheel and operating buttons in any environment – even with gloves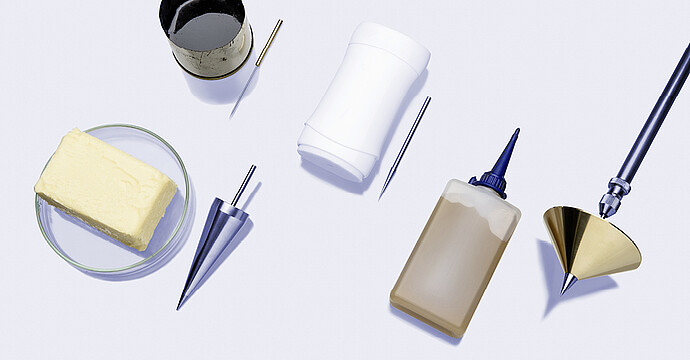 The right penetrometer setup – no matter your application
Rely on a range of accessories that comply with applicable standards:

Bitumen needles and plungers comply with ASTM D5 and EN 1426
Grease cones comply with ASTM D217, ASTM D1403, and ISO 2137
Pharma cones and needles comply with EU Pharmacopoeia 2.9.9 and USP 915
Butter cones comply with AOCS Cc 16-60

Equip your PNR 12 with externally certified test kits
Benefit from PQP-S documentation and compliance maintenance recertification, which shows that service and support come directly from the manufacturer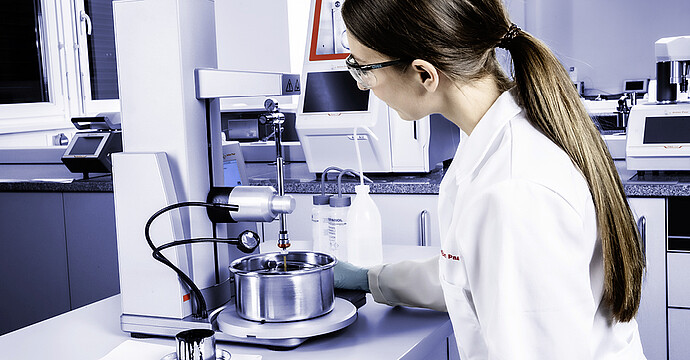 Data management made easy
Configure your penetrometer with 20 programs, 16 of which are user-definable
Automatically convert test results into NLGI class, EN Bitumen, ¼ cone to solid cone, and ½ cone to solid cone, and C-value for edible fats
Analyze up to 200 test results on the instrument and convert these via a USB stick or LIMS into Excel
Use the limit indicator alarm to take quick counteractions when a test value falls outside a preset value range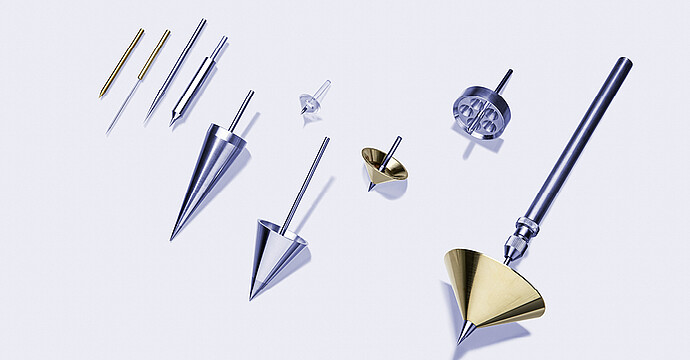 Optional equipment for specific needs
Order your PNR 12 penetrometer with the test accessories you need for setup, including:

Circulator baths and transfer dishes for sample tempering
Manual grease workers for half-scale and quarter-scale cone penetration
Various sample containers and cylinders
Printer for test result documentation
| | |
| --- | --- |
| Measuring range | 0 mm to 80 mm (plunger-dependent) |
| Max. test load | 2 kg |
| Resolution | ±0.01 mm |
| Test duration | 0.1 s to 999,999 s |
| Start delay | up to 9999 s |
| Interfaces | USB, LAN, LIMS compatibility |
| Power supply | 100 V to 240 V, 50 Hz/60 Hz, 1.5 A, 70 W |
| Dimensions | 300 mm x 380 mm x 570 mm (W x D x H) |
| Weight | 11 kg |
Pharmacopoeia Europe (Ph. Eur.)
2.9.9 - Measurement of consistency by penetrometry
Anton Paar Certified Service
The Anton Paar quality in service and support:
More than 350 manufacturer-certified technical experts worldwide
Qualified support in your local language
Protection for your investment throughout its lifecycle
3-year warranty
Learn more
Consumables & Accessories
Consumables & Accessories
Not all items are purchasable online in specific countries.
To find out if you can purchase online from your location, check the online availability below.
Online price only
|

excl.

incl.

0

VAT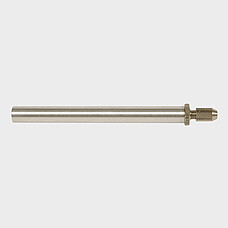 PLUNGER, 15 g, 118 mm, ALUMINUM
Delivery time:
%1$s – %2$s working days
%1$s – %2$s weeks
%1$s – %2$s months
Part number: 106824
Product details
Plunger, 15 g, 118 mm, made of aluminum. Application:
- Micro cone (106872, 106873)
- SHELL half-scale-cone (106868)