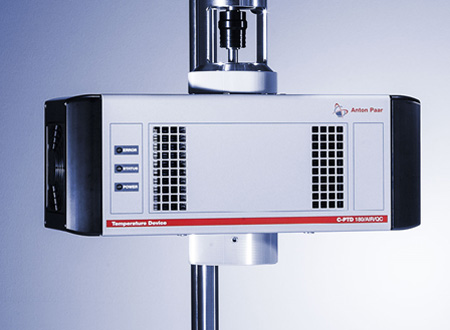 This is a required field.
Accessory for RheolabQC:


Temperature device
In order to cover countless different applications and requirements, different temperature accessories and measurement geometries are available for RheolabQC. A Peltier temperature system (C-PTD) and two liquid temperature devices (C-LTD) can be mounted on RheolabQC. The Peltier system features high heating and cooling rates and excellent temperature accuracy and does not require liquid counter-cooling. Liquid temperature devices may be used alternatively, especially for measurements below 0 °C.
Peltier temperature device (C-PTD 180/AIR/QC)
Temperature range: 0 °C to +180 °C
Peltier temperature control, counter-cooling with air
Fast heating (8 K/min) and cooling rates (4 K/min)
No circulator required
Low energy consumption
Liquid temperature devices (C-LTD80/QC, or C-LTD70/SM/QC)
For measurements that are mostly carried out at one constant temperature and below 0 °C
External recirculation thermostat required to control the temperature in the device
Temperature range according to the following table (also depends on the external recirculation thermostat used):
C-LTD80/QC

C-LTD70/SM/QC

Min. temperature

-20 °C

Max. temperature

+80 °C
+70 °C

Thermostat fluid

Water/glycol, water or different oils
Anton Paar Certified Service
The Anton Paar quality in service and support:
More than 350 manufacturer-certified technical experts worldwide
Qualified support in your local language
Protection for your investment throughout its lifecycle
3-year warranty
Learn more