Sampling System
Part of your process – real-time measurement by continuous sample flow
Anton Paar brings a full one-stop-shop solution to your process. With sampling systems for the L-Dens 7000 density sensor series you get more than a full package for density and concentration measurement. Our engineering team with its leading process and application expertise will implement the best solution for your process, always customized to your needs. The properties of the media to be measured define the used materials and components. The layout of the facility and the operating modes build the framework conditions for the design of your Anton Paar sampling and measuring system.
Get in touch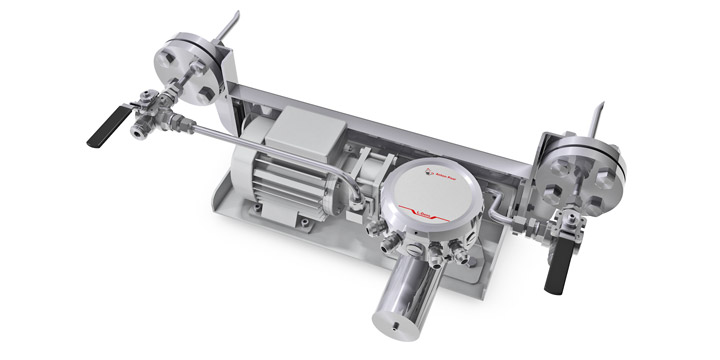 Your process determines the framework – we will find the best-fitting solution
Whatever fits best – we will find the perfect solution with our sensor system, which can be fully integrated.
Low-viscosity fluids and liquid gases in pipelines usually can be sampled via inline adapters inserted in the main pipe. Minimum flow speed and the resulting dynamic pressure are sufficient to ensure proper sample exchange between the main pipe and the sensor.
Bypass solutions will be implemented wherever the pressure difference across pumps in the main line can be used to let the media flow through the sensor.
For higher viscosity fluids or low flow rates we provide pumps for actively supplying the sensor with the media.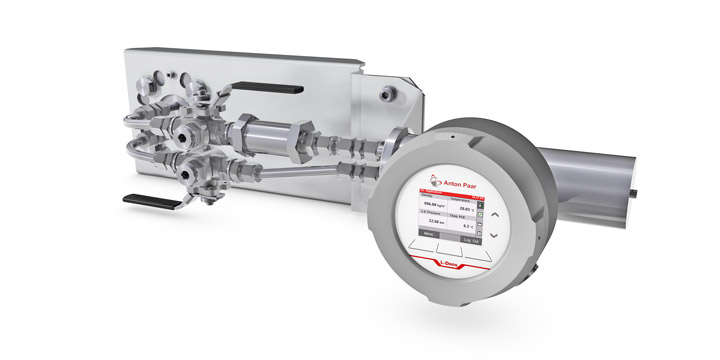 Fully integrated – full support during all operating modes
During production the sensor is supplied with product via an inline adapter, bypass, or pump. The flow is kept at a sufficient level, the measuring system does not cause any pressure drops. With the sight glass you can visually check the media for flow, particles, and bubbles.
For calibration purposes reference samples can be taken from the main pipe using the included cut-off and sample valves.
During cleaning of the sensor the integrated rinsing connection is used to open the sample path for sensor rinsing. It is not required to dismount the sensor.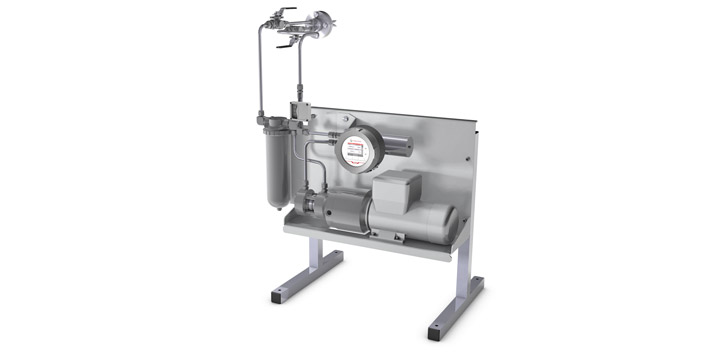 Customization – your needs and cost savings are the benchmark
Modular reference systems form the basis for easy and cost-efficient customization. Variables such as used flanges and insertion depths or conditions such as pressure and temperature ratings can be varied with or without minimum extra cost.
On request, additional components such as filters, flow monitors, mounting supports, housings, etc. are integrated. Our engineering team is prepared to integrate customer-provided parts as well, which also keeps the costs to a minimum.
Solutions for hazardous environments and media can, of course, also be implemented. Your specifications define the used materials, components, and design of the sampling and measuring system.
L-Dens 7400

L-Dens 7500

Process density

max. 3000 kg/m3
max. 2000 kg/m3
Standard adjustment
range
600 kg/m3 to 1200 kg/m3
Material of the wetted
parts
Stainless Steel
1.4404 (316L)
Hastelloy C-276
Incoloy 825
Tantalum
Hastelloy C-276

Accuracy in adjusted range:
Repeatability

Density Measurement

Temperature


0.02 kg/m3
(2 x 10-5 g/cm3)*

0.1 kg/m3
(1 x 10-4 g/cm3)**

0.1 °C

0.01 kg/m3
(1 x 10-5 g/cm3)

0.05 kg/m3
(5 x 10-5 g/cm3)

0.1 °C

Process temperature

-40°C to 125 °C

CIP/SIP temperature and duration

145 °C for max. 30 min.
Ambient temperature
(for non Ex versions)
-40 °C to 70 °C without HMI
-20 °C to 60 °C with HMI

Process pressure absolute

max. 50 bar

High-pressure version
(only available in Hastelloy C-276):
max. 180 bar @ Tprocess ≤ 70 °C,
max. 140 bar @ Tprocess ≤145 °C,
CRN max. 170 bar
max. 50 bar

Recommended flow rate

100 L/h to 500 L/h

Communication

Pico 3000:


Analog
HART
Modbus RTU
PROFIBUS DP
PROFINET IO
Frequency


mPDS 5:


PROFIBUS DP
PROFINET IO
Devicenet
Ethernet/IP
Modbus TCP
I/O Board

Process connections

Options for integration:

Flange:


DIN/EN
ANSI
Tri-Clamp
Varivent® N


Tube end:

Thread:

Others on request
Dimensions:
Non-Ex version (L x W x H)
Ex version (L x W x H)

245 mm x 145 mm x 185 mm
245 mm x 160 mm x 205 mm

190 mm x 145 mm x 185 mm
190 mm x 160 mm x 205 mm
Explosion-proof versions according to ATEX / IECEx / FM / UL / CSA
* Tantalum 0.05 kg/m3 (5 x 10-5 g/cm3)
** Tantalum 0.5 kg/m3 (5 x 10-4 g/cm3)
Anton Paar Certified Service
The Anton Paar quality in service and support:
More than 350 manufacturer-certified technical experts worldwide
Qualified support in your local language
Protection for your investment throughout its lifecycle
3-year warranty
Learn more