This is a required field.
Invalid
Part number
Error in validation!
Temperature Control:

Convection Temperature Devices (-160 °C to +1000 °C)
+6
For temperature-controlled rheological and DMA measurements on melts, solids, films, and fibers from -160 °C to 1000 °C
Homogeneous temperature distribution for accurate & stable results
For MCR measuring systems: parallel-plate, cone-plate, DMA in torsion or extension, controlled relative humidity, and more
Looking for consumables & accessories for this product?
Click here
Convection Temperature Devices (-160 °C to +1000 °C)
Contact
Perfect temperature control for measurements on melts and solids (DMA) and extensional rheology on films and fibers – the convection temperature devices for the MCR rheometer series make it happen. Due to their symmetric design, they guarantee an absolutely homogeneous temperature distribution and thus accurate and stable temperature control in all measuring systems, from parallel plates to solid bar fixtures, for optimal results when measuring polymer melts, glass melts, salt melts, metal melts, and solids. With their innovative design and comprehensive range of accessories, the convection temperature devices are a must for experienced rheologists.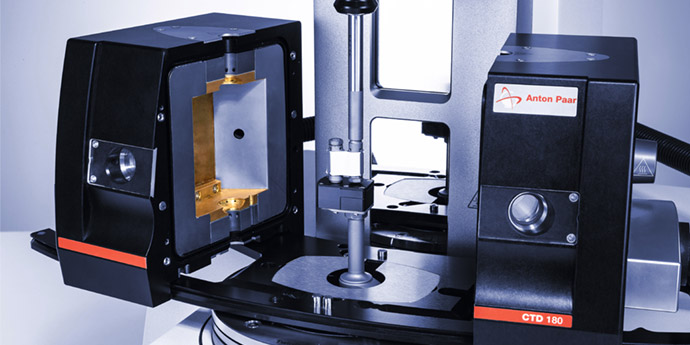 Control the greatest influence of all
The convection temperature devices allow for controlling the greatest rheological influence of all: temperature. Benefit from an enormous temperature range to meet your specific sample requirements. At the same time the design gives you the possibility to use almost every measuring system from the extensive MCR accessory portfolio, from parallel-plate systems (including disposable systems) to dynamic mechanical analysis in torsion or extension. Furthermore, a controlled relative humidity can also be applied to the sample in combination with temperature. Rely on the high-precision temperature control required for truly accurate results for all kinds of rheological tests.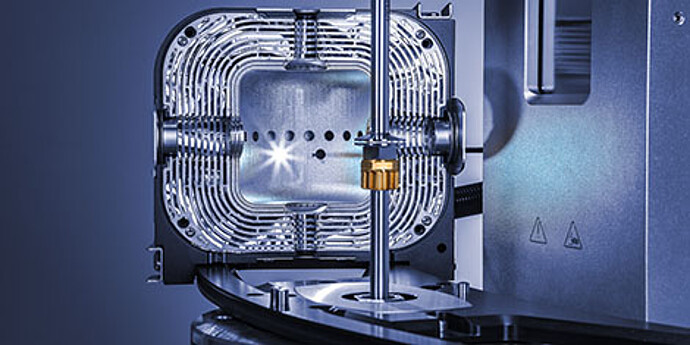 Count on the most innovative production techniques
State-of-the-art production techniques such as 3D metal printing bring temperature control to the next level. The unique design of the inner shells of the CTD 600 MDR convection temperature device, which are manufactured as one piece each, results in an absolutely homogeneous temperature distribution within the oven. With CTD 600 MDR, temperature gradients are a thing of the past. Additionally, only low gas flow rates are needed, minimizing unwanted effects on measurements due to air vortexes or drying samples.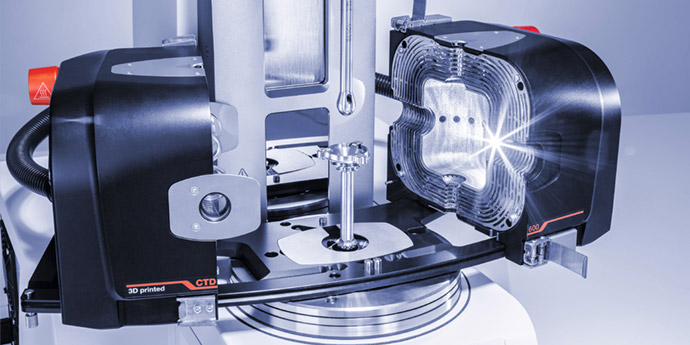 Extensive MCR accessory portfolio
A wide range of applications require flexible temperatures, measuring systems, and testing solutions. In addition to standard measuring systems, solutions made of Inconel, graphite, or other temperature- and corrosion-resistant materials allow characterization of a broad variety of samples and even high-temperature materials (e.g., metals, salts, glass). Beyond rheological measurements and dynamic mechanical analysis, convection temperature devices enable powder rheology and liquid density measurements up to 1000 °C. Anton Paar's CTD 1000 MDR can be combined with a lower linear drive to perform dynamic mechanical analysis in tension, compression, and bending up to 1000 °C. For applications in an oxygen-free environment, Anton Paar offers an Argon glovebox proofed configuration based on the MCR 702e Space MultiDrive.
Low temperature options to match every application are also available.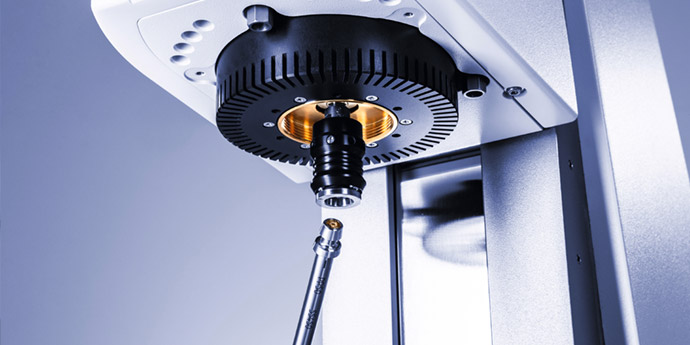 Enjoy the comfortable setup and ease of use
Whichever choices you make, all temperature devices are swiftly and easily integrated and exchanged, and your rheometer reliably adapts to each new setup and temperature requirement. The following MCR features make sure of this: Toolmaster™ automatically recognizes and configures all connected devices, TruGap™ controls and adjusts the rheometer's actual measuring gap. T-Ready™ cuts short unnecessary waiting times by immediately detecting temperature equilibration. The integrated non-reflecting interior illumination of the CTD 600 MDR temperature device ensures a perfect view of your sample during the measurement.
Rely on full safety even at high temperatures
All the outside surfaces of Anton Paar's convection temperature devices for the MCR series are touch-proof up to the highest temperatures. The exhausts are designed with cooling mechanisms to ensure safe and convenient use at any time, at any temperature. When closing the ovens, an integrated mechanism prevents the shells from touching the measuring system, avoiding damage to the device.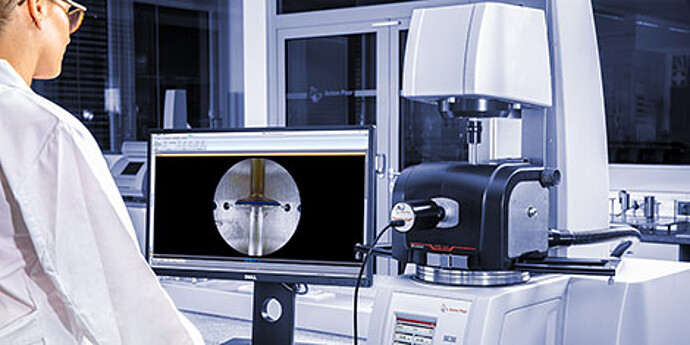 Gain real-time insights into your sample during the measurement
The combination of the integrated interior illumination with the high-quality optical system of the digital eye camera ensures sharp and uniformly illuminated real-time pictures and videos of your sample over the complete temperature range. This allows for detailed investigations of different measurement effects, such as edge fracture, sagging, optically visible phase transitions, degradation, and gap emptying. Furthermore, this data can add valuable information to the analysis and validate measurement results. The real-time camera pictures and videos are displayed in the media explorer of the rheometer's RheoCompass™ software and can be directly added to a diagram and assigned to the measuring points at which they were recorded. The digital eye camera can be installed on CTD in less than one minute.
Chamber
Temperature range
Temperature control
Max. heating rate
Max. cooling rate
Typical materials
Measuring systems¹
Accessories
CTD 180
-20 °C to 180 °C
Peltier convection
18 °C/min
10 °C/min
food, coatings, paints, cosmetics, pharmaceuticals, detergents, solvents, adhesives, sealants, plastisols, hotmelts, petrochemicals, asphalt, bitumen, epoxy resins, polymer solutions
PP, PP disposable, CP, CC, SRF, UXF, SCF, SER, tribology, CTL, TPB, powder shear cell
Optional:
CTD 450 TDR
-150 °C to 450 °C
Electrical convection
50 °C/min
35 °C/min
polymer melts, reinforced materials, films and fibers, epoxy resins, aluminum, metals and alloys, low-temperature glasses
PP, PP disposable, CP, CC, SRF, UXF, SCF, SER, CPP, tribology
Optional:
CTD 600 MDR
-160 °C to 600 °C
Electrical convection
35 °C/min
30 °C/min
polymer melts, reinforced materials, films and fibers, epoxy resins, aluminum, metals and alloys, low-temperature glasses
PP, PP disposable, CP, CC, SRF, UXF, SCF, SER, CPP, tribology, CTL, TPB, powder shear cell
Included:

DigiEye 250 camera option

Optional:
CTD 1000 MDR
-100 °C to +1000 °C
Electrical convection
60 °C/min
30 °C/min
Metals and alloys (e.g., aluminum), low-temperature glass, salts
PP, CC, SRF, TPB
Optional:
[1] Ask for customized measuring systems
Anton Paar Certified Service
The Anton Paar quality in service and support:
More than 350 manufacturer-certified technical experts worldwide
Qualified support in your local language
Protection for your investment throughout its lifecycle
3-year warranty
Learn more
Consumables
Consumables
Not all items are purchasable online in specific countries.
To find out if you can purchase online from your location, check the online availability below.
Online price only
|

excl.

incl.

0

VAT