This is a required field.
Invalid
Part number
Error in validation!
Universal testing machine:

UTM Micro
+8
Low-force, low-torque testing of mechanical parts down to 0.0005 N
Material testing under real-life conditions: temperature from -160 °C to 1,000 °C and humidity from 5 % RH to 95 % RH.
200+ accessories and test fixtures available
Test methods: tensile, torsion, compression, bending, shear, friction, peel
Looking for consumables & accessories for this product?
Click here
Until now, testing of very delicate and small mechanical parts such as bearings, springs, microwires, organic fibers, and micro-electro-mechanical devices was not possible with conventional universal testing machines. But Anton Paar's universal testing machine, UTM Micro, based on the renowned Anton Paar MCR rheometer, opens up a new world of material testing. The versatile UTM machine's sensitive MCR technology, combined with its proven modularity, and an integrated extensometer and load cell, allows you to go beyond just tensile testing. You'll now be able to rise to all kinds of challenges, even in the fields of DMA and optical methods.
Click here to find a list of test methods depending on the parts that need to be tested.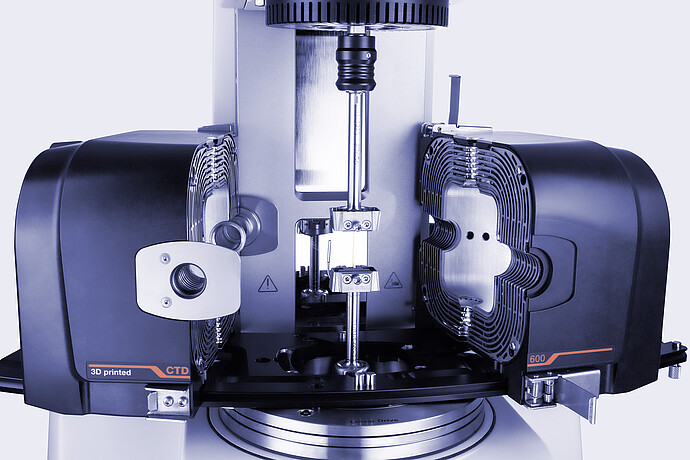 A whole new world of low-force universal material testing
UTM Micro opens up a whole new world: Test small components down to 0.0005 N, torques down to 10-9 Nm, angles of 6x10-8 degrees, and displacement accuracy of 0.01 µm – across a never-before-accessible micro range. Say goodbye to expensive self-made or limited commercial solutions, and complicated back-and-forth with external testing labs. Take product development, research and quality control into your own hands.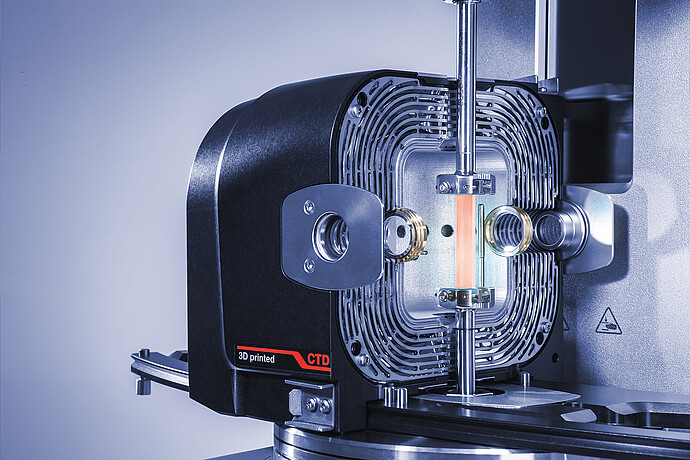 Test your mechanical parts under real-life conditions
Various temperature devices set temperatures from -160 °C to 1,000 °C, and humidity from 5 % RH to 95 % RH. The ability to measure in an inert gas atmosphere to reduce oxidation or avoid sample contamination is unique in this market. The performance of our temperature devices with minimized temperature gradients down to ≤0.1 °C is unrivalled and always guarantees absolute and reproducible results. The pre-calibrated force and torque sensors allow the UTM Micro temperature and humidity functions to be deployed immediately – no need to wait for ages until the target condition is reached. Achieve a heating rate of up to 60 °C per minute.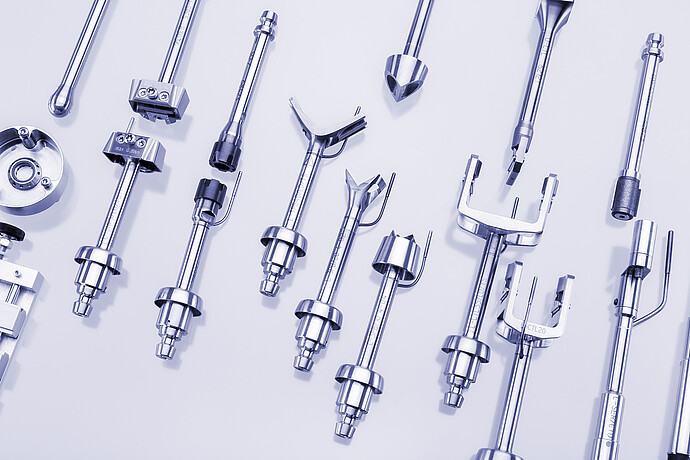 Choose from a wide range of variable-geometry grips and test fixtures
The future is yours: Adapt the instrument to your specific needs via 200+ accessories. Our engineering team can quickly create competitively-priced custom accessories in-house. We have automation & robotics solutions too. From tensile testing machine to micro torque tester, your UTM Micro is as flexible as you need it to be, for years to come.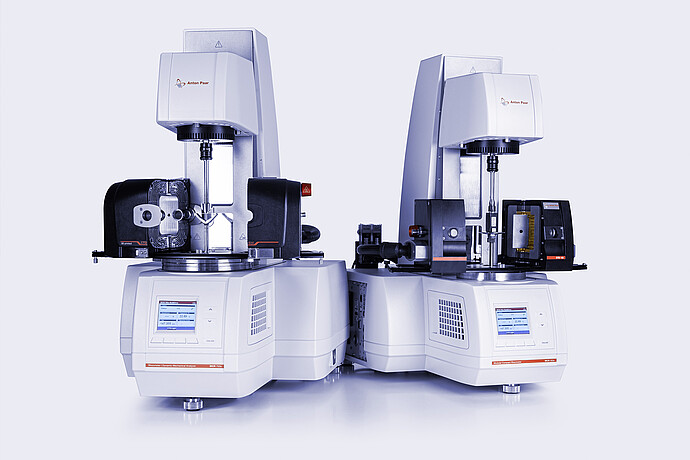 More than 'just' a universal testing machine
Make of UTM Micro exactly what you need: a mechanical testing machine, or a multi-performer combining more than one method – a rheometer, tribometer, and device for dynamic mechanical analysis offering optical methods for further investigation of the behavior of components. An extensometer and load cell are integrated as standard.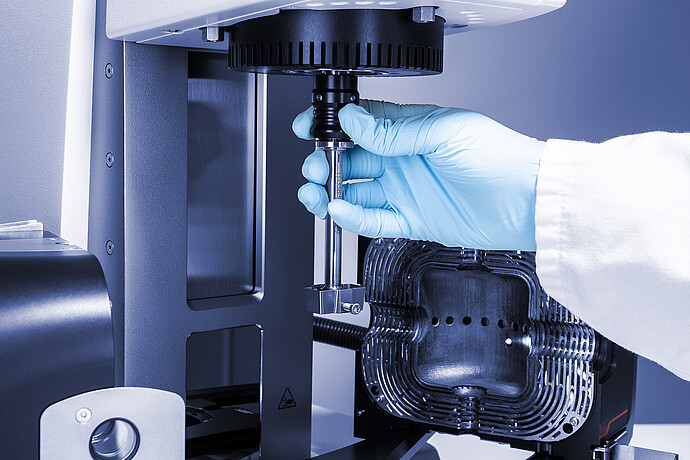 Save time and personnel costs
The easy handling of our universal testing machine saves you time and personnel costs as no experts are needed to handle the device. Unique usability features integrated into the device and software increase throughput. In fact, we've designed every component and created every handling step to be part of a smooth and intelligent whole: The patented Toolmaster™ technology automatically recognizes measuring geometries and accessories and transfers all relevant parameters to the software without the risk of errors. QuickConnect coupling allows one-handed, one-second exchange of measuring geometries, testing fixtures, holders and clamps.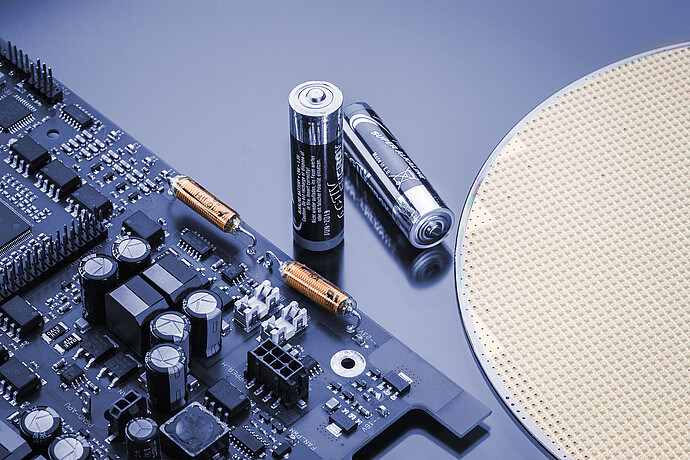 Micro mechanical testing for various applications
Small mechanical components and parts are used in a variety of products. To determine how they will respond to certain conditions and to predict lifetime, you really need to put them to the test.
Typical industries and applications include:
Precision mechanics (e.g. characterization of machine elements, springs, threads, gear boxes, wires, watchmaking)
Microelectronics/semiconductors (e.g. testing of micro motors/turbines, semiconductor fibers, fiber- optic torque sensors, semiconductor devices, SMD drills/torques, electronic switches)
Medical technology (e.g. actuation force syringes, stents, piercing force syringes, safety closures)
Read more about the available mechanical testing methods.
Force capacity
N
0.0005 to 40
Displacement
µm
0.01 to 9400 1)
Minimum torque
nNm
1
Maximum torque
mNm
230
Minimum angular deflection
µrad
0,05
Frequency (vertical)
Hz
0.001 to 100
Frequency (rotatory)
Hz
~10-8 to 100 2)
Temperature range
°C
-160 to 1000 3)
Heating rate (max)
K/min
up to 60
Cooling rate (max)
K/min
up to 50
Humidity
% rh
5 to 95
Dimensions
mm
444 x 753 x 586
Weight
kg
48 (58 with linear drive)
Drive system (rotation)
EC permanent magnet synchronous motor
Drive system (lift)
Moving magnet linear drive (lower drive) Stepper motor (upper drive)
Performs torsion, tensile, compression,
bending, shear, friction, peel, and other tests
✓
Customizable solutions
✓
Camera option
✓
Collision mitigation
✓
Specimen protect
✓
Auto-positioning
✓
Toolmaster™, measuring system
✓
Toolmaster™, measuring cell
✓
QuickConnect for measuring systems, screwless
✓
1) In oscillation, a maximum displacement of ± 4500 μm.
2) Minimum frequency is a theoretical value (duration per cycle = 2 years).
3) In combination with CTD1000 and low-temperature option
Anton Paar Certified Service
The Anton Paar quality in service and support:
More than 350 manufacturer-certified technical experts worldwide
Qualified support in your local language
Protection for your investment throughout its lifecycle
3-year warranty
Learn more
Accessories
Accessories
Accessories
Accessories
Not all items are purchasable online in specific countries.
To find out if you can purchase online from your location, check the online availability below.
Online price only
|

excl.

incl.

0

VAT