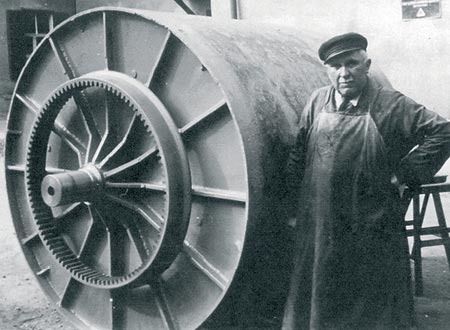 From the workbench to a global company
History of Anton Paar
The Anton Paar Group has its origins in 1922 when the master locksmith Mr. Anton Paar started a one-man machine repair workshop. He soon earned a reputation for excellent work which led to contacts with universities and research institutes.
The first female master locksmith in Styria
Anton Paar trained his daughter, Margareta Platzer, in the 1920s and in 1932 she became the first female master locksmith in Styria, allowing her to follow in her father's footsteps. Her talent for high-precision mechanics and her unique skills in high-precision production combined with the knowledge of Prof. Otto Kratky formed the basis for the company's first scientific, analytical instrument: the Kratky Small Angle X-ray Camera. It is still the most widely used measuring system of its type today.
Innovative spirit as foundation
In 1963 Ulrich Santner, Margareta Platzer's son-in-law, became CEO of the company. With his innovative spirit he laid the foundations for the subsequent expansion of the company in the field of measuring technology. He strengthened the relationships with universities and research institutes and developed a systematic approach for transferring technology from research to industry. As a true citizen of the world he was able to build up an international network which helped him to position numerous innovative products on the world market. During his career the company grew from just 20 to around 130 employees; from an annual turnover of approximately 300 000 euros to around 10 million euros.
Anton Paar became a global company under the leadership of CEO Friedrich Santner. In 1986 he joined his father-in-law, Ulrich Santner, in the management of Anton Paar. Since 2002 he has been the CEO of the company. From the beginning he focused on establishing subsidiaries to manage worldwide sales. Under his leadership new sales and service subsidiaries have been established and companies with complementary measuring technologies have been acquired. The emphasis on research and development – for decades around 20 percent of the turnover of Anton Paar GmbH has been invested in R&D – ensures that Anton Paar can further expand and strengthen its position as the world leader in various fields of measuring technology.
In 2003, the ownership of Anton Paar GmbH was irrevocably relinquished by the former owners. Anton Paar GmbH was donated to the charitable Santner Foundation. The proceeds of the company which go into the foundation are only allowed to be used for charitable purposes.