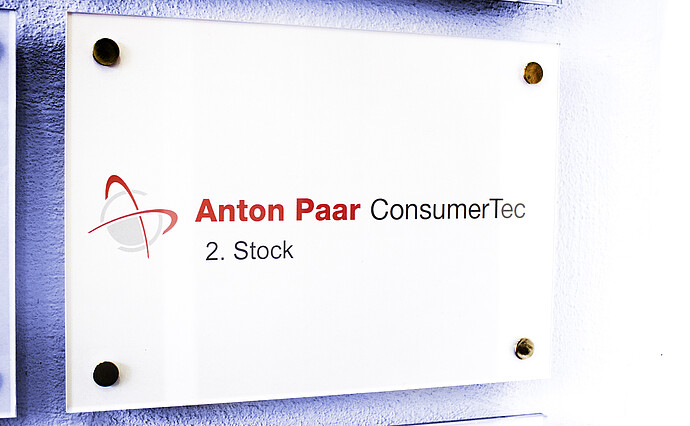 May we introduce Anton Paar ConsumerTec GmbH!
2021-04-29

| Corporate
We visited the youngest company of the Anton Paar Group AG in their new office and asked how the kick-off was going.

Anton Paar ConsumerTec GmbH is the youngest subsidiary of the Anton Paar Group AG. The employees around Christine Körner work about five minutes away from the headquarters in Graz-Straßgang and take care of the business of B2C products. Around the world, the EasyDens, our density meter for hobby brewers, is ordered via the new webshop. We spoke with Christine Körner about the origins, the team and the goals of the young company.

Christine, why was Anton Paar ConsumerTec GmbH founded?
We saw that the structures and processes within Anton Paar GmbH, which are of course basically designed for B2B, are not directly transferable to B2C. For this reason, the best solution was to take this area out of Anton Paar GmbH and found a new company for this purpose. In this way, the Anton Paar technology becomes more easily accessible for the consumer.
In addition, there was the new development of EasyDens. We took this as an opportunity to launch and operate a web store, which is the foundation of our business model.

Who is ConsumerTec?
We are the hip, small, young start-up within the group (laughs). Our team includes a product manager, an app developer, marketing specialist and a product specialist. We are a small team, we work closely together and the bottom line is that everyone has to help out pretty much everywhere.

However, we will certainly need additional support in the next few months. For example, we have currently advertised the position of an application expert.

Let's move on to the first few months in business. How are things going in terms of sales?
Well, we sell the devices directly through our web store, but also through resellers. The first quarter went very well. Thanks to the team, but also thanks to our colleagues in R&D and LDC assembly for delivering a great product.

Which sales markets are booming at the moment?
We have a great reseller in the USA, the Americans seem to be in brewing fever at the moment. The figures are also good in Europe. Basically, though, we sell all over the world. Just last week we were able to supply a private customer in Ecuador, and in New Zealand one or the other EasyDens from Anton Paar is already in use.

What conclusions have you been able to draw in the first few months?
The EasyDens is ideal for customers who brew beer or produce fruit juices at home. Among other things, we rely on online and social media marketing heavily, especially via Facebook and Instagram.

What are your short- and long-term goals?
The primary goal for this year is, of course, to sell as many EasyDens as possible. We also want to further extend the webshop and acquire additional resellers.