This is a required field.
Invalid
Part number
Error in validation!
Sample changer:

Xsample 530
+2
The multi-sample changer with the highest cleaning performance
Handles up to 71 samples with optional sample recovery
Automated cleaning and drying with up to three solvents
Customized magazines available for your own vials
Measurement of volatile samples
Looking for consumables & accessories for this product?
Click here
The Xsample 530 sample changer for all Anton Paar master instruments handles samples with a wide range of properties. With controlled filling power, samples from plain water to highly viscous oils (up to 36,000 mPa.s) are filled in a minimum of time. The 71-position magazine for unattended operation can be exchanged with one hand to ensure easy handling and filling.
With up to three cleaning agents, Xsample 530 is ready to measure a great variety of samples in one run. No compromises regarding mechanical components as well as a superior resistance to chemicals ensures increased uptime of the system and low maintenance costs.
Perfect measurement results due to perfect cleaning
Automatic rinsing and drying after each sample for perfect preparation of the system
Up to three different solvents can be used in any order to achieve optimal cleaning performance
Active needle cleaning – inside and outside – prevents any sample cross-contamination.
Advanced settings for special treatment of the sample to increase performance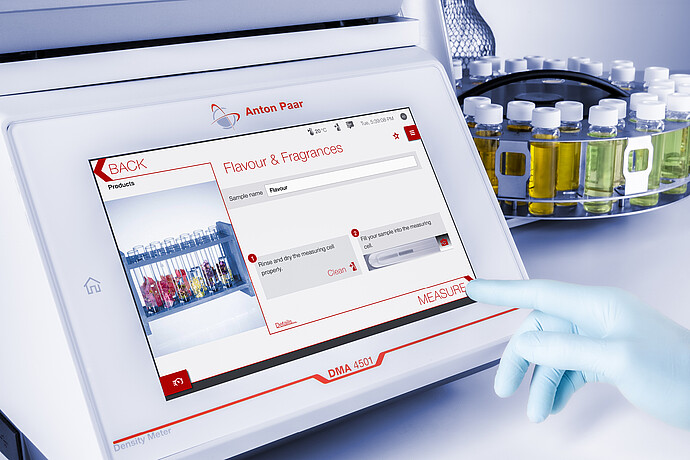 Easy operation through simplified workflows
The removable magazine for easy sample collection has a capacity of 71 samples (12 mL vials) or 35 samples (45 mL vials).
Customized magazines for almost any type of vial are available to ensure a smooth workflow in your lab.
Standard modes in the intuitive software enable seamless sample measurement.
Optional bar code reader for digital error-free data input and automated method assignment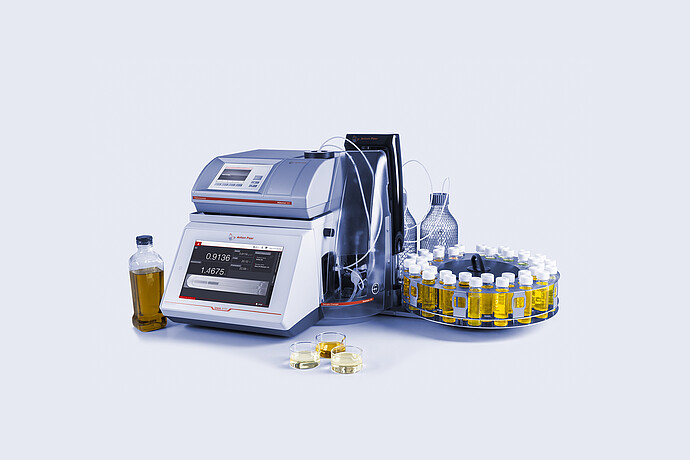 Intelligent checks and procedures according to your needs
Automatic sample recovery (optional accessory) returns expensive or hazardous samples to its vial
Automatic filling and draining (sensor-controlled) for low-viscosity samples or samples up to 36,000 mPa.s
Automatic air check before measurement to rule out sample cross-contamination
Automatic pressure and tightness test to ensure trouble-free and safe operation
Viscosity range
Operation with internal air pump
Operation with 2 bar external compressed air

12.000 mPa·s at ambient and measuring temperature
36.000 mPa·s at ambient and measuring temperature
Filling mode
Pressure mode

with integrated piston pump
with air pump of master instrument
with compressed air


Suction mode (optional)
Minimum sample volume per measurement
approx. 3 mL (with master instrument DMA™ M)
depending on system configuration
Sample recovery
optional
Rinse consumption per cycle
approx. 4 mL
Sample throughput
max. 9 per hour
depending on application and used pressure source
Number of sample vials
71 positions for 12 ml vials
optional: 35 positions for 45 ml vials
customer specific magazines on request
Automatic filling and drying
Piston pump, internal air pump of master instrument or compressed air selectable
Compressed air supply
(optional)
1.80 bar – 2.20 bar (26 psi – 32 psi) relative external compressed air
typically: 2.0 bar (29 psi) rel.
Necessary quality of air
Class 3 from ISO 8573-1:
max. particle size: 5 μm
max. pressure dew point:-20°C (-4°F)
max. oil content: 1 mg/m3
Environmental conditions
(EN 61010)
Indoor use only
Air humidity
10 to 90% relative humidity, non-condensing
Operating temperature
+15 to +35 °C (+59 to +95 °F)
Power supply
supplied by master instrument
Mains voltage according to the type plate at the rear of master instrument (protective grounding required)
Dimensions excl. master instrument
(L x W x H)
370 mm x 490 mm x 430 mm
(14.6 in x 19.3 in x 17 in)
Weight excl. master instrument
approx. 48 kg (105.8 lbs)
Optional bar code reader
Laser Line Scanner, 1D Code Reader class 2
Anton Paar Certified Service
The Anton Paar quality in service and support:
More than 350 manufacturer-certified technical experts worldwide
Qualified support in your local language
Protection for your investment throughout its lifecycle
3-year warranty
Learn more
Consumables
Consumables
Not all items are purchasable online in specific countries.
To find out if you can purchase online from your location, check the online availability below.
Online price only
|

excl.

incl.

0

VAT