KNOW THE UNKNOWN
Raman spectroscopy instruments from Anton Paar are widely used to identify unknown substances, verify samples in quality assurance, analyze the chemical composition of samples, or monitor their changes.
The Compact Raman Analyzer (Cora) series consists of a handheld Raman spectrometer for on-the-spot identification, confirmation of substances in the field, or verification measurements on incoming goods, as well as a range of benchtop Raman spectrometers for quality assurance, and for industrial and academic research.
Raman spectroscopy applications
Switch between two application fields to either learn more about how to quickly identify unknown substances within seconds or get more insight into how to simplify quality control and academic research.
Choose between:
Identifying hazardous and regulated materials
Quality control and research
| | | |
| --- | --- | --- |
| | Identifying hazardous and regulated materials | |
---
Cora 100 – the handheld Raman spectrometer for identifying unknown substances
Detect threats with the Cora 100 handheld Raman spectrometer
Cora 100 is a robust tool which enables safe identification of unknown and dangerous substances within seconds.
Designed to be operated under the toughest conditions, the instrument is widely used for the detection of hazardous materials, narcotics, explosives, and chemical warfare agents. Cora 100 is the intelligent assistant for threat detection and identification of hazardous materials which fits in the palm of your hand.
The intuitive workflow and dedicated accessories enable EOD, hazmat, or CBRNE teams and firefighters to assess the risks involved with substances in order to make life-saving decisions on the spot or in hot-zone environments.
Comprehensive databases like the narcotics database enable the screening of illicit and regulated substances and simplify the daily work of police and customs officers.
Cora 100 is a handheld instrument for Raman analysis designed to assist operators in defense and security markets to make fast decisions which save lives and reduce hazards:
Know the unknown and identify thousands of substances and mixtures at the push of a button
Assess potential risks within seconds
Use safe sampling accessories that protect you
Fits right into your pocket and weighs only 650 g
Operate under the toughest conditions as a result of IP67 protection and MIL-STD 810G certification
Cora 100 – Schedule your free trial!
Cora 5001 – the benchtop Raman spectrometer for the investigation of unknown substances and analytical research
Identify and verify your samples with the Cora 5001 benchtop Raman spectrometer
Cora 5001 is Anton Paar's Raman spectrometer for quickly identifying substances, even through packaging. It provides excellent sensitivity for delivering the results you need while being outstandingly robust. With Cora 5001 you get results, not just spectra.
Whether you are working in quality control, incoming goods inspection, teaching, or R&D – you benefit from the easiest guided workflows available.
Cora 5001 verifies the identity of your samples with a clear "pass / fail" result. Unknown samples can be identified without any prior knowledge. If you have a specific task requiring more involved modeling, our spectroscopy experts are ready to design custom-made analysis methods for your instrument:
Specialized reference libraries
Intuitive user guidance on a 10" touchscreen
Small and easy to transport
"Dual-core Raman": Two wavelengths for maximum sample variety
Choose between two different models (Direct and Fiber) to get the most out of your samples and make use of unique technical features:
Reproducible conditions for your sample
Laser Class 1 for maximum safety
Autofocus – gets the strongest signal
Flexible probe for measurements outside the instrument
Safeguarded one-handed measurements
Monitoring of your chemical reactions in real-time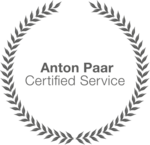 Effective January 1, 2020, all new Anton Paar instruments* include repair for 3 years.
Customers avoid unforeseen costs and can always rely on their instrument.
Alongside the warranty there is a wide range of additional services and maintenance options available.
* Due to the technology they use, some instruments require maintenance according to a maintenance schedule. Complying with the maintenance schedule is a prerequisite for the 3-year warranty.