I nostri esperti del settore petrolifero saranno lieti di darti il benvenuto per un incontro, gratuito, virtuale e personale, che si terrà dopo il webinar " Safety on the road" per rispondere a qualsiasi domanda tu abbia in merito all'analisi dei prodotti petroliferi.
Webinar "Safety on the road" – ascolta le esperienze di Sina Laboratory e Valli Zabban che utilizzano gli strumenti di misura Anton Paar per l'analisi del bitume e dell'asfalto. Registrati subito al webinar incentrato su problemi e soluzioni pratiche e prenota il tuo incontro virtuale one-to-one con un nostro esperto qui di seguito:
---
MANTIENI AGGIORNATE LE TUE COMPETENZE E PRENOTA ORA UN INCONTRO CON UNO DEI NOSTRI ESPERTI!
Gianfranco Groppelli
Anton Paar Italia
(IT)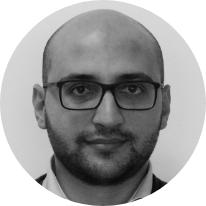 Gianluigi Termine
Anton Paar Italia
(IT)
Web Summit di Anton Paar Italia ti offre*:
Live chat
Demo Live
Video conferenza
Chiamata
*Ogni sessione si svolgerà tramite Cisco Webex e sarà possibile scegliere tra le tipologie preferite indicate sopra.
---
Scopri di più sulle soluzioni dedicate ad asfalti e bitumi: Per saperne di più
Scopri di più sugli strumenti Anton Paar specifici per il settore petrolifero: Per saperne di più