This is a required field.
Invalid
Part number
Error in validation!
Motorized accessory for ViscoQC 100/300:

Heli-Plus
+2
Convenient operation thanks to motorized stand instead of manual height adjustment
Measure paste-like materials (e.g. mayonnaise) with helical T-bar spindle movement
Simplest spindle exchange saves up to 15 seconds per measurement
Looking for consumables & accessories for this product?
Click here
The motorized Heli-Plus automatically moves the ViscoQC 100/300 head up- and downwards to either measure the viscosity of paste-like samples, e.g. wall putty, gels, gelatin, or waxes with a helical T-bar spindle movement, or simply to use it for the most convenient rotational viscometer operation. Your existing ViscoQC can be easily upgraded at your site.
Save your time by digitally defining start, immersion, and reversing positions of the motorized Heli-Plus to start measurements fully automatically. Using standardized test procedures guarantees the highest result repeatability.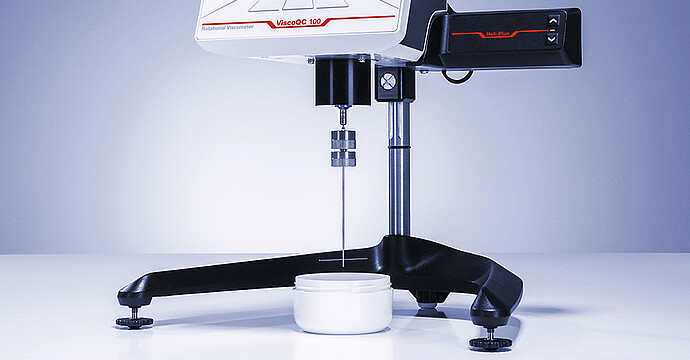 Saves you 15 seconds per test
As your new or existing formulations might require a special technique (helical spindle movement) for viscosity determination, the Heli-Plus can be easily added to your ViscoQC 100/300 setup. The simplest T-bar spindle exchange mechanism (via magnetic coupling) saves up to 15 seconds per test and is included in the standard delivery of the T-bar spindle set. The magnetic coupling further reduces ongoing maintenance costs, as the spindles and the instrument are protected against damage caused by knocks or bending. You will reduce the risk of user errors as the T-bar is automatically detected by ViscoQC for the most reliable and traceable viscosity results.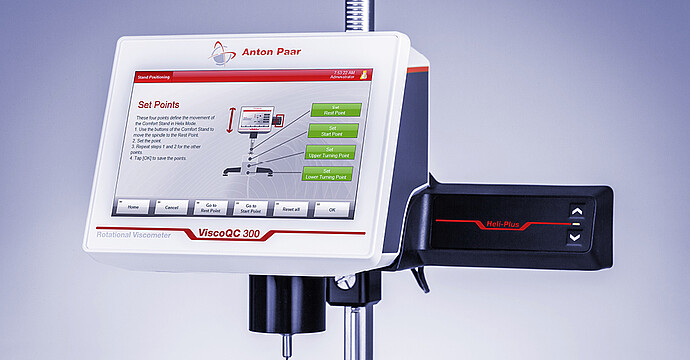 Full automation – minimum errors
The built-in digital leveling of ViscoQC guarantees that the Heli-Plus is automatically aligned. By digitally defining the start, immersion, and reversing positions of the motorized Heli-Plus on the screen of ViscoQC, test procedures can be fully automated. The standardization of your test procedure ensures the highest repeatability of viscosity results. Uptime during production is maximized as there is no need to repeat failed measurements due to e.g. a wrong choice for the measuring start position. Using ViscoQC and Heli-Plus will give you more time for other important tasks.
| | ViscoQC 100/300 |
| --- | --- |
| L viscosity range [mPa.s] | 156 to 9 630 000* |
| R viscosity range [mPa.s] | 2 000 to 100M* |
| H viscosity range [mPa.s] | 16 000 to 800M* |
*Max. range shown is at 0.1 rpm. M = Million
Anton Paar Certified Service
The Anton Paar quality in service and support:
More than 350 manufacturer-certified technical experts worldwide
Qualified support in your local language
Protection for your investment throughout its lifecycle
3-year warranty
Learn more