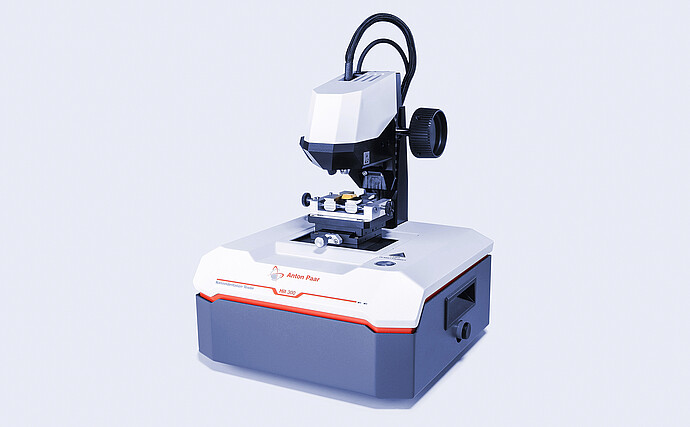 Hit 300
2021-11-29

| Corporate
The team at Anton Paar TriTec spent several years developing the now presented <link corp-en products details hit-300>Hit 300. "The new product is primarily aimed at the entry-level market. This makes powerful nanoindentation accessible for small and medium-sized companies, but also for training and research work at schools and universities," explains product line manager Aurelien Tournier-Fillon, who directed the development project of the Hit 300.
Nanoindentation or instrumented indentation testing is a complex and important method to learn more about material surface properties, which are usually directly related to their performance in an end product.
"Nothing comparable on the market"
The Hit 300 is able to measure up to 600 samples per hour fully automatically. The device impresses with its simple and intuitive operation – setup takes just 15 minutes, the enrollment less than an hour. This means that even people without specific expertise are able to perform measurements.
The Hit 300 is the first instrument in this category to offer an integrated anti-vibration table. This actively dampens any external vibrations for accurate results.
"We are really proud of what the development team has achieved here. There is nothing comparable on the market," adds Alfred Freiberger, Head of the Business Unit Characterization.
Target markets for the Hit 300 are primarily the tool, automotive, glass and electronics industries.
A classic application is the analysis of the coating of cell phone displays.