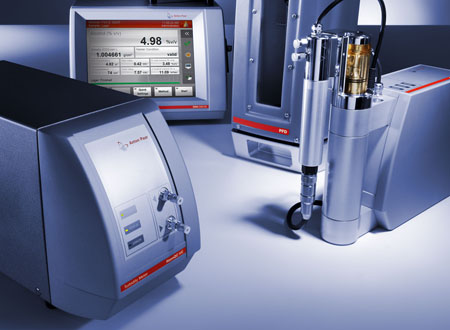 This is a required field.
Turbidity Measuring Module:


HazeQC ME
Determination of turbidity in a variety of fluids
Compliance with acknowledged standards such as MEBAK and EBC
Modular solution to fit with Anton Paar's measurement solutions
Active temperature control for highly precise results
A solution for the measurement of turbidity in liquids, the HazeQC ME turbidity measuring module, is provided by Anton Paar as part of a modular measuring system. The approved ratio method with measurement at three angles (transmission 0°, scattered light at 25° and 90°) is used to prevent the influence of particle size on the turbidity value. The measurement is carried out at a wavelength of 650 nm ±30 nm (MEBAK- and EBC-compliant) in a cell with adjustable constant temperature. This turbidity measuring module expands Anton Paar's product portfolio and adds a further important parameter for analyzing liquid samples - providing the same high quality expected of Anton Paar products.
Accurate and traceable turbidity measurement
Three-angle turbidity measurement (transmission 0°, scattered light at 25° and 90°) at 650 nm according to MEBAK and EBC
Approved ratio method eliminates the influence of particle size on the turbidity value
Highly accurate Peltier-thermostatted cell
Combinations for up to 7 parameters possible
Up to 7 parameters in one measuring cycle if used in combination with PBA-B (density, alcohol, beer color, pH, CO2, O2, turbidity)
Combination with all Generation M systems, with Alcolyzer Plus Beer, with Alcolyzer Plus Spirits or with the Beer Analyzing System (Alcolyzer Plus Beer, density meter, sample changer)
All measurements directly out of the bottle or can, no degassing required if using a PFD Filling Device
Measuring range
Turbidity
0 EBC to 100 EBC (0 NTU to 400 NTU)
Temperature
-5 °C to 40 °C (temperatures below 15 °C require an external cooling)
Repeatability s.d.
Turbidity
0.02 EBC (0.08 NTU)
Temperature
0.01 °C
Additional information
Measurement principle
Three-angle stray light and absorbance measurement (0°, 25° and 90°), ratio method for the reduction of interferences
Wavelength
650 nm
Minimum sample volume
approx. 3 mL
Measuring time per sample
3 to 4 minutes (incl. filling)
Interfaces
2 x CAN
Wetted parts
EPDM, FEP, glass, PEEK, PTFE, PU, stainless steel, Tygon
Dimensions
(L x W x H)
380 mm x 160 mm x 190 mm (15 in x 6.3 in x 7.5 in)
Weight
5.3 kg (11,7 lbs)
External thermostat (optional)
Flow rate: 0.4 L/min to 0.7 L/min
Maximum pressure: 0.5 bar (7.3 psi)
Temperature of the cooling medium: 15 °C to 25 °C (59 °F to 77 °F)
O
OIV MA-AS2-08 Wine turbidity (Resolution Oeno 4/2000)
P
Ph. Eur. 2.2.1 - Turbidity
Anton Paar Certified Service
The Anton Paar quality in service and support:
More than 350 manufacturer-certified technical experts worldwide
Qualified support in your local language
Protection for your investment throughout its lifecycle
3-year warranty
Learn more