This is a required field.
Invalid
Part number
Error in validation!
Inline alcohol measurement configuration:

Alcohol Monitor
Suitable for fiscal measurements
EHEDG-certified configurations available
Small and lightweight: easily integrated into your plant
No wearing parts, years of continuous use without maintenance
Looking for consumables & accessories for this product?
Click here
Determine the alcohol content of binary mixtures for various beverages using density, sound velocity, or refractive index. Choose the most appropriate configuration depending on your integration and legal requirements. Maintenance-free operation and direct installation in the line with integrated HMI result in cost-optimized monitoring and control.
Three measurement technologies to fit your requirements
L-Dens 7500 with highest accuracy
Suitable for fiscal measurements
W-shaped oscillating tube
Digital signal processing
New Pico 3000 as transmitter + HMI option
New mechanical design for reduced size and weight
L-Sonic 5100: Best sensor for applications requiring modest accuracy
EHEDG-certified
Digital signal processing
New Pico 3000 as transmitter + HMI option
L-Rix 510 for pulpy and viscous samples
EHEDG-certified

No operating costs
All alcohol monitor versions are maintenance-free and can be installed directly in the main line, which saves time and avoids operating costs.

The highest accuracy for years of continuous use
The density version has outstanding accuracy, which makes it suitable for fiscal measurements. It comes with a design that withstands almost every environmental condition and fulfills two important demands:
Keeping space requirements to a minimum also permits at-line installation with low space capabilities and minimizes costs for additional space
Years of continuous use are guaranteed due to first-class technology that avoids the need for wearing parts

Cost-optimized monitoring and control with integrated HMI
The new, integrated Pico 3000 process instrumentation controller combines configurability and diagnostics with an intuitive user interface. Built-in control functions and flexible PLC connectivity give you full control of your product and process specifications at any time.

Improved process capability – keeping an eye on all relevant key parameters
The powerful data acquisition and visualization software (client-server) Davis 5 enables you to save all data and alarms, provides statistical process control and graphical trend analysis, and allows product adjustments. Password-protected access to all measuring systems is possible from various locations, while providing powerful reporting and integration with your corporate quality management system.
Alcohol Monitor
Based on density
Based on sound velocity
Based on refractive index
Range
0 %v/v to 100 %v/v or %w/w
50 %w/w to 100 %w/w
0 %w/w to 40 %w/w
Accuracy
0.05 %w/w (0 % to 90 %)
0.03 %w/w (90 % to 100 %)
0.1 %w/w
0.23 %w/w
Measuring temperature
0 °C to +40 °C
10 °C to +50 °C
10 °C to +50 °C
Anton Paar Certified Service
The Anton Paar quality in service and support:
More than 350 manufacturer-certified technical experts worldwide
Qualified support in your local language
Protection for your investment throughout its lifecycle
3-year warranty
Learn more
Accessories
Accessories
Accessories
Accessories
Not all items are purchasable online in specific countries.
To find out if you can purchase online from your location, check the online availability below.
Online price only
|

excl.

incl.

0

VAT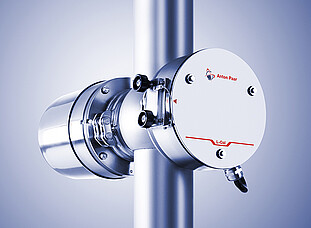 Color sensor:
L-Col 6100
Delivery time:
%1$s – %2$s working days
%1$s – %2$s weeks
%1$s – %2$s months
Product details
Inline color measurement for all kinds of beverages
EBC/MEBAK®/ASCB-compliant
Tailor-made wavelength configurations
Seamless integration with beverage analyzers
Easy installation at your plant