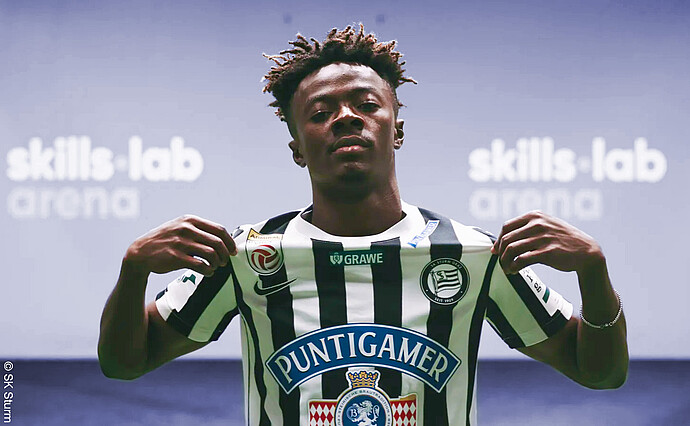 From skills.lab to the big soccer stage
2022-12-12

| Corporate
Mohammed Fuseini travelled from his home country Ghana to Austria in January 2022 with high hopes. SK Puntigamer Sturm Graz became aware of the then 19-year-old attacking player and invited him, along with other talents, for trial training. In order to get an idea of potential newcomers in a short time, the Styrian club relies on its partnership with skills.lab. In the world's most modern training and assessment system for soccer players, Fuseini finally came decisively closer to a transfer to Europe.
As the official technology partner of SK Sturm, the skills.lab in Wundschuh regularly conducts comprehensive performance tests with all of the club's teams. These highly efficient assessments help to objectively compare players based on their technical and cognitive performance. For the club, this results in decisive advantages in squad planning and scouting.
A lasting impression – in the skills.lab and the Europa League
The assessment of Fuseini provided important arguments for signing the attacker. The Ghanaian did not only outperform the other test candidates, but also achieved remarkable results compared to the SK Sturm squad players. "He absolutely convinced us in the trainings as well as in the tests in the skills.lab", says Managing Director for Sport Andreas Schicker.
Fuseini confirmed the overall impression from the subjective image of the coaches and the objective measurement data in the skills.lab in his first minutes of play. With several goals and assists for the SK Sturm second team, he recommended himself for the professional squad in the spring. There, too, the fast striker left a lasting impression with two goals in the Bundesliga and promising appearances in the UEFA Europa League.
Extended partnership
Almost a year after his arrival in Austria and his first proof of talent in the south of Graz, Fuseini reeled off another performance test in the skills.lab. Now he himself serves as a benchmark for possible new arrivals. In November, SK Sturm extended his contract until 2026. "Sturm is the perfect club for me to develop and grow as a footballer," says Fuseini after his first months in Graz. Managing Director Schicker added: "Mo has absolutely earned this contract extension through his strong performances and we are convinced that his development is far from finished."
The partnership between SK Sturm and skills.lab has been steadily expanded since it began two years ago and is to be further intensified. For example, the skills.lab data science team now carries out detailed data science analyses of the performance of the first two teams as well as the academy teams.