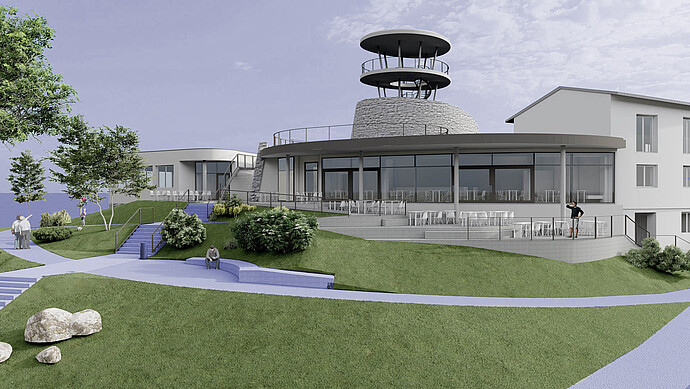 Fürstenstand New
2023-06-26

| Corporate
Exactly one year ago, on the occasion of the company's 100th anniversary, the Anton Paar Group purchased the Fürstenstand - an area on Plabutsch with a viewing platform and a restaurant in the west of Graz. After numerous negotiations and a lot of planning work, the concept for the popular excursion destination has now been finalized.

Completion in spring 2024
The Fürstenstand is one of the most popular excursion destinations in the greater area of Graz and has a special significance for the inhabitants of the provincial capital as well as the communities in the region. Since 2014, however, the historic Fürstenstand has unfortunately been closed from time to time due to the danger of collapse. Anton Paar is now renovating the entire complex to make it accessible to the public again. At the end of March 2024, the Fürstenstand is to be presented in its new look; until then, the entire area will be closed off due to the construction site.

(c) 24 AM GmbH
For the concept, an ideas competition was announced and the company Planconsort ZT GmbH was able to impress with its design. DI Max Stoisser from Planconsort ZT (general planning) gives first insights into the overall concept: "Despite the modern design, the building fits well into the landscape. It was important to us not to cover everything with buildings, but also to provide enough green areas to create space for recreation and relaxation."
Redesign of viewing platform, terrace and gastro area
The raised and covered viewing platform offers a 360-degree view of the entire region at an altitude of 766 meters above sea level. In addition, one can enjoy the uninterrupted view of the city of Graz on the stepped and also roofed terrace. Visitors have access to a public toilet facility, a drinking water station and a repair station for bicycles for free 24/7. The barrier-free restaurant area is also being completely renovated, and guests will be able to enjoy refreshments and simple meals here in the near future. A suitable tenant for this is still being sought.