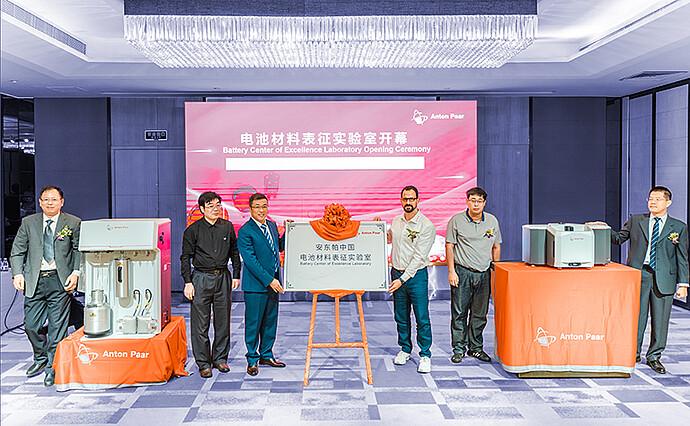 First Anton Paar Battery CEL
2023-09-18

| Corporate
On September 1, 2023, Anton Paar's first Battery Center of Excellence Laboratory (CEL) was opened at the Anton Paar China office in Guangzhou (approx. 150 km northwest of Hong Kong). It is the first of its kind for the Anton Paar Group and was setup to support China's local battery industry, as well as international battery customers and researchers.
Opening ceremony
Dickson Wang, General Manager of Anton Paar China, and Anthony Chalou, Market Development Manager, led through the opening ceremony. Two guests, Prof. Xu Ruijie from Guangdong University of Technology and Dr. Xiao Hongliang from the Chinese Academy of Sciences also presented their successful research projects using Anton Paar instruments and solutions.
Furthermore, the newest Anton Paar instruments – the dynamic image analyzer Litesizer DIA 500 and the high vacuum gas sorption analyzer Autosorb 6100 – were unveiled during the ceremony.
After the ceremony, the attendees toured the new 150 m2 big CEL to learn more about Anton Paar's battery solutions, engaging with Anton Paar specialists. The tour included in-depth discussions and Q&A about instruments' features and applications, as well as live applications.
The new CEL in detail
A dedicated team of overall five scientists, specialists and service engineers will work in the lab with the newest and most advanced characterization instruments of Anton Paar. In the future, the new Battery CEL will be used for demonstrations, seminars and other scientific events – all of them battery-focused.