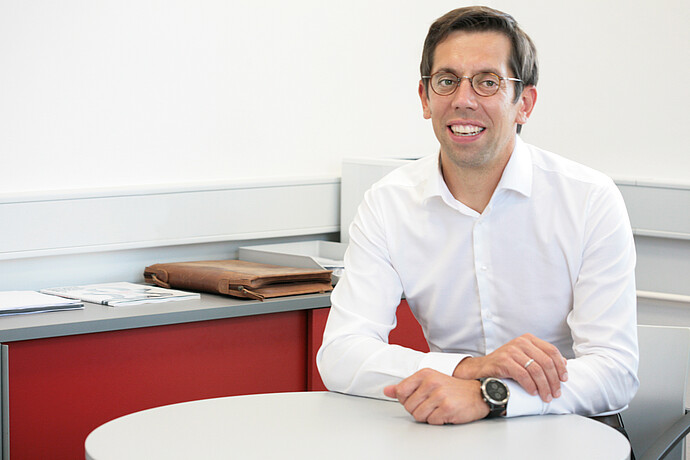 Careers at Anton Paar – a portrait of Alfred Freiberger
2020-09-30

| Corporate
Alfred Freiberger joined Anton Paar as the new Head of Business Unit Characterization in September. After studying mechanical engineering, he early worked not only in process management, but also in sales. In this interview, he talks about the opportunities and challenges he faces at Anton Paar.
What made you decide to join Anton Paar?
I have known the company for a very long time. One of my university professors, who also was a mentor to me, was friends with Ulrich Santner (note: Ulrich Santner was CEO of Anton Paar from 1963 to 2002) and regularly described Anton Paar as an example of best practice. Therefore I already had the company on my radar. So when I became the chance to work for Anton Paar, I quickly knew I wanted to take it.
Tell us a little about your school career and later training.
I graduated from the "Höhere Landwirtschaftliche Schule" in Wieselburg with a focus on agricultural engineering – in other words, something like a mechanical engineering college – with a focus on agricultural machinery. This is how I discovered my interest in mechanical engineering and so I decided quite quickly to study mechanical engineering/economics.
How did you start your career and how did your career path look like?
During my school and university studies I worked as an intern at a technical company in Fürstenfeld, where I also wrote my diploma thesis. I started working there after my studies – initially as a product developer. Later, I helped to build structures and systems in the development department. After we discovered that the process management in the company was not quite good, I developed a project management standard and rolled it out not only in the R&D department (Research & Development), but also throughout the company and subsequently across the group. I was then responsible for process management and with this know-how and as head of the project office I also took on more and more R&D management tasks, such as patent management or product planning. This is how I grew into various R&D tasks and functions.
After that I changed to the sales department. I started with cold calling in Siberia and sold refrigeration compressors in Northern Russia. That worked out very well – maybe by luck, maybe by skill – which is why I have subsequently been responsible for and developed the entire Eastern European market. I then accepted an offer as General Manager at a parquet factory in Hungary, where I set up new structures and integrated new processes in production in the course of a turnaround management. I learned a lot in the process, especially in the management area. Afterwards, my former company brought me back and I took over the sales department there. I spent some time in sales and then moved back to the R&D department, where I had management functions in the areas of advance development and the development department.
How have you experienced the start at Anton Paar so far?
Very positively! Things are very professional here and many processes are really well thought through. The culture here is also very positive and constructive. After the first weeks, I am able to draw a very, very positive conclusion.
What challenges do you face in your new position?
It is clear that we want to strengthen and expand our market position in all areas in order to be able to present our products on the market in an attractive way. This applies to QuantaTec in the USA, TriTec in Switzerland, and it applies to rheometry, where we have an incredibly good position, but where we have to make sure that we don't get into defensive mode, but stay one step ahead. It applies to Atomic Force Microscopes, where we unfortunately are not yet well established in the market, and it also applies to Particle Characterization, which is currently in the start-up phase.
What do you think makes Anton Paar stand out?
On the one hand the ownership structure. It's really a great advantage not having to worry about some private equity fund coming in tomorrow, filleting the company and selling it off in pieces, without thinking about the future. At the same time, Anton Paar is certainly characterized by the company culture which makes it quite clear where you want to go together.
Where do you see Anton Paar in 10 years?
I believe that we have the potential to continue growing sustainably in the way we have done so far, to further consolidate in those areas where we are already world market leader, and to establish ourselves as a leading full-range supplier – for laboratories, for example – in other areas in the future.
| | |
| --- | --- |
| Name | Alfred Freiberger |
| Age | 41 |
| Position | Head of the Business Unit Characterization |
| I have been at Anton Paar since | 2020 |
| My favorite measuring device is | Rheometer |
| My secret passion is | As a trained engineer: motor sports |
| If I could get to know a famous person better, that would be | Elon Musk. Although I do not fully share his strategic assessments, I think he is an incredibly exciting person. |
| My superpower is | Endurance |
| This is the last book I read | Homo Deus by Yuval Harari |
| What I like to do in my free time | Sports in nature. Mainly mountain sports and endurance sports, in every form – running, cycling, swimming, mountaineering, skiing. |
| What motivates me and what I enjoy most in my job | I am motivated by challenging goals. What I enjoy most is working with the team and that I can make a difference that leaves a footprint. |