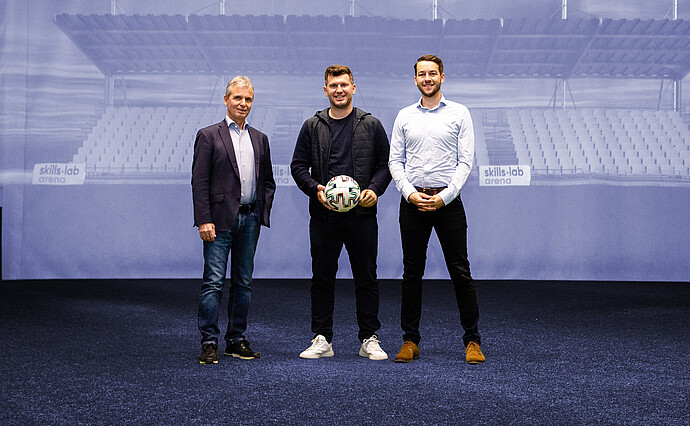 Perfect match: skills.lab and SK Sturm
2022-06-14

| Corporate
For several years already, the Anton Paar SportsTec GmbH has been supporting SK Sturm Graz in objectively measuring and specifically increasing the technical performance of its players - from the first team to the junior level. Now Anton Paar and the Austrian Bundesliga club have extended their partnership.
SK Sturm's Managing Director of Sports, Andreas Schicker, is pleased about the extension of the cooperation: "We have been using the skills.lab arena intensively and successfully for more than two years for targeted, data-based scouting as well as objective assessment of all players in the club from the junior age groups to the professional team. We are pleased that we were able to further extend our cooperation with skills.lab by Anton Paar."

Club legend and SK Sturm development coach Günther Neukirchner regularly trains with young players in the skills.lab Arena.
"Developing the next generation of professionals"
The cooperation enables the runner-up in the Austrian Bundesliga to extensively use the assessment, training and scouting services offered by the skills.lab in Wundschuh. The assessments in the skills.lab arena allow Sturm Graz to objectively put its players in comparison with each other. The Styrian club uses the knowledge gained for the composition of the individual team squads as well as for the transition of academy players to Sturm Graz II and subsequently to the first team. In addition, potential new players can be assessed objectively.
Dr. Johannes Tändl, General Manager of the Anton Paar SportsTec GmbH, considers the technology to be part of modern soccer: "The skills.lab systems are especially suitable for the development of the next generation of professionals, as the soccer skills of the players can be brought closer to the professional level in a more targeted way. Therefore, we are particularly pleased that many of the talented players who frequently train with us are now players of Sturm Graz."