This is a required field.
Invalid
Part number
Error in validation!
Lab execution software:

AP Connect
+4
Digital flow of information, no manual data handling needed
Saves time and eliminates reading and transcription errors
All your information available in one place and at any time
Communicate with your existing data management systems via a customizable interface
Annual fee per instrument
Time-saving processes: automatic, digital data transfer
Top data quality: elimination of transcription errors
Fast decisions: data at your fingertips
Looking for consumables & accessories for this product?
Click here
Research is complex, but this is easy. Plug and play. All your lab data just a click away. Intuitive, liberating. AP Connect is lab software that connects your instruments, communicates measurement information, and ensures compliance.
There are three editions: Start, Standard, and Pharma.
Begin with AP Connect Start. It's free. More features? Upgrade to the Standard or Pharma edition – for intensely regulated industries, with digital approval processes, audit trails, dedicated role management, etc.
Scaled prices are available on request. Please contact us.
Great data handling with AP Connect: Go paperless. Eliminate transcription errors. Trigger measurements. Centralize your lab data with storage of tens of thousands of measurements in a single digital space. Connect instruments from Anton Paar and other vendors and tap in whenever you want. With Anton Paar's AP Connect lab execution software, your data is available at a snap, and it's accessible from any network computer. Simplify transfer data from all your instruments to your data management system with a single interface. Streamlining your data flow frees up time for analysis. We also offer dedicated validation documentation in just a few steps to support your validation and qualification process – performed by our highly qualified services colleagues, on request.
AP Connect: Lab automation your data deserves. Choose the AP Connect edition you need.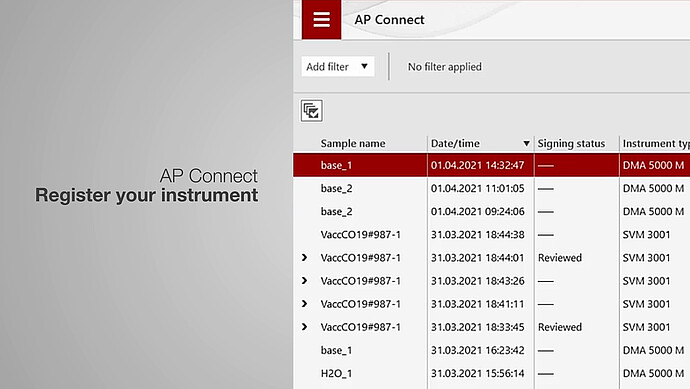 Install in 3 steps
Just Plug & Play: Lab execution software, the easy way
Kick-start your paperless lab today
Three easy steps
Install AP Connect and, optionally, the instrument adapter
Log in to AP
Connect Register your instruments and configure adapter
All you need
PC or server installation
Instruments from Anton Paar and other vendors
Local network
Try it out!
Use AP Connect with full functionality for 60 days
Choose the license that best fits your needs:

AP Connect Start – for free: unlimited use with one instrument
AP Connect Standard
AP Connect Pharma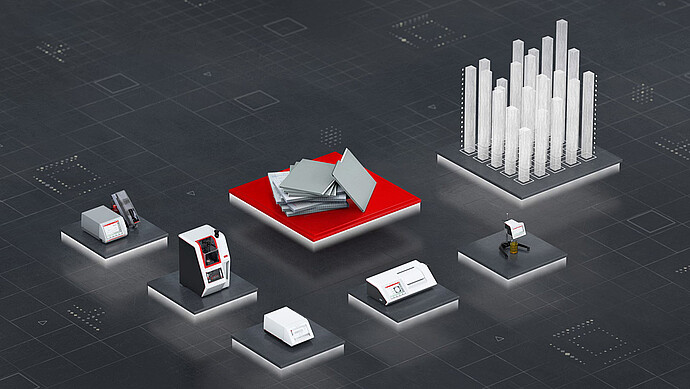 One network. One software solution for instruments from Anton Paar and other vendors
Automatic transfer of all instrument data
Your lab, paperless
Challenge
Still manually transferring/transcribing lab data from your instruments?
Solution
Connect instruments from Anton Paar and other vendors, and capture all the generated data using your local network infrastructure.
Your benefits
Zero transcription errors improves data handling quality. Zero paperwork saves precious time.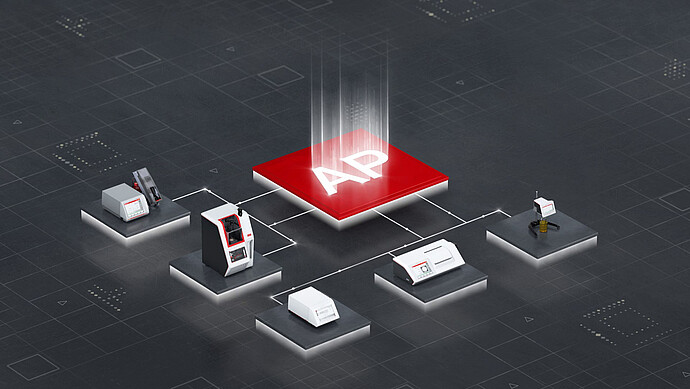 One central database, for all your measurement data
Access from across the company network
Digital space for tens of thousands of measurements
Challenge
Dealing with lab data in various places and formats?
Measurement results not available on your PC?
Solution
AP Connect collects instrument data from measurements, adjustments, calibrations, and checks – as well as audit trails and signing steps – and stores it where you can find it.
Your benefits
Instrument data management from any PC in your network. Time spent using information – not just searching for it. Resources freed up for data analysis.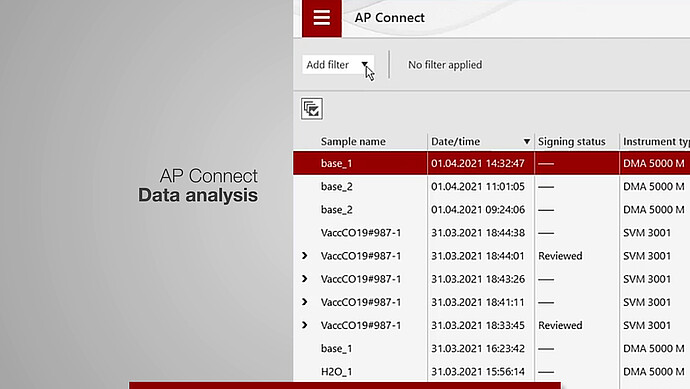 Lab data, at a glance, on your PC
Measurement details available any time
Easy comparison of results data, for a quick overview
Challenge
Testing your sample means analyzing results from various instruments?
Want to look up or compare details of your measurements any time, everywhere?
Solution
AP Connect's results browser visualizes the complete data set of your measurements. Results, settings and meta information are available any time, on any PC on the network.
Your benefits
All your measurement data at a glance, available any time. Easier data analysis. Faster decisions in the lab.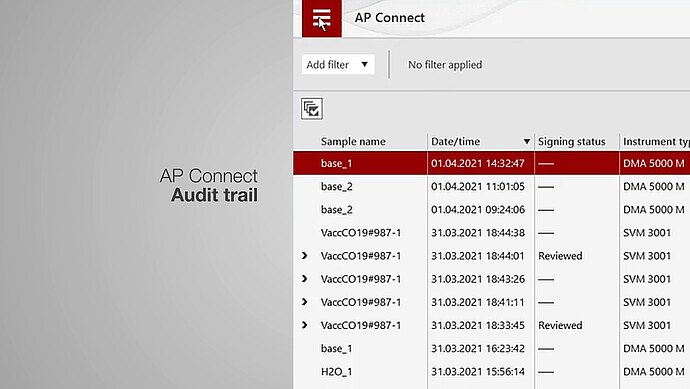 Transparency: Who. What. When. Where.
Reflect, filter and review your audit trail
Challenge
Performing audits on a regular basis?
Need to trace activities in your lab?
Solution
AP Connect compiles a complete audit trail of all connected instruments, and of the software itself, in one database. All information is available for further analysis and review.
Your benefits
Transparency in your lab. Audit trails at your finger tips. Details displayed quickly and easily, in response to queries.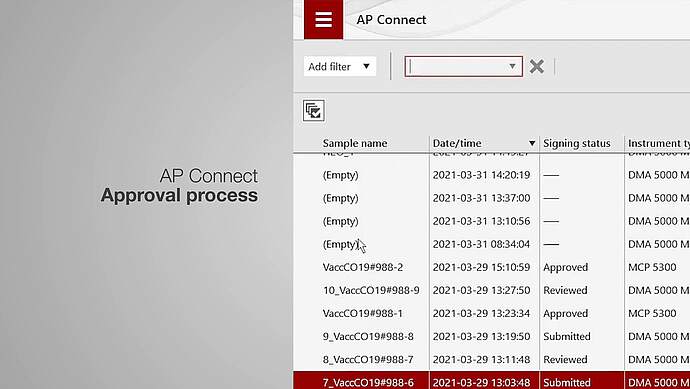 Submit. Review. Approve.
Approval process across instruments and software
Consider all lab data for approval
Challenge
Need to review information from different sources, to make a statement about lab results?
Solution
With AP Connect, work in one system and define your approval process with up to 3 levels. An electronic signature confirms each process step.
Your benefits
Lab routine review & approval process reflected in a single software solution. No incorrect data leaves the lab.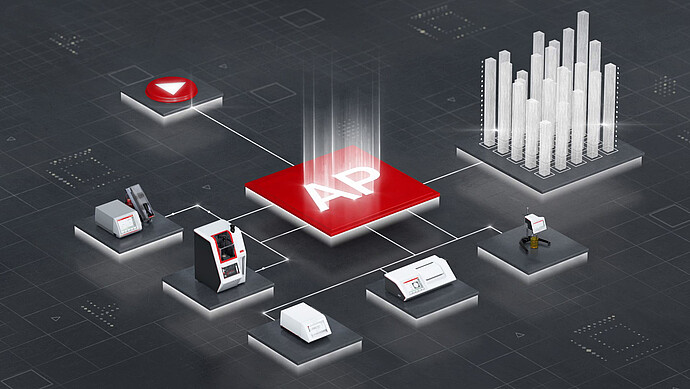 Prepare on PC, measure automatically
Define measurements with 10+ parameters
Challenge
Measuring many samples using sample changer?
Looking for an easy way to configure the series on your PC?
Solution
Manage measurement series on your PC and transfer them digitally to AP Connect. Measurements are triggered automatically on each instrument.
Your benefits
Lab automation using predefined templates for recurring measurement series. Time saved with individual PC management.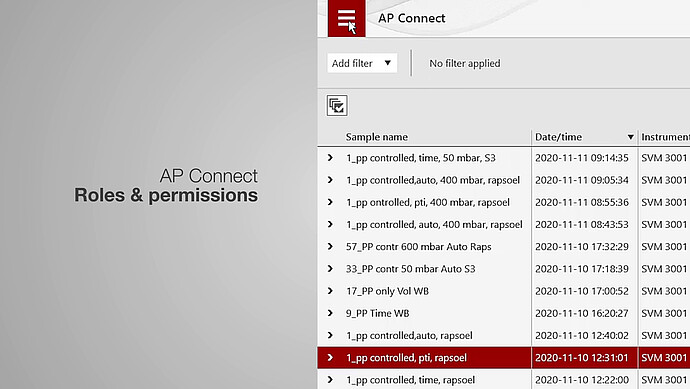 Grant access rights for roles
Ensure the system is not used without permission
Challenge
Your business requires clear roles and assigned rights?
Solution
AP Connect provides a user with roles and permission management which can be connected to an active directory system.
Your benefits
You can implement a company-wide security concept by assigning specific roles and permissions to users in AP Connect, in alliance with your existing security regime.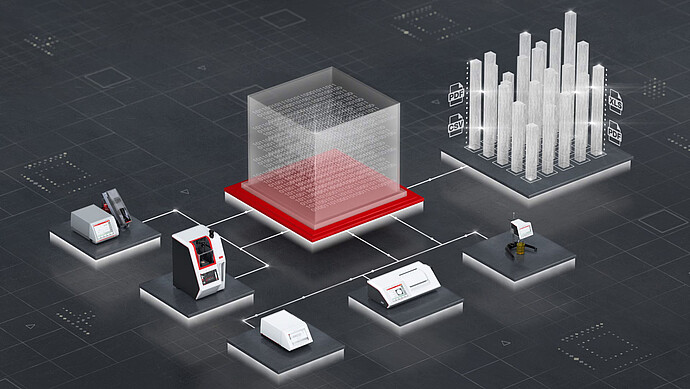 Fully control your data flow in the lab
Adapt the data exchange format to your needs
Actively select the data to be transferred
Challenge
Need full control over your data flow in the lab?
Need to select data and send it to the data management system?
Solution
With AP Connect, set custom filters and individually select the data to be exported. AP Connect offers several file formats and lets you configure the data sets.
Your benefits
Customized and targeted selection of data from your lab, for transfer to your data management system, in a single file.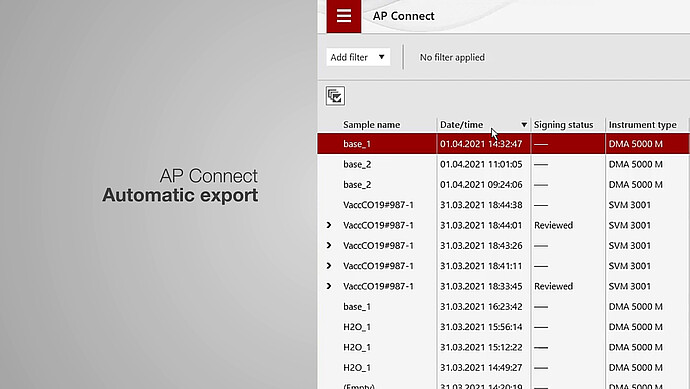 Fully automatic. Transfer. Report. Archive.
Streamline data flow
One single interface for all your instruments to your data management system
Challenge
Need to standardize the data flow in your lab? Want to document your lab actions?
Need to transfer data from several different instruments to your data management system?
Solution
AP Connect helps you set up various customizable export rules to save data to any destination on your network automatically.
Your benefits
Configure your connectivity once, and your data will flow automatically - without bothering you again.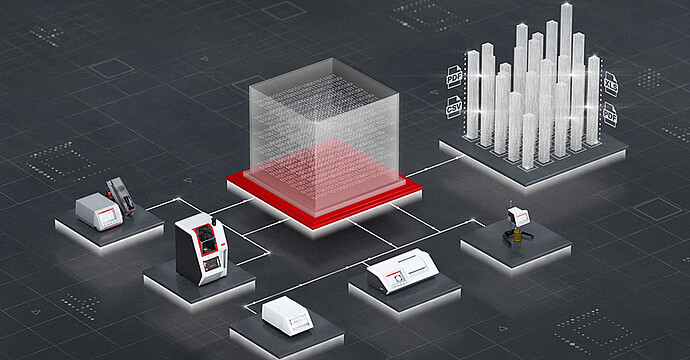 Automated, secure, and fileless data transfer
Standardized interface for fast, smart data access
Challenge
Need to receive your data directly from AP Connect and use it in other software applications?
Need to transfer data from several different instruments to your data management system?
Solution
Access the AP Connect database via the standardized REST interface. Data can be transferred to your REST-enabled application without the need for file exchange processes.
Benefit
Use the programmatic interface to speed up, secure, and fully automate your data transfer, and use lab data wherever needed in your applications.
Available editions

| | | | |
| --- | --- | --- | --- |
| Features | Start | Standard | Pharma |
| Target customers | For all customers who want to get to know and grow with AP Connect, and who want to connect a single instrument. | Broad base. For labs and applications across industries. | Focused on labs in intensely regulated environments. For operators with specific stringent testing requirements. |
| Industries | Food & beverage industry, petroleum industry, chemical industry, flavors & fragrances industry. | Food & beverage industry, petroleum industry, chemical industry, flavors & fragrances industry. | Pharmaceutical industry, personal care industry, healthcare industry, nutraceutical industry, government compliance. |
| License | Free | One-time license fee or annual subscription fee | One-time license fee or annual subscription fee |
| Instrument connectivity | 1 instrument | up to 30 instruments | up to 30 instruments |
| Data collection | ✔ | ✔ | ✔ |
| Data analysis (results browser) | ✔ | ✔ | ✔ |
| Data export | ✔ | ✔ | ✔ |
| Configurable automatic export | 1 rule | up to 100 rules | up to 100 rules |
| Supported file formats for data export | PDF, CSV | PDF, XLS, CSV | PDF, XLS, CSV |
| Desktop installation | ✔ | ✔ | ✔ |
| Server installation | ✔ | ✔ | ✔ |
| Client installation (multi-user access) | 1 client | Multiple clients | Multiple clients |
| User management supporting Active Directory | ✔ | ✔ | ✔ |
| Fileless data transfer (REST API) [1] | | ✔ | ✔ |
| Connect to instruments from other vendors [2] | | ✔ | ✔ |
| Control of instruments (automated measurement series) | | ✔ | ✔ |
| Roles and permissions | | | ✔ |
| Review & approval process | | | ✔ |
| Electronic signature | | | ✔ |
| Audit trail | | | ✔ |
| Compliant with Title 21 CFR Part 11 | | | ✔ |
Via separate license (extra license costs apply)
Additional adapters needed
Minimum requirements for workstation and server installation
Minimum hardware requirements
2.5 GHz processor or faster
4 GB RAM (depending on the operating system)
Screen resolution 1080p
30 GB free disk space on system drive
Network connection
Supported operating systems
Microsoft Windows 7 SP2
Microsoft Windows 10 (Version 1607 or higher)
Microsoft Windows 11
Microsoft Windows Server 2016
Microsoft Windows Server 2019
Microsoft Windows Server 2022
Supported SQL servers
MS SQL Server 2014
MS SQL Server 2016
MS SQL Server 2017
MS SQL Server 2019
Storage
Up to 300,000 measurements (MS SQL Server Express Database)
Interface connectivity
Ethernet / RS232
Export file format
.csv, .xslx, .pdf, json [1]
Via REST API
Anton Paar Certified Service
The Anton Paar quality in service and support:
More than 350 manufacturer-certified technical experts worldwide
Qualified support in your local language
Protection for your investment throughout its lifecycle
3-year warranty
Learn more