This is a required field.
Invalid
Part number
Error in validation!
Optical accessory for MCR:

Rheometer-Infrared Spectrometer Setup
+3
Accessory for structure analysis and rheo optics
Combines rheology with infrared spectroscopy
Investigates the chemical composition of a material
Looking for consumables & accessories for this product?
Click here
Rheometer-Infrared Spectrometer Setup
Contact
The Rheometer-IR Setup combines two powerful measurement principles, and offers the perfect symbiosis between rheology as a mechanical method and IR as a molecular spectroscopy method. Infrared (IR) spectroscopy is a well-established tool for the qualitative and quantitative identification of the chemical composition of a material, whereas rheology provides information about the material's structure. Knowledge about the relationship between macromolecular behavior and structural parameters helps understanding of changes in the chemical functionality and microstructure of various materials and their influence on processing and applications.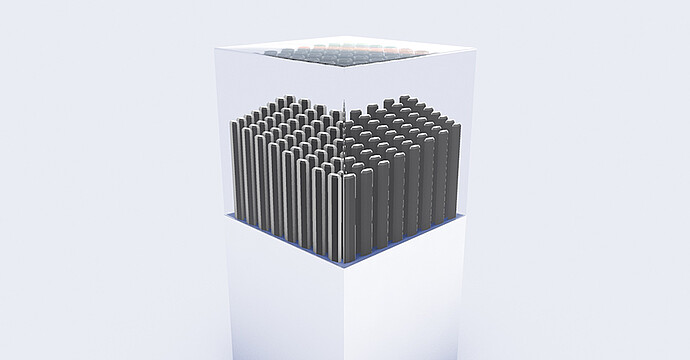 MCR rheometer plus IR spectrometer – reach the molecular level
Perform real-time in-situ observations of chemical and mechanical (rheological) changes with the Rheometer-Infrared Spectrometer Setup. For observation of the intramolecular vibrations or rotations caused by interacting molecules which are electromagnetically irradiated, the MCR rheometer combines the middle (MIR) and near (NIR) infrared light-range. With an ATR (attenuate total reflection) crystal directly placed in the sample, MIR spectroscopy can be employed to gain information about the surface layer properties of the sample. Optionally, homogenous UV radiation can be used simultaneously, providing a powerful tool for the investigation of photo polymerization reactions, e.g. of adhesives.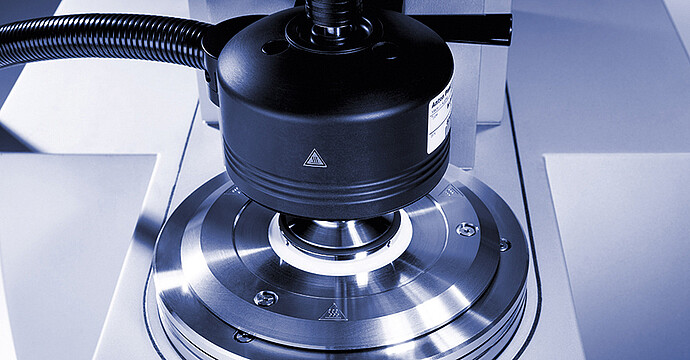 Vast variety of test types and temperature settings
This setup consists of the well-established and actively controlled Peltier hood, the universal optical device, and a Peltier temperature-controlled device with easily exchangeable lower glass plates. Together, they ensure quick and accurate temperature control from -20 to +200 °C. They even allow purging with inert gas to avoid undesired chemical reactions like oxidation or degradation and to reduce the atmospheric water signal in the IR spectrum. Alternatively, we offer electrical temperature control from ambient temperature to 300 °C, as well as disposable measuring geometries in various diameters (e.g. for samples unremovable after curing).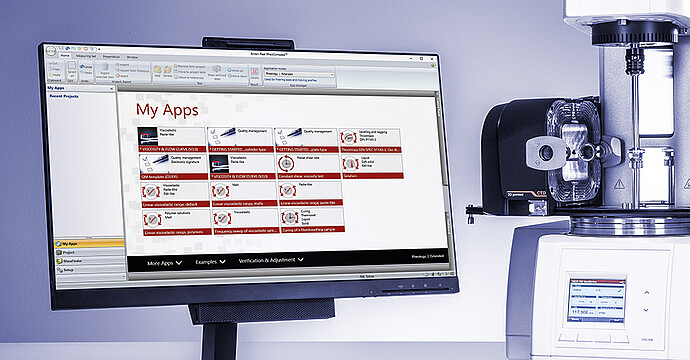 Get the IR spectrometer of your choice
The renowned MCR rheometer series can be combined with various FT-IR spectrometers and probes on the market. Most of them can be triggered and controlled by the rheometer software which enables automation and control, even of complex measuring definitions. With our expertise in both fields, we are able to develop, provide, and support customized solutions for the integration of your IR spectrometer, depending on your application and requirements. While the rheometer software RheoCompass provides you with access to predefined measuring templates, the IR spectra are stored, handled, and evaluated by the software and tools of the specific IR spectrometer.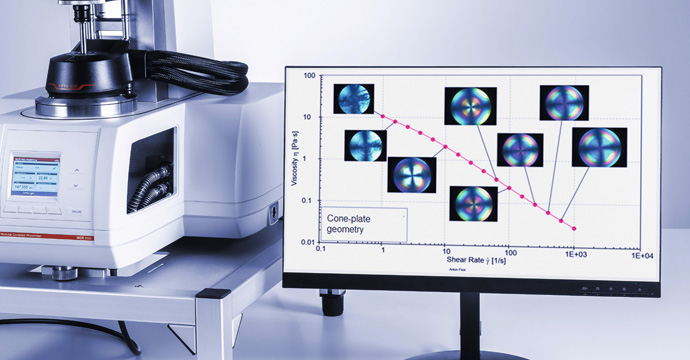 RheoOptics Toolbox – modular and easy to use
The IR-spectroscopy option comes with a set of structure analysis accessories and the modular RheoOptic Toolbox for the MCR rheometer series. Thanks to its modularity, the MCR rheometer can be used in combination with the Polarized Light Imaging Option, but you can also switch to other optical accessories within a few minutes. The Peltier and electrical temperature devices can be used with other rheo-optic tools, e.g. Raman spectroscopy, polarized imaging, (fluorescence) light microscopy, small-angle light scattering (SALS), and UV curing. This results in time- and cost-effective use of your measuring equipment. Further structure analysis accessories are, e.g., particle imaging velocimetry (PIV) and the dielectro-rheological device (DRD). Well-known features of the MCR rheometer series, like Toolmaster™ and QuickConnect – and others that facilitate every work step – are also part of the package.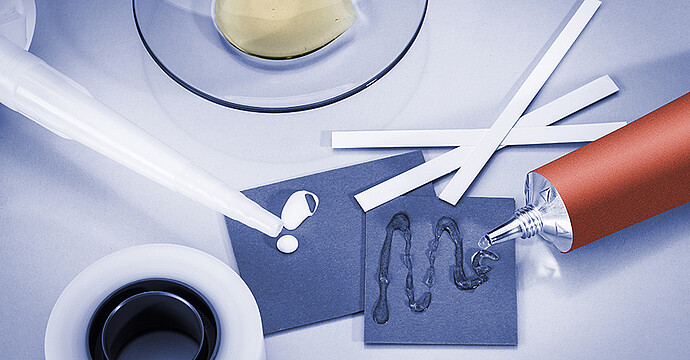 Simulate real-life conditions of different materials while investigating their behavior
The Rheometer-IR-spectrometer setup opens up opportunities for measuring mechanical and chemical sample properties simultaneously. It provides a deeper understanding of changes in the chemical functionality and microstructure of various materials and their influence on processing and applications. Raman spectroscopy and dielectric spectroscopy can also be considered complementary techniques.
Typical applications:
Chemical reactions (e.g. UV-initiated curing of adhesives or coatings)
Polymerizations in general
Morphology of polymers
Temperature behavior and stability of suspensions
Structural parameters of biological and food samples (e.g. biofilms, cell cultures, proteins)
Anton Paar Certified Service
The Anton Paar quality in service and support:
More than 350 manufacturer-certified technical experts worldwide
Qualified support in your local language
Protection for your investment throughout its lifecycle
3-year warranty
Learn more