Elemental impurities analysis
ICH Q3D, USP <232>, <233>, and Ph. Eur. 5.20
In order to achieve accurate results in elemental impurities testing and elemental impurities control, reliable sample preparation is essential. Modern measuring instruments such as ICP-MS or ICP-OES are required to fulfill the elemental impurities regulations USP <233>, ICH Q3D, and Ph. Eur. 5.20. USP chapter <233> and also Ph. Eur. 2.4.20 refer to closed-vessel digestion to ensure appropriate digestion conditions.
Microwave closed-vessel digestion as a modern representative is the best choice for transferring a sample into a measurable liquid form, introducing as little interference into the measuring system as possible. Another benefit of microwave closed-vessel digestion is the comprehensive documentation of the digestion program and the run data in full compliance with current good manufacturing practice (GMP) requirements.
Elemental Impurities: Regulatory background
ICH – International Conference on Harmonisation
As of June 2016, the ICH Guideline for elemental impurities (Q3D step 4) has to be considered for the submission of new approvals; for already approved products since December 2017. The guideline classifies elemental impurities based on their toxicity and the possibility of their occurrence in drugs in four different categories. Particular attention is given to the ubiquitously occurring impurities of class 1, the so-called "big four" elements - Cd, Pb, As, and Hg.
According to the respective dosage form PDE (Permitted Daily Exposure) limits are defined for each element. The manufacturer has to evaluate within a risk assessment whether the relevant PDEs could be exceeded for a specific product. Depending on the outcome of this evaluation, a control strategy has to be defined. This strategy can range from the absence of any analysis, to periodic studies or routine tests on each finished product batch.
USP – United States Pharmacopeia
USP chapters <232> Elemental Impurities - Limits and <233> Elemental Impurities - Procedures replaced the old chapter USP <231> in January 2018. The limits stated in chapter <232> completely align with the requirements of the ICH Guideline.
Ph. Eur. – European Pharmacopoeia
The European Pharmacopoeia Commission reproduced verbatim the text of the ICH Q3D guideline in Ph. Eur. chapter 5.20. Since December 2017 it has to be applied for all products on the EU market.
Microwave digestion for elemental impurity testing
Multiwave 7000, Microwave Digestion System
Multiwave 7000: Software supports 21 CFR part 11
The core feature of Multiwave 7000 is the Pressurized Digestion Cavity (PDC). In contrast to conventionally used microwave digestion systems, the cavity is used as a pressure jacket instead of using pressure vessels. Simple vials made of quartz, PTFM, or borosilicate glass, which only have to be closed with plug-on caps, serve as reaction containers. Prior to microwave heating, the cavity is pressurized with nitrogen. This pressure-sealing suppresses foaming and boiling during the digestion and, thus, eliminates cross-contamination and loss of volatile elements.
The PDC eliminates the need for sample clustering, time-consuming method development, and validation efforts. The implemented standard method for pharmaceutical samples heats up to 250 °C and holds the temperature for 15 minutes. Using this method, drug products such as tablets, capsules, liquids as well as any kind of raw material can be perfectly digested.
Find out more
Multiwave 5000, Microwave Reaction System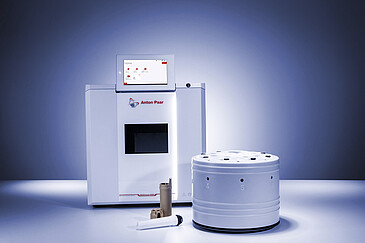 Multiwave 5000 is a reaction platform with maximum flexibility thanks to a wide range of rotors and accessories. It allows for acid digestion, acid leaching, solvent extraction as well as microwave synthesis under different temperature and pressure conditions.
High throughput applications with up to 41 samples in one run, the digestion of expensive APIs that can be digested with a 64-position rotor in 5 mL vessels (samples ≤20 mg) , or microwave-induced oxygen combustion for the complete digestion of tricyclic APIs are just a few examples of how Multiwave 5000 is providing solutions to the pharmaceutical industry. The comprehensive interactive method library, a customizable and intuitive user interface, and modern sensor technology, together with Anton Paar's easy-to-handle compact rotors, make Multiwave 5000 the user-friendliest microwave reaction system that has ever been created.
Find out more
Multiwave GO Plus
Multiwave GO: Software supports User Management and Audit Trail
Multiwave GO Plus focuses on routine digestion of biological materials and a broad range of cosmetic and pharmaceutical samples. It is designed to ensure the easiest handling with low investment and running costs. Additionally, protein hydrolysis can be performed using this instrument.
The simultaneous digestion of up to 12 samples within a compact footprint of 36 cm (14.3 in) x 53 cm (20.9 in) is unique on the market.
Pharma qualification documents
Depending on the microwave system, two Pharma Qualification Packages (PQP) for different levels of regulations are available: PQP for Multiwave 7000 & Multiwave 5000 and PQP-S(mart) for Multiwave GO Plus. Both packages cover Anton Paar's 6Q model which includes:
Qualification Instruction (QI)
Design Qualification (DQ)
Installation Qualification (IQ)
Operational Qualification (OQ)
Performance Qualification (PQ)
Final Qualification (FQ)
The PQP covers the complete instrument-specific pharma qualification procedure according to the USP <1058> 4Q model: risk analysis, deviation list, traceability matrix, reports for every qualification step, 21 CFR Part 11 as well as a check list for all requirements of FDA 21 CFR Part 11. Additionally, a Standard Operating Procedure (SOP) as a word file is included, which can be used as the basis for your internal instrument SOP.
The PQP-S is a smart version, without 21 CFR Part 11 check list, traceability matrix, and individual chapter reports.
Installation support and user training
All pharma qualification documents required for the successful qualification of Multiwave 7000, Multiwave 5000, and Multiwave GO Plus can be compiled on-site within 1 to 2 days.
Installation, qualification, and user training are performed by trained and certified Anton Paar representatives.