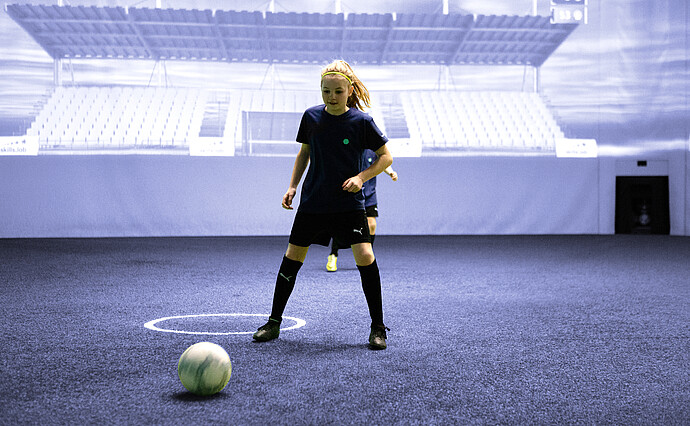 Young Talent Scouting at skills.lab
2023-09-07

| Corporate
As of now, young talents get the chance of attending a standardized and objective scouting at the skills.lab as their application for the "Schwoazn" (=the black-dressed team, SK Sturm) and the "Roten" (=the red-dressed team, GAK). Together with Sturm and the GAK, the skills.lab team with Head of Sports, Roland Goriupp, set-up two 30-minutes assessment programs from the exercise portfolio of the skills.lab Arena. The two clubs can set priorities themselves – passing game, shots at goal, dribbling and first contacts are being tested, as well as quickness of action and cognitive abilities. "In the skills.lab Arena, we are able to measure for example passing and shooting accuracy as well as speed of dribbling, more precisely than anywhere else. Thus we enable an objective comparison of talents, because we are creating the same and faire conditions for every player," says Roland Goriupp.
This is how the young talent scouting works
For their young talent scouting at the skills.lab, the SK Sturm focuses on players born in the years 2010 to 2013, whereas the GAK is searching for talents born between 2007 and 2013. If a talent from the respective age group wants to apply for one or both of the clubs, they can book an appointment for the scouting of the desired club in the skills.lab Wundschuh. There is a special price of € 49 for each program per person, valid until the end of October. During 30 minutes in the skills.lab Arena, the soccer talent can show what they are capable of. When the player is satisfied with their performance, the results containing a video and performance data are being forwarded to the respective club. Sturm or the GAK will then decide whether or not the player will be invited to a test training and inform the player personally.
Fast and accurate scouting
"The fight for the best young talents is starting earlier and earlier. This is why we want to act even faster and also more accurate in our scouting," says Thomas Raffl, athletic director for the age groups from U8 up to U14 and coach of the U14 at SK Sturm. Dieter Elsneg, athletic director of the GAK, is also convinced by the scouting system: "With the GAK young talent scouting at the skills.lab Arena, we are now able to make a preselection easier. This scouting possibility is helping us in our daily work."