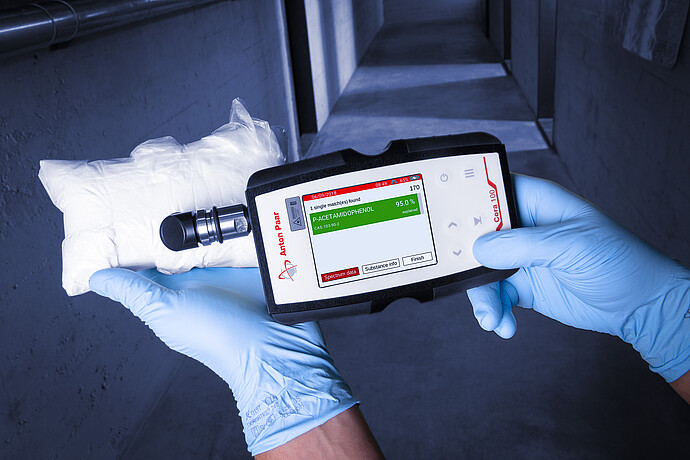 Know the unknown
2020-07-23

| Corporate
Identify substances such as drugs, explosives, and chemical warfare agents within seconds at the push of a button? The Cora 100 portable Raman spectrometer can do it!
With a small footprint of 16 cm x 10 cm x 3 cm and a weight of only 650 g, the Raman analyzer easily fits in one hand or in a bag. It doesn't take a skilled chemist or spectroscopy expert to operate the device. Thanks to the user-friendly software, the right equipment for every situation, and the integrated stored spectra databases, critical materials can be identified and verified reliably.
Flashing into action under pressure
Results within seconds without complicated steps: This is ideal for people in stressful situations or dangerous environments to identify unknown samples or verify incoming goods. The Cora 100 makes work easier for certain users such as policemen, firefighters, military, first responders, customs officers, and security personnel at airports or in prisons. Because Cora 100 is able to show a quick result, it helps minimizing the time between risk assessment and action.
Rough environments
The instrument is successfully tested according to military specifications – hot, cold, humid, wet or dirty environments are no longer a challenge. The Cora 100 has been classified as "IP67 waterproof" by European tests for dust and water. It has been developed for field use and is prepared for harsh conditions (between -20°C and +40°C).
Non-contact measurement
With a point and shoot adapter, a vial holder, and a 90°-angled adapter, the Cora 100 supports users when measuring through transparent plastic bags and glass, protecting them from hazardous substances that can remain safely packaged. The integrated timer in combination with the contactless measurements enables the identification of potentially explosive substances from a safe distance.
Integrated chemical intelligence
The device provides an easily understandable result and, if required, displays additional information such as risk warnings or safety measures to ensure safe handling of the substance. With the desktop software "Cora Connect", measurements, spectra, and reports can be created and managed. Necessary tools support the development and administration of libraries, methods, and users.