This is a required field.
Invalid
Part number
Error in validation!
Hot block digestion system:

Multicube 48
Acid digestion, evaporation, and concentration of samples
High temperature homogeneity (±1 °C)
Up to 48 samples in one run
Graduated digestion vials (50 mL) with Class A specification
Certified low metal backgrounds for 69 elements
Control Unit not included, to be ordered separately for full package: Multicube CT (196910), Racks (186876) and External Temperature Sensor (224678).
Looking for consumables & accessories for this product?
Click here
Multicube 48 is a robust laboratory hot block for acid digestion, evaporation, and concentration of samples. The outstanding design enables high temperature homogeneity of ±1 °C over the whole block to ensure the same digestion quality for all samples. The high-purity, low-cost disposable vials have the lowest metal blanks to eliminate the risk of external contamination of your samples. Use the Multicube 48 vials for weighing and digesting, storing digested solutions, and as volumetric flasks to fill samples to the appropriate volume before inserting them in autosamplers for metal analysis by F-AAS, GF-AAS, ICP-OES, or ICP-MS. (Control unit needs to be ordered separately)
Not included, to be ordered separately for full package: Multicube CT (196910), Racks (186876) and External Temperature Sensor (224678).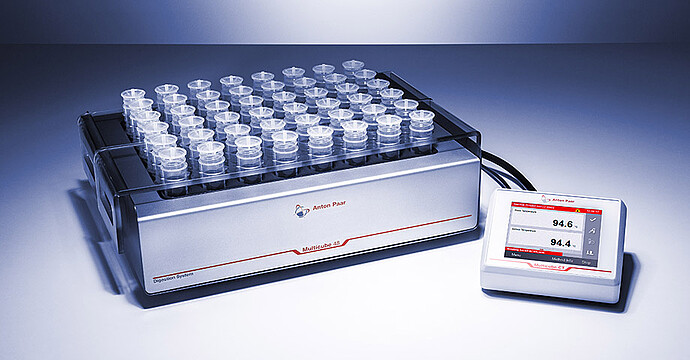 Increases your throughput – for 48 samples in one run
The PFA-coated graphite block simultaneously digests up to 48 environmental, food, mining, petroleum, or other samples under uniform temperature conditions of ±1 °C. The 800 W power ensures short heating and cycle times of your samples. You can safely remove the vials from Multicube 48 via a rack for air cooling to maximize the sample throughput. Multicube 48 complies with standard methods such as EPA 3010a, 3020b, 3050b, and 3060 for solid waste and EPA 200.2, 200.7, 200.8, 200.9, 245.1, 365.1 for water.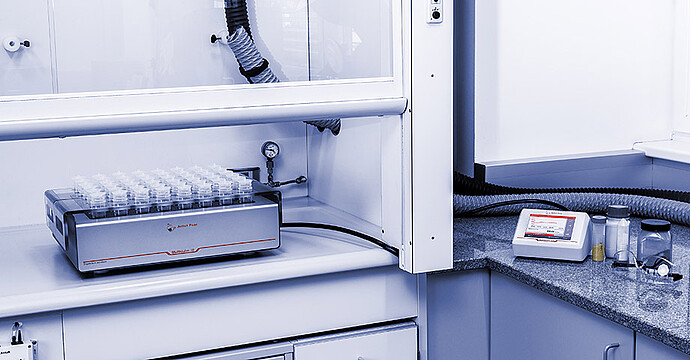 Attractively priced – for the basic level of cost-efficient acid digestion
With Multicube 48 you get a cost-efficient digestion system based on the hot block principle but with high temperature homogeneity and certified low-cost vials for multiple use throughout all sample digestion steps. The robust design guarantees a long service life and outstanding protection against corrosion.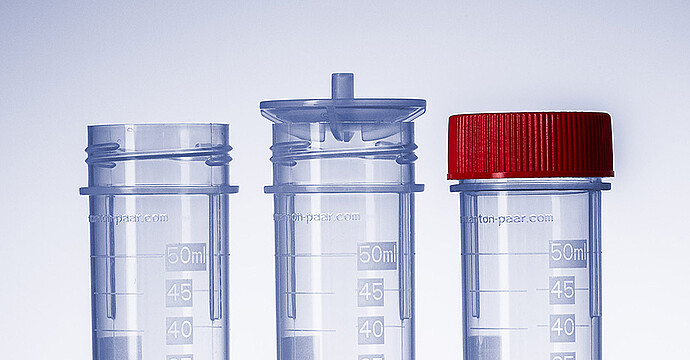 Reduces your workload – disposable certified vials
The 50 mL digestion vials made of high-purity polypropylene can be used for any necessary step during sample preparation: digestion, storage of the digested sample solutions, as a volumetric flask to fill the sample to the appropriate volume, and for direct use in the autosampler for metal analysis by F-AAS, GF-AAS, ICP-OES, or ICP-MS.
A certificate proving the ultra-low leachable metal content of the vials comes with each batch containing the low-metal background for 69 elements. The vial's graduation lines for 25 mL and 50 mL meet Class A specifications and are visible around the vial to simplify the filling to the right volume.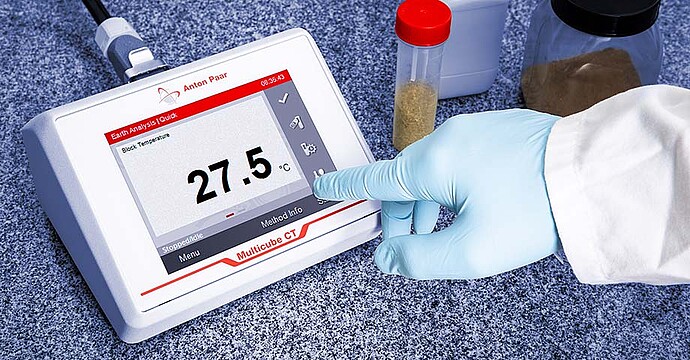 Easy operation – intuitive software and color touchscreen
Multicube 48's capacitive touchscreen can be calibrated to reliably respond even when operated with gloves. Easily adjust the temperature in steps of 0.1 °C at any time via the touchscreen. Choose between heating ramp, heating as fast as possible, or definition of a stepwise ramp of up to 10 temperature steps to reach the target temperature.
Store up to 100 processing methods (incl. implemented standard methods and Anton Paar's recommended methods). Multicube 48 can run without interruption for a maximum of 450 days, which allows you to run the device continuously and therefore save the time required for cooling and heating between different samples.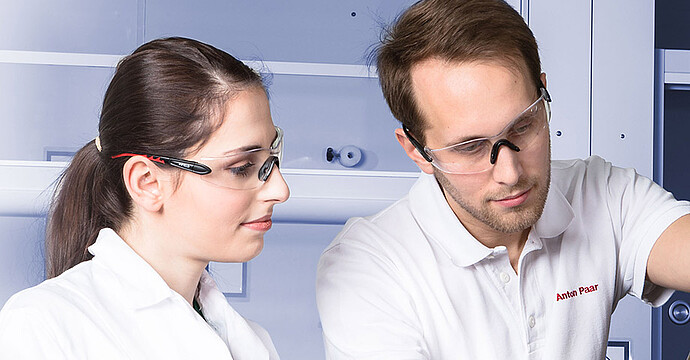 Your reliable partner – full service from one supplier
Anton Paar has over 40 years of experience in developing digestion instruments. The broad portfolio of conventionally heated and microwave-assisted digestion instruments provides excellent solutions for all kinds of sample. More than 30 subsidiaries and 60 distribution partners worldwide guarantee you the highest possible product and service quality.
| | |
| --- | --- |
| Sample position | 48 |
| Vial volume | 50 mL |
| Temperature range | up to 180 °C |
| Max. runtime | 450 days |
| Operation steps | 5 heating and 5 temperature holding |
| Touchscreen | 5.4" capacitive |
| Ports | USB |
| Run data | up to 100 |
| Methods | up to 100 |
Anton Paar Certified Service
The Anton Paar quality in service and support:
More than 350 manufacturer-certified technical experts worldwide
Qualified support in your local language
Protection for your investment throughout its lifecycle
3-year warranty
Learn more
Consumables & Accessories
Consumables & Accessories
Not all items are purchasable online in specific countries.
To find out if you can purchase online from your location, check the online availability below.
Online price only
|

excl.

incl.

0

VAT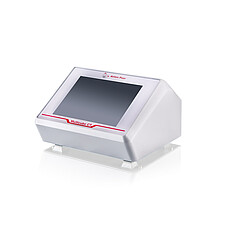 MULTICUBE CT
Delivery time:
%1$s – %2$s working days
%1$s – %2$s weeks
%1$s – %2$s months
Part number: 196910
Product details
Multicube CT is the control unit for the Multicube 48. The methods can be programmed via the touchscreen (time, temperature).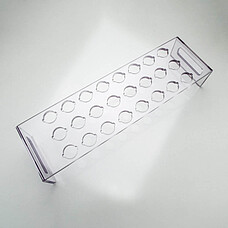 MULTICUBE 48 RACK
Delivery time:
%1$s – %2$s working days
%1$s – %2$s weeks
%1$s – %2$s months
Part number: 186876
Product details
Rack with 24 positions.