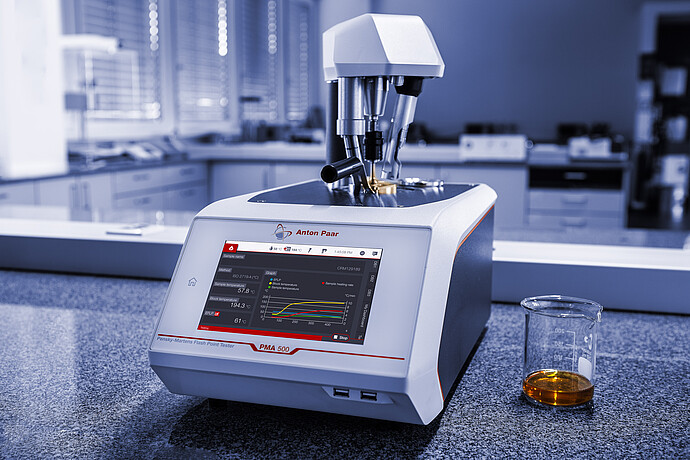 On fire
2020-01-31

| Corporate
The flash point is a parameter for the classification as "flammable" and "combustible" used in the fields of transport, storage, handling and other safety regulations. The lower the flash point temperature the greater the risk. This classification is then used to warn of a risk and to enable the correct precautions to be taken when using, storing or transporting the liquid.
One of the methods to determine the flash point is the Pensky-Martens method, which is still used for the classification of flammable and combustible liquids. The PMA 500 primarily determines the flash point with this method but may also be used for customized usage.
The sample is filled into the Pensky-Martens test cup and heated so that the temperature is constantly increasing under stirring. At defined intervals a source of ignition is immersed into the vapor space while interrupting the stirring.
The lowest temperature at which the vapor phase over the sample ignites and a flame is spreading at the liquid's surface is known as the flash point.
"All you can see is a short inflammation of the sample," explains Product Manager Kenji Yamamoto.
Flash point testing with the comfort class
The operation of the PMA 500 could not be easier. Thanks to preconfigured measuring methods you can start right away: Just put the prescribed amount of sample in the test cup and close it, insert the multi-detector and put the test cup into the PMA 500. Afterwards you have to enter the expected flash point and choose the method. Then you only have to tap on Start.
The sample's heating rate and all other parameters can be tracked in real time on the dashboard during the measuring. The multi-function head is a real all-rounder as it constantly measures the sample's temperature and detects the flash point when the vapors ignite. Its completely new concept allows an automatic swiveling into the measuring position. Further advantages: no tampering with plugs, no exposed cables and an integrated status light. The new, robust electrical igniter has a much longer service life than previously usual, so operating costs can be lowered and downtimes reduced. As you don't want to wait long before going back to work, another focus is on the cooling down process after measuring: Thanks to the patented cooling system the temperature for safe handling is achieved significantly faster than with comparable instruments.
"Our target groups are the chemical and petrochemical industries, but the PMA 500 can also be successfully used in other industries," Kenji Yamamoto says about his newest development.