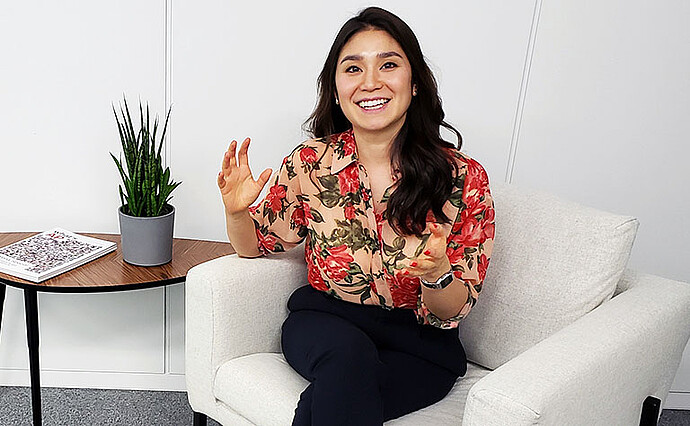 Careers at Anton Paar – a portrait of Marika Gasteiger
2020-11-23

| Corporate
"Don't complain, life continues" - this is the motto of Marika Gasteiger, who has been General Manager of Anton Paar Japan since June 2020. This positive basic attitude, a lot of hard work and constant learning are part of her career path. She tells us more about her way in the following interview.
Tell us a little bit about your school career.
I went to school in Munich until the Abitur (high school degree in Germany). And on Saturdays, I attended a Japanese school.
A Japanese school? How come?
Due to my Japanese origin on my maternal side, there was no question about it for my parents. I wouldn't have made that decision myself though - at least not at that time. Imagine teaching yourself the contents that the students in Japan work on together every day, all by yourself, mostly last minute on Friday nights. I was completely exhausted the next day in class. And being overwhelmed with the next amount of homework, while you just had finished the last homework, wasn't joy. It felt like a marathon I didn't sign up for. Today, I see it differently. I have definitely learned two lessons: thinking long-term and not to procrastinate. And I'm especially grateful for the social aspect that I noticed at school. It's something different if you get the chance to learn Japanese in a Japanese environment.
How did you continue after your high school graduation?
I remember that many of my classmates already had detailed plans for the future. To avoid this, I decided to go to China and learn Chinese after my high school graduation. I thought, maybe then I know which path I would pursue. That wasn't the case. But I was sure of one thing: doing nothing is not an option. Either way, time passes and looking back I rather have spent it productively. That's why I decided to study mechanical engineering and economics.
Now in retrospect, was the study the right decision?
Generally I think before I decide, so there shouldn't be any doubt later on. Originally however, the study was my plan B. Plan A was a tailoring apprenticeship. At that time, I just thought that if the tailoring didn't work out I better have something secure. Therefore mechanical engineering.
How did your career start?
During my master's degree I worked in the research and development of fuel cell systems. I mainly performed simulations and worked on the test stand. The lesson I learned during this time was that in research and especially in development it is almost impossible to keep to schedules. Nothing works on the first try. The advantage at that time was that we only had a few customer projects and therefore less pressure. Today it's different. I'm right at the front line to the customer. Delivering a functioning product at the specified time is not just important, but a matter of course. Especially in Japan, expectations in this respect are very high. Anyone who doesn't meet these expectations is very quickly labelled as untrustworthy.
Did you start working for Anton Paar right after your studies?
Yes, in fall 2017, while still at university, I saw the open expat position at Anton Paar China and initially applied for that. Obviously I didn't get the job. However, a few months later I was contacted by Anton Paar again as a similar position became available in Japan. I took this chance and moved to Japan.
And why did you apply to Anton Paar?
Initially, it got my attention as the company has grown rapidly. For me, this meant that there must be a drive to move forward. I definitely could see myself being a part of that.
You supported the company's strategy, two years as expat and now as General Manager of Anton Paar Japan. What are your plans for the new position?
The company's success is also measured by sales and profits. It is my job to increase sales and profits, these are visible first. However, how these are achieved, takes place behind the scenes. Anton Paar Japan has grown enormously in recent years. On the one hand, I represent the headquarters on site. On the other hand, I represent the local and also the customers' needs to the headquarters. We have to make sure that we align our interests and pursue the same goal, because in addition to a strong product, a strong and sustainable organization is the key. I am confident that as a team we can achieve our goals.
What advice do you have for young motivated people who also want to achieve a leadership position?
First of all, I think the leadership position itself should never be the goal. This can lead to wrong decisions, driven by wrong intentions. I always tell myself: Watch and learn. Be grateful for the opportunities you are given, enjoy what you do and never stop learning.
Do you have a motto for life? If so, which one?
Don't complain – life continues.
| | |
| --- | --- |
| Name | Marika Gasteiger |
| Age | 30 |
| Position | General Manager Anton Paar Japan |
| I am with Anton Paar since | May 2018 |
| My favourite measuring device is | It changes depending on who I am talking to. When I see a customer, satisfied with the instrument, that instrument of course is my favorite. And basically it is my responsibility to promote every single product line. But at the end of the day I represent the sales side and here the rule is: the higher the margin and the smaller the problems, the better. |
| My secret passion is | Handicraft |
| My super power is | Positive thinking |
| My motivation is | To solve problems step by step and thus constantly improve. |
| My secret of success is | Do the right thing instead of a lot. |
| Which book did you read last? | "Outliers" from Malcolm Gladwell. |