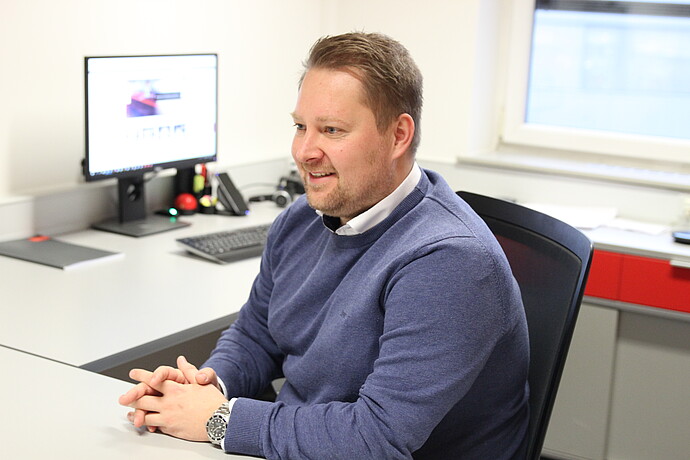 Career with Anton Paar - a portrait of Dr. Christopher Fradler
2019-12-20

| Corporate
Dr. Christopher Fradler will take over the position of Division Manager for the Business Unit Solutions. His curriculum vitae reads like a success story: Three completed studies (chemical engineering, technical sciences, Master of Business Administration) were followed by a steep career path within Anton Paar. In this interview, the father of two looks back on his professional beginnings and developments and looks ahead - to all the challenges and tasks that will await him in the future.
Christopher, you will soon take over as Division Manager of the Business Unit Solutions. Why did you choose this position?
From my point of view, it is the right challenge at the right time - both for me personally and for "my" current product area "Particle Characterization". Because when you build one, it's all about creating structures and distributing knowledge. My current product area is now equipped with many know-how carriers, so that I am no longer urgently needed there.
The new job will be very challenging and the strategic tasks will certainly carry more weight. That's what also appeals to me very much.


Why did you join Anton Paar?
I had a very dominant chemistry teacher in grammar school, who drove me to become more interested in chemistry. During my first holiday job at Roche Diagnostics I started to be interested in measuring instruments. After my studies in 2014, Anton Paar advertised a position as "Junior Manager for Management". This appealed to me because it was not only about applying my expertise but also about learning and because in this position I was able to make the best use of my strengths.
I held this position for eight months in the Measurement business unit, then moved to the Characterization business unit in the same position to support the product launch of Anton Paar's first particle analyzer, the Litesizer 500, for another nine months. I then took over as head of the particle analysis product area and built up this area over the last four years.
At the time of my application at that time, the job at Anton Paar appealed to me immediately; today, it's the people here as well.


An impressive career path. Was there ever a plan B?
I would always have liked to become a professional table tennis player. However, it became clear relatively quickly that it was not enough. Apart from that, I could also imagine working in some other industries as long as organisation, communication and working with people are essential components of the daily work.


What challenges will you face in your new position?
First and foremost, it's all about creating a framework in the Business Unit Solutions that ensures we sell our products as well as possible and that takes into account the large differences between the products within the unit. On the one hand, we are dealing with classic laboratory equipment such as microwave digestion systems, but also with automation solutions, process measuring instruments or very large and complex instruments for measuring small-angle scattering.


What motivates you?
I am motivated by progress, which we realize both technically through our products and economically by increasing our sales and above all personally by mastering challenges. And my colleagues also motivate me with their solutions to numerous problems that we have to face every day.


Do you have any tips for young people aspiring to a management position?
Firstly: You shouldn't want it too much - the focus should always be on the current task. And secondly: you should face challenges courageously and always remain true to yourself.
In addition, you always need to enjoy what you do and an environment that you enjoy working with. One of the most important qualities you need in key roles is problem-solving competence.


To conclude: What are your professional goals?
For me, next year is all about gaining a foothold in my new role. In a few years I would be happy if both my boss and my colleagues in the Business Unit thought I was doing a good job.