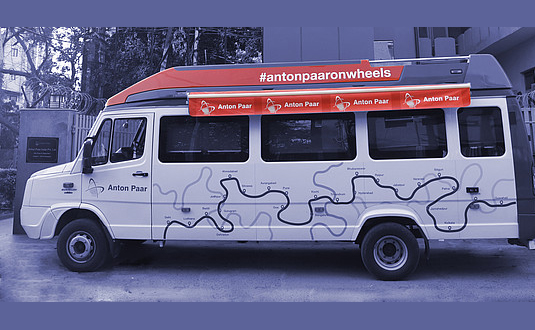 Anton Paar on Wheels
2021-07-14

| Corporate
In 2021 many exhibitions and conferences got cancelled due to the COVID-19 pandemic. So, what to do, if the customers cannot visit us? Very easy ... WE VISIT THEM! Anton Paar India successfully shows how it works.
Anton Paar India has launched a rolling show vehicle "<link corp-en services-support anton-paar-technical-centers anton-paar-india-mobile-lab>Anton Paar on wheels". Anton Paar on wheels has been customized with 90 square feet of exhibit space to create a complete hands-on demonstration and learning environment for customers. It will travel through the country, which is spread across 3.3 million km2, in one year.
Anton Paar India will thus be able to serve customers in all different areas of India, from west to east and from north to south. Anton Paar on wheels is equipped with features like fume hood, gas cylinders, cold storage, electrical connections and backups to demonstrate Anton Paar's advanced technology at customers' doorstep. State-of-the-art equipment and technologies ranging from density, viscosity and particle size analysis to rheology, surface analysis, microwave synthesis, sample preparation, polarimetry, refractive index measurement and much more can be introduced to customers and interested parties.
We provide customers with hands-on experience and training from Anton Paar product specialists right on site. With the multimedia devices inside the mobile lab, experts around the world can be connected.