This is a required field.
Invalid
Part number
Error in validation!
High Temperature Tribometer:

THT
Pin-on-disk tribometer with high-temperature capabilities
Precise and homogeneous sample temperature control up to 1000 °C
Accurate friction force measurement at elevated temperature
Wide range of testing parameters and contact geometries
Looking for consumables & accessories for this product?
Click here
The analysis of friction and wear properties of materials at elevated temperatures has become increasingly important, especially for the development and quality control of combustion engine and power plant constituent parts. To meet the resulting need for quantitative data at elevated thermal conditions Anton Paar has extended its range of pin-on-disk tribometers with a powerful high-temperature version which can accurately simulate in-service conditions.
Technical features
Two friction sensors minimize the effect of the thermal drift error on the friction measurement in a range from room temperature to 1000 °C.
Surrounding heating elements combined with water cooling provide precise and homogeneous sample temperature control up to 1000 °C.
Carefully designed sample- and ball holder for easy setup of tribology testing at extremely high temperatures
Independent application of normal load and friction force measurement to avoid crosstalk between different force signals
Single-direction rotating or angular reciprocating movement modes
Continuous wear depth measurement
Three testing parameters: standard, incremental, and user-defined mode
"Modelization" software for simulating Hertzian elastic contact stress and strain distribution
User-defined friction threshold auto-protection
Fully conforms to ASTM G99, ASTM G133, and DIN 50324 standards
Additional capabilities:
Testing under primary or high-vacuum conditions
In-situ observation of wear under vacuum conditions
Testing under inert gas atmosphere
Tribology testing in liquids
Typical applications
Cutting tools
Automobile brake pad materials
Rotation speed
0.3 to 600 rpm
(optional 1500 rpm)
Maximum torque
450 mNm
Friction force range
up to 10 N
(optional 20 N)
Friction force resolution
0.03 mN
Anton Paar Certified Service
The Anton Paar quality in service and support:
More than 350 manufacturer-certified technical experts worldwide
Qualified support in your local language
Protection for your investment throughout its lifecycle
3-year warranty
Learn more
Consumables & Accessories
Consumables & Accessories
Not all items are purchasable online in specific countries.
To find out if you can purchase online from your location, check the online availability below.
Online price only
|

excl.

incl.

0

VAT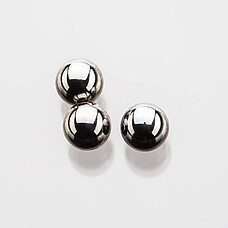 STEEL 100 CR6 BALLS D= 6 mm, 20 PCS
Delivery time:
%1$s – %2$s working days
%1$s – %2$s weeks
%1$s – %2$s months
Part number: 145526