This is a required field.
Invalid
Part number
Error in validation!
High-Temperature Viscometer Accessory:

ETD 300
+2
Temperature control from +25 °C to +300 °C
Applicable for ViscoQC 100 and 300
Full control via ViscoQC display
For measurement of bitumen, hot melts, polymers, waxes
Complies with ASTM D4402, D3236, AASHTO T316, EN 13302, and more
Looking for consumables & accessories for this product?
Click here
What you set is what you get. The unique T-Ready™ function guarantees measurements are always at the correct temperature, saving time for redundant temperature equilibration. Easily set up your measuring methods and run automated tests. Everything is controlled via the ViscoQC display. Magnetic coupling of spindles and the unrivalled spindle-recognizing feature Toolmaster™ combine for convenient, error-free measurement. The high-temperature viscometer setup ETD 300 + ViscoQC is ideal for measurements of bitumen, hot melt adhesives, and waxes at high temperatures from +25 °C to +300 °C.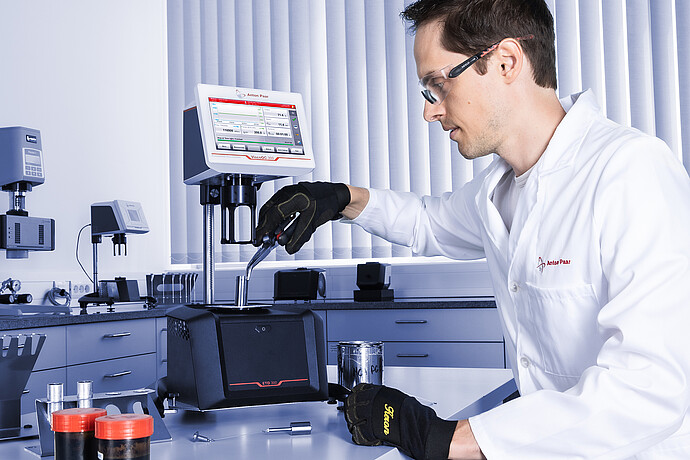 Automated high-temperature viscometer setup
Total control via ViscoQC lets the operator more easily handle measurements, without the need for separate temperature program synchronization
Special highlight: The fully automated ASTM D4402 method saves time and provides highly accurate readings
Create automated measurement methods with up to 40 steps or use statistical models like averaging with optional V-Curve software
Perform temperature scans between set points for quick sample analysis at different temperatures
Full traceability of temperature and measurement
Automatic spindle recognition with Toolmaster™ feature: Eliminates human error during spindle selection and guarantees full traceability
Most reliable temperature control on the market: T-Ready™ function signals when the sample has truly reached the set temperature, for best measurement repeatability
Most accurate temperature readings as the sensor directly signals data to ViscoQC
100 % temperature traceability: Temperature is automatically recorded in the test report for each measured data point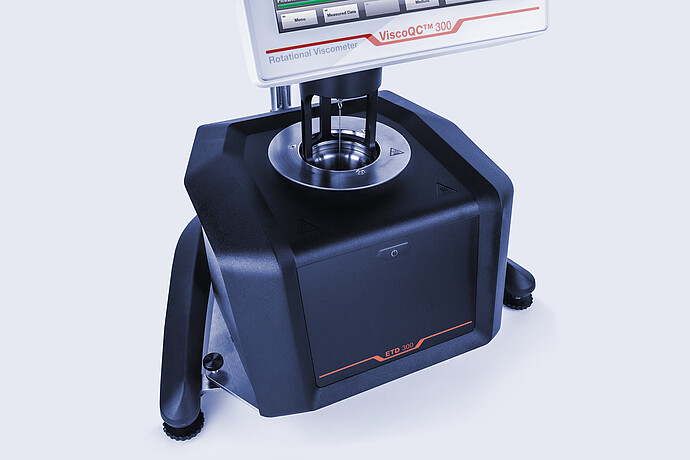 Features for unmatched convenience
Fast, secure alignment of the ETD 300: Once secured with the centering bracket, system will remain aligned
Magnetic spindle coupling comes as standard, making spindle attachment faster, easier, and safer
No extra lab space required as ETD 300 only needs to be placed under ViscoQC
Digital leveling via ViscoQC display with continuous monitoring of the leveling. Measurement always with a perfectly leveled setup – improving repeatability
| | |
| --- | --- |
| Temperature Range [°C] | 25 °C to 300 °C |
| Temperature stability [°C] | ± 0.1 |
| Supported spindles | Small sample adapter (SC4-xx) as standard with hook or optionally as solid shaft version; HT DIN 81 |
| Supported cups | Disposable measuring cups ETD 300; Measuring cup SS ETD 300 |
| Heating principle | Electrical |
| External power supply | Yes |
ASTM
D5018 (for temperatures up to +175 °C)
Anton Paar Certified Service
The Anton Paar quality in service and support:
More than 350 manufacturer-certified technical experts worldwide
Qualified support in your local language
Protection for your investment throughout its lifecycle
3-year warranty
Learn more
Consumables
Consumables
Not all items are purchasable online in specific countries.
To find out if you can purchase online from your location, check the online availability below.
Online price only
|

excl.

incl.

0

VAT