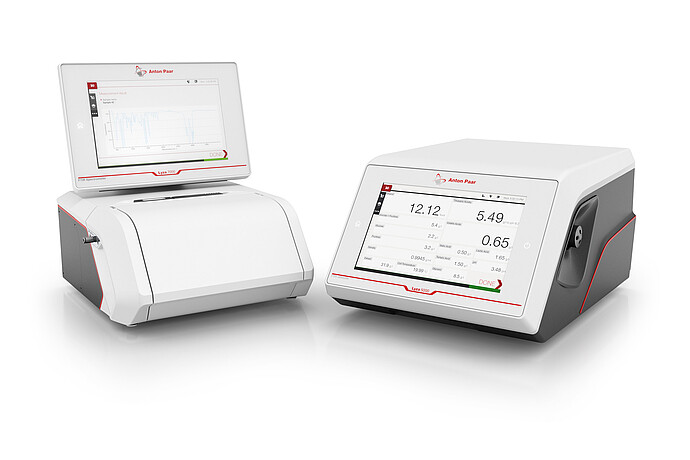 FTIR Instruments
Outstanding FTIR Analysis for a World of Samples
Anton Paar's state-of-the-art Fourier-transform infrared (FTIR) instruments with automation options combine FTIR spectroscopy with comprehensive data analysis for quick results and maximal efficiency in the lab. A high-resolution touchscreen and smart phone-inspired user interface deliver the most intuitive FTIR analysis experience on the market. There's more: The FTIR instrumentation seamlessly connects to other Anton Paar benchmark instruments, and Anton Paar's worldwide specialists will support you with your spectroscopy applications wherever you are.
Get in touch
Complex measurements, the easy way
These versatile FTIR instruments are ready right out of the box: They come equipped with a built-in 10-inch high-resolution touchscreen, ready-to-use software, and pre-installed calibrations. The user-friendly interface simplifies every aspect of operation – whether production or quality control. Perform remarkably powerful data analysis with the compact embedded system. Automate your analysis methods. Choose a fully automated sample-specific system.
Made-for-you modularity
Analyze hundreds of sample types: check raw materials, identify unknown substances, control the quality of your final product. A variety of measurement cells tailors the instruments to your needs. Guided workflows and customizable reports give you the feeling these FTIR instruments were made just for you.
Unparalleled analysis power
Our FTIR analyzers can be integrated into beverage analysis systems and connected to DMA M density meters, reducing your measurement-related workload: After only one sample preparation, one filling, and one measurement, an all-in-one report shows results from all connected instruments. Connect an Xsample sample changer to measure up to 48 samples in one run. Now THAT is analysis power.
Exceptionally reliable FTIR instruments
These high-precision instruments, engineered by real optical analysis specialists, deliver exceptionally accurate and reliable results. They compensate for the influence of temperature, humidity, and external vibrations to always give you reproducible results. The hermetically sealed spectrometer core and high-performance humidity control ensure a remarkably long lifetime of key components like the pyroelectric DLaTGS detector and the potassium bromide beam splitter.
Support you can count on
Our FTIR specialists handle sophisticated application requests for every type of industry and provide customers with the latest data analysis methods for their sample type. You can count on our dedicated support team to always respond quickly, ensure your FTIR instruments are in perfect condition at all times, and keep downtimes to a minimum.
We offer you a great and constantly growing choice of live webinars and recordings on products, applications, and scientific topics.
View webinars