This is a required field.
Invalid
Part number
Error in validation!
Heated sample changer:

Xsample 630
+1
The multi-sample changer with no limits for high viscosities
Handles up to 56 samples with heated (up to 95 °C / 200 °F) and non-heated samples at the same time
Automated cleaning and drying
Safe electrical heating, no water bath required
Looking for consumables & accessories for this product?
Click here
The Xsample 630 sample changer handles up to 36 heated sample positions for all Anton Paar master instruments. Improved heating leads to short heating periods, time savings, and increased performance. Temperatures up to 95 °C are achieved in the system. Even challenging samples can be measured according to strict ASTM standards. The robust design ensures reliable and maintenance-free operation. A removable magazine with dedicated non-heated positions saves time by facilitating sample handling and even makes a second measuring system obsolete.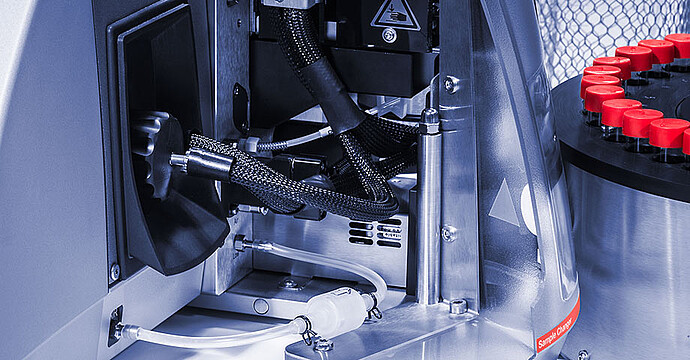 Improved heating performance
Short heating periods make the sample changer ready for measurement in no time
Even measurement of highly sensitive samples (e.g. waxes) can be performed by using the optional heated waste hose.
Heating temperatures up to 95 °C can be achieved and the highest temperature stability is provided
Low power consumption resulting in energy savings is achieved by eight independent electrical heating circuits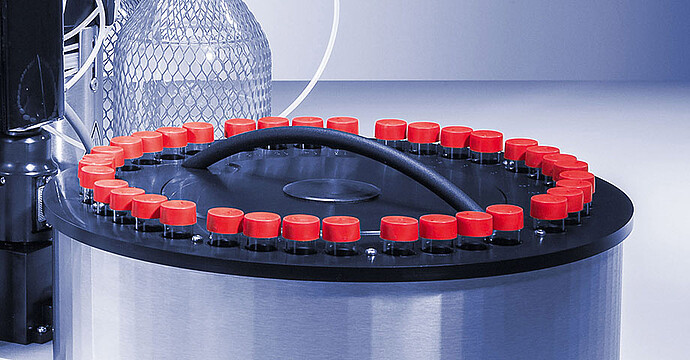 Easy sample handling
Safe and easy collection of hot samples is facilitated by a removable magazine with a thermal handle
36 heated positions allow for unattended and fully automated measurements.
Optional non-heated positions for samples that are measurable at room temperature even make a second system obsolete.
Low maintenance efforts due to electrical heating. No water bath that needs periodical inspection.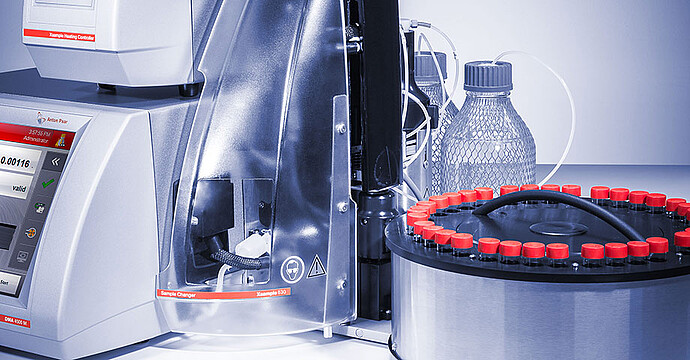 No cross-contamination due to the highest cleaning performance
Inside and outside needle cleaning prevents sample cross-contamination and ensures the highest precision.
Up to three different solvents can be used in any order to achieve optimal cleaning performance
Optimized cleaning performance is achieved by the use of different cleaning modes in any order
Increased uptime of the instruments can be achieved by automated cleaning procedures directly after the measurements.
Maximum temperature

95 °C (203 °F) at 20 °C (68 °F) ambient temperature, no cooling

Viscosity range with DMA M

Operation with internal air pump

Up to 10,000 mPa·s at 95 °C heating and measuring temperature

Operation with 2 bar external compressed air

Up to 36,000 mPa·s at 95 °C heating and measuring temperature

Viscosity range with SVM x001

0.2 mPa·s to 5,000 mPa·s at 95 °C heating and measuring temperature

Filling mode

Pressure mode

with integrated piston pump
with air pump of the master instrument
with compressed air

Minimum sample volume per measurement

Approx. 3.5 mL with DMA M
Approx. 5 mL with SVM X001

Number of sample vials

Magazine, heated positions only

36 positions for 12 mL vials (only glass vials allowed!)

Xsample heated / unheated positions

32 positions heated / 24 positions unheated for 12 mL vials (only glass vials allowed!)

Automatic filling and drying

Internal air pump of the master instrument or compressed air selectable

Compressed air supply (optional)

Max. 2.0 bar (29 psi) relative

Quality of air necessary

Class 3 according to ISO 8573-1:
max. particle size: 5 µm
max. pressure dew point: -20 °C (-4 °F)
max. oil content: 1 mg/m3

Environmental conditions (EN 61010)

Indoor use only

Ambient temperature

15 °C to 35 °C (59 °F to 95 °F)

Air humidity

10 % to 90 % relative humidity, non-condensing

Pollution degree

2

Overvoltage category

II

Altitude

Max. 3,000 m (9,840 ft)

Max. temperature of heated parts in case of malfunction

160 °C (320 °F)

Power supply

Power is supplied by the master instrument and the Xsample heating controller
Anton Paar Certified Service
The Anton Paar quality in service and support:
More than 350 manufacturer-certified technical experts worldwide
Qualified support in your local language
Protection for your investment throughout its lifecycle
3-year warranty
Learn more
Consumables
Consumables
Not all items are purchasable online in specific countries.
To find out if you can purchase online from your location, check the online availability below.
Online price only
|

excl.

incl.

0

VAT